Sales Have Ended
Ticket sales have ended
We had a limited number of places for this event - but we'll run more soon!
Sales Have Ended
Ticket sales have ended
We had a limited number of places for this event - but we'll run more soon!
Brighten up your backyard and say g'day to your local wildlife, with this free webinar hosted by Mariea Pacheco.
About this event
About this event
Come along and join a one hour free webinar session with Mariea Pacheco, a wildlife assessor and environment consultant who will be discussing ways to improve and create native wildlife native friendly garden focusing on indigenous gardening techniques. The webinar is aimed at delivering useful tips and ideas on how to develop backyard gardens that includes provision of food, and shelter for and animals in our urban landscape.
Participants of the webinar will have the opportunity to learn the difference between native, indigenous and exotic gardens. They will also gain an understanding of how to identify and source native plants (such as local council indigenous plant lists and sourcing of plants from community nurseries).
About Mariea Pacheco
Mariea Pacheco is an expert in conservation and land management having dual diploma in Environmental sustainability. Mariea's extensive involvement with notable organisations in landcare departments and her passion for wildlife conservation makes her an excellent advisor on how to develop and design innovative gardening techniques suitable for wildlife in the environment.
Mariea is currently working with the DEWLP 'Iconic State Faunal Emblems' Helmeted Honeyeater' & 'Leadbeaters Possum' recovery program as a Practical Field Ecologist & Environmental Consultant, within the Yellingbo Nature Conservation Reserve. (YNCR) She has previously worked for Landcare, local council & government in project development and citizen science projects for many of our critically endangered species.
This event has been kindly supported by funding from Kororoit Creek Neighbourhood House. Science for All is proudly auspiced by the Royal Society of Victoria
Notes:
The event is free, however spots are limited so book in fast and join us in learning how you can positively contribute to the survival of urban animals by implementing native garden designs into your own backyard transforming it into wildlife-friendly.
Number of participants: 50
Total duration: 60 minutes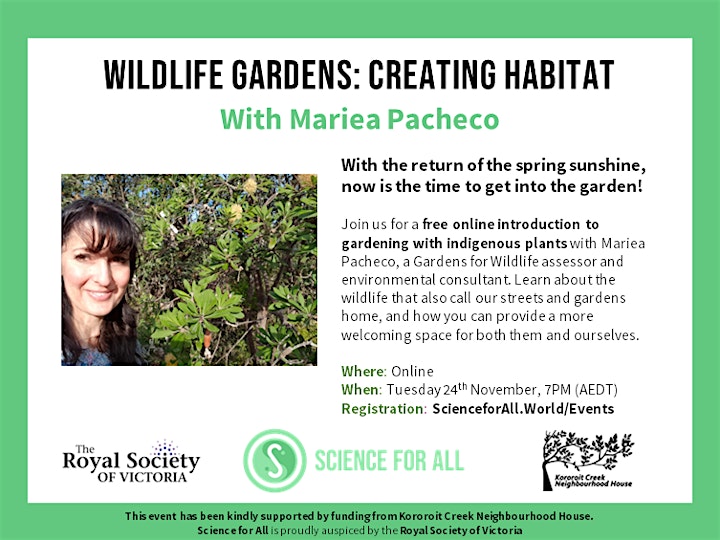 Organiser of Wildlife Gardens: Creating Habitat
'Science for All' is a not-for-profit group that enables people to share knowledge and ideas, use the scientific method to create new knowledge and support more people to get involved in shaping the future of human knowledge. 'Science for All' is run by a small team of volunteers, with the support of the Royal Society of Victoria.