Description
Design Matters National Virtual Series - Click. Listen. Learn
Speakers:
Justine Linley
Chief Executive Officer
City of Ballarat
Amy Boyd
Program Director Strategy and Implementation
City of Ballarat
Event Overview:
As we enter the new Roaring 20's, we ask the question "What will Ballarat be like in 2050 and are we ready?"
Justine will talk about the core strategic discussions Council is now contemplating for our future prosperity – Ballarat as an Integrated City, a Design-led City, a Clever City and a Compassionate City and what this means for planners, architects and designers today.
Meet the Speaker: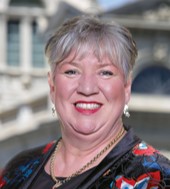 Justine commenced as Chief Executive Officer of the City of Ballarat in May 2016. Justine was previously CEO at Northern Grampians Shire Council following a diverse career in industry development, higher education and regional development. As Grampians Regional Director, Regional Development Victoria in the mid-2000s Justine worked with 11 councils, businesses and organisations from Bacchus Marsh to the South Australian border. Justine is committed to regional co-operation and planning. She is an active member of Central Highlands Councils Victoria, , Regional Cities Victoria, Regional Capitals Australia, Local Government Chief Officers Group, the former President of LGPro and former Treasurer of Economic Development Association of Victoria.
Amy Boyd - Q & A
Amy commenced as Program Director Strategy and Implementation with the City of Ballarat in October 2019. The role is focused on the delivery of a strong strategic framework consisting of three Strategic Portfolios that have been identified to future proof and align Ballarat with a rapid growth rate. These Portfolios are; Integrated City, Design Led City and Clever City.
Amy was previously Executive Manager Regulatory Services at the City of Ballarat following a background in Statutory Planning. With a wealth of knowledge in Statutory Planning and Regulatory Services within the Local Government Sector, Amy is passionate and committed in delivering for Regional Communities.
Agenda:
6:00pm - Welcome
6:05pm - AWS
6:15-6:45pm - Justine Linley
6:45pm - Q & A - Justine Linley & Amy Boyd
7:00pm - Conclusion
Sponsors:

FAQS
CPD Points: 1.5 CPD points. This will be recorded in Design Matters Members' CPD Manager within 5 business days following the event.
Cancellation Policy: We know that situations sometimes arise preventing you from attending. However, Design Matters does incur costs in organising these events. If you find you cannot attend, cancellation fees may apply.
Privacy Policy: Design Matters National respects your privacy. Registrant data captured at this site in not disseminated to any third party, but is used solely by the Design Matters National to confirm your registration.
Organiser of What will Ballarat be like in 2050 and are we ready?
Design Matters National
Level 4, 332 Albert St., East Melbourne, VIC 3002.