Webinar Recording - "How do You Know Your Coaching is Working - ROI of Coac...
Description
ICF Victoria is making available the recording and resources to a webinar that was held on 12 April 2018. The link to the recording and resources will be sent to you in the confirmation email once you have purchased and paid for it.
More than 53,300 professional coaches worldwide generate USD2.356 billion in revenue. As the profession continues to grow rapidly, the issue of effectiveness and ROI is more than likely to become a fact of life for coaches.
In fact, when it comes to measuring the value of coaching, no metric is more important to top executives than business impact and ROI.
This interactive webinar will provide practical ways to show and prove the value and benefits of coaching beyond "changes in behaviours" including the hidden value of coaching using an ROI Methodology which will help you gain senior level buy-in for implementing or expanding coaching.
You will learn how to conduct an ROI study with very little budget and time. One of the myths about ROI is that it is expensive and too complex. The reality is that it is a logical process with simple and easy steps with cost saving opportunities along the way. Most coaching professionals have the available resources to make it work.
Tapping into global case studies examples, this session will ensure that your coaching continues to not only be the performance improvement solution of choice, also one that makes a significant difference in business value.
You can claim 1.25 CCEU for Resource Development for this session.
Note: This webinar will be recorded and made available as a replay for later viewing. A link will be sent out to all registered participants within 48 hours following the live session.
About Nader Bechini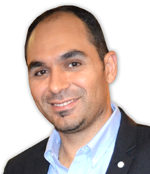 Nader Bechini is the Partner of ROI Institute in Middle East & North Africa and the CEO of AIMS International. He is also a facilitator for ATD and ICF. Nader Bechini is passionate about assisting coaching professionals improve the process of their projects and showing their Value. He helps organisations build their internal coaching capabilities and improve the effectiveness of their Human Capital investments using the ROI Methodology.

During last 17 years, Nader has led consulting projects in 15 countries in North America, Europe, Africa and Asia. In 2015, Nader has been awarded the Best ROI Institute International Implementation. This award honours individuals for their outstanding work in measurement and evaluation, and recognizes exemplary practices in research, design, and implementation of the ROI Methodology.
Nader holds MSc in Marketing, is Certified ROI Professional from ROI Institute, a Certified Trainer from ISTD, a Certified Psychometric Assessor from Profile International, and a Certified Coach from Association of Coaching UK.
Background
The ICF Global Study 2016 revealed that the top two future opportunities in coaching (+65%) for coaching practitioners and managers using coaching skills are to increase the awareness of coaching benefits and to report credible data ROI/ROE.
For the most part, coaching is measured at the reaction level using feedback questionnaire or at the performance level using 360 feedback or employee engagement surveys that could be linked back to those who had received coaching. Most of these tools even if they are available in the organisation were not designed specifically to measure the impact of coaching and does not give valuable information to coaching sponsors. ICF supported studies have indicated that almost all organisations stated that they know coaching has been effective, but the evidence to support this is mostly anecdotal. Measuring the success of coaching beyond the changes in behavior was considered to be a challenge.