Build your own picnic on a foodie, adventurous day out in Wagga Wagga.
About this Event
Collect tasty, local picnic produce and treats while discovering and supporting our city and region.
Walk, ride or drive the picnic trail. Then, laze and graze in a picturesque park location sampling the picnic bites collected.
Fancy outdoor feasting and fun for everyone.
Everything is better together: Picnic Collective Pass is based on two people sharing the picnic experience. All tasty treats collected are enough for two portions.
NOTE: Saturday 3 April Picnic Pass will not include Fitz Cafe stop as business is closed Easter weekend. Please use code April3 when purchasing for this date to receive a discount for this item (button to apply code is at the top of the ticket page). Code only applicable for Saturday 3 April. If purchasing multiple passes for this date, please do so in single transactions and apply code to each ticket purchased.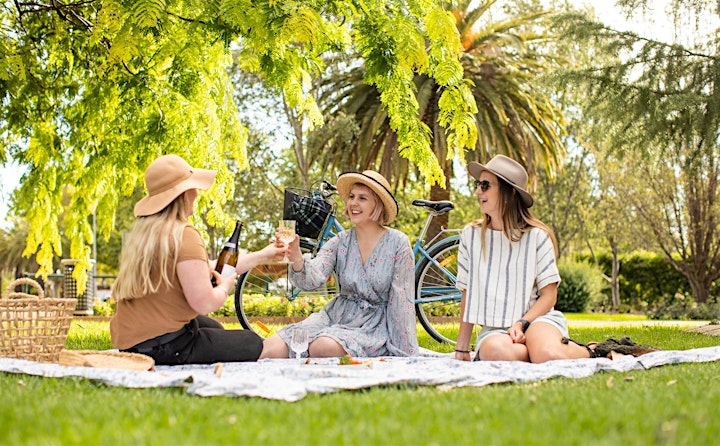 Picnic Collective 'how to' guide
Pick your date (alternating Fridays and Saturdays in February through to April, 2021), then purchase your Picnic Collective Pass
On your selected date pop into the Wagga Wagga Visitor Information Centre (183 Tarcutta Street) to collect your Picnic Collective basket and any pre-purchased picnic goodies. First picnic pick up at visitor centre at 9.30am, last pick up 1.30pm
Download the Scavify App to unlock the Wagga Wagga Picnic Collective trail
Set off on your exciting picnic trail
Your Picnic Collective menu and collection points
Your fancy outdoor picnic feast for two will consist of:
Knights Deli | Antipasto box (baguette slices with hummus, Wollundry Grove olives + salami) + water crackers
Meccanico | selection of Meccanico meats and cheeses
Cafe Sonder | Picnic snack box with 1 x wrap + 1 x sandwich + 2 x chocolate cupcakes
Fitzmaurice Cafe | Share smoothie (one flavour for two) NOTE: Saturday 3 April picnic will not include this stop as business is closed for Easter weekend. Use code April3 when purchasing for this date to receive a discount for this item.
Harans Patisserie | 2 x macarons
Dough Re Mi | Dessert cookie in a jar
Mates Gully Restaurant & Cafe | 2 x savoury seasonal muffins
The Source Bulk Foods | Dried pineapples OR Choc Tv Mix
Junee Licorice and Chocolate Factory | Sampler box
* Plus your own souvenir picnic basket to keep
Want more snacks?
Add local wine, beer, cider, additional snacks or Wagga Wagga merch to your basket when purchasing your Picnic Collective Pass. Or, choose from the great selection of local produce at the Wagga Wagga Visitor Information Centre (Collection point 1) to bulk up your picnic hamper, or, to take home with you.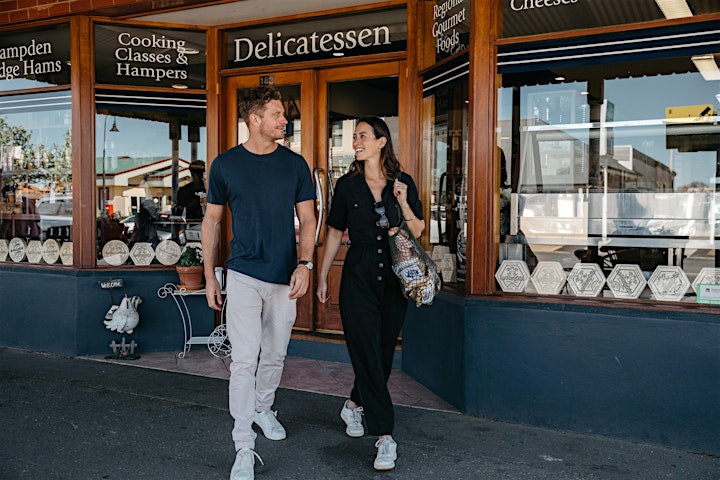 Picnic your way
Some handy tips to personalise your fun picnic experience:
When in store, chat to the friendly staff - they are local and might have some great stories or foodie tips to share
While in store, also browse around and even grab extra goodies for your picnic hamper, or, to take home with you to enjoy later, maybe even order a coffee to enjoy along the trail
Why rush? Take the time to enjoy exploring different parts of our city. While on the picnic trail feel free to pop into other shops or businesses, or, take a detour down Cadell Place to check out the laneway murals
Ding ding! Jump on the bike and do the trail on two wheels - perfect if you have a basket on your bike to help transport the precious food goodies
BYO picnic blanket or chairs to set up in your chosen park location
Share your picnic experience online. Snap pics of you and your picnic partner on the trail and enjoying your foodie delights. Then share them on your socials. Don't forget to tag us as well @visitwaggawagga or use #picniccollective and #visitwagga
Head to www.visitwagga.com/picnic for full terms and conditions including information on cancellations and refunds.
April3 discount code only applicable for Saturday 3 April picnic pass. Misuse of code will result in refund and/or participant not permitted to participate in campaign.