Description
On Monday evening, 24th June, Vinosphere returns to Sydney Town Hall for our once-a-year epic wine tasting. Showcasing some of the finest, newest and coolest wines from all around the globe, this is an extraordinary opportunity to taste over 500 wines from more than 150 producers. And chat to the people who made them. Add in your complimentary Riedel glass and it's almost certainly the best $50 you will spend on wine all year!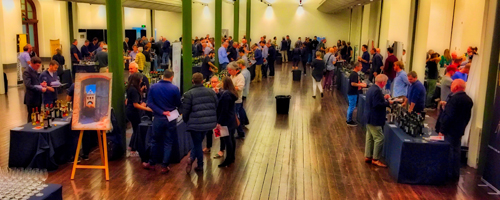 Vinosphere is presented each year by wine importers and wholesalers Vintage and Vine, Enoteca Sydney and Vinous, along with our invited guest exhibitors. It's a 'best-of-portfolio' tasting and we'll be opening a long list of rare and exotic wines.
There will be Champagne; there will be Rhône; there will be Burgundy, Barolo and Burgenland; Alsace, Austria and Alto Adige. Take a cruise down the Loire, the Danube, the Rhine and the Mosel. Or a road-trip through Italy, from Sicily to Tuscany; from Piedmont to the Dolomites. Segue through Spain, from Priorat to Bierzo and cross the Andes from Maipo to Mendoza.
Taste stunning wines like Elvio Cogno Barolo, Il Carbonaione, Rudi Pichler Achleiten, Champagne Benoit Lahaye, Berthet-Bondet Jura, Domaine Lécheneaut Morey-Saint-Denis, Damien Laureau Savennières, David Duband Burgundy and Roche Paradis Côte Rôtie.
For some local colour we will be joined by our special guest wineries Balnaves, Bass Phillip, Castagna, Chapoutier, Clonakilla, Curly Flat, Dawson James, Gembrook Hill, Jasper Hill, Levantine Hill, Mac Forbes, Picardy, Tyrrell's and Vignerons Schmolzer & Brown. The logos you see above are but a mere glimpse of what you'll see on the day.


Finally, we're very excited to welcome Langton's to Vinosphere as both an exhibitor and our retail partner. As well as showcasing a range of their own wine selections, Langton's will be able to take your order for any and all wines from the show, for later delivery. And all at special 'one-night-only' prices. If you like, you can add your shipping address when you buy your tickets to facilitate delivery.
To keep things relaxed and intimate, tickets are strictly limited. So do be quick to book in; $50 (plus booking fee) includes your complimentary Riedel Ouverture Magnum wine glass to take home (a $20 value itself).
See you on Monday, 24th June!