Event Information
Refund policy
Refunds up to 1 day before event
Eventbrite's fee is nonrefundable.
Talk by artist, author Mark Rusic revealing the WHY and HOW behind today's success of Van Gogh. Be refreshed and find your creative upgrade.
About this event
TALK TITLE: VAN GOGH'S COLOURS AND CREATIVITY UNLOCKED
Vincent Van Gogh's paintings and life have captivated the world over, since his death more than a century ago. And remarkably, the man who sold one or maybe two paintings in his life time is experiencing yet another unprecedented surge in popularity today. Have you noticed the recent emergence of many immersive, virtual Van Gogh exhibitions, mushrooming up across the globe during 2021?!
The big question is the WHY and HOW behind today's success? And could 'Van Gogh Unlocked' help release the creative giant in you?
I am absolutely convinced it can. I wrote a book about my city called, 'Iconic Melbourne,' a collection of my paintings, photos and poetry, which was given as a gift to three hundred G20 world delegates. My success was profoundly enhanced by carefully probing Van Gogh's life and art over many decades and practically applying what I discovered. Hence, Van Gogh - Unlocked!
Interestingly, Van Gogh predicted that, "a colourist would arise in the future, such as the world has not seen." Was he actually speaking about himself or another?...
For the record, enjoy this insightful talk on Van Gogh's life, development and purpose as an artist. Mark unlocks Van Gogh the artist by connecting the WHY's and HOW's behind his paintings with his history, and his creative journey as it unfolds, by studying his quotes, paintings, colours and creative genius together in unison.
More specifically, the talk focusses on Mark's 10 easy to follow practical colour principles revealing the why and how behind his colour evolution and creativity.
The unlocking deepens, as Mark the practitioner also vividly demonstrates the Van Gogh techniques and colour strategies he expounds. He does this by referring to his own Van Gogh like painting titled, 'Wombat arising in the Wheat Fields,' shown below.
This talk not only has a curator-insight feel, but is also reflective, with an innovator-foresight feel. Mark is intentionally seeking to propel you forward, to your next level in your painting and creative expression by unlocking the richness behind Van Gogh's colours and creativity, in this engaging video.
And it's by design. By the way, after this talk... perhaps that colourist of the future Van Gogh spoke of, "such as the world has not seen," could it actually be you?!
(Mark also wants acknowledge the Van Gogh Museum in Amsterdam for use of Van Gogh's quotes and Getty Images for images of his paintings.)
ABOUT YOUR HOST & SPEAKER:
Mark Rusic is from Melbourne, Australia. He has been counted among some of the best - selling authors in Australia on several occasions, with his Van Gogh inspired, art filled books.
Mark is also active in giving "Paint Like Van Gogh" art workshops with a motivational component to all ages(For more details go to iconiccolours.com). He seeks to resurrect the lost practice of Van Gogh's kind of impressionistic and expressionistic painting techniques for today.
His two books are 'Iconic Melbourne' & 'Iconic Animals of Australia- With a Voice to Release Your Giant Potential Within'. His books comprise a collection of his paintings, photography, poetry, and with creative comments throughout.
Get Mark's books with FREE Shipping Worldwide here--> https://www.bookdepository.com/search?searchTerm=mark+rusic&search=Find+book
PROGRAM DETAILS:
45 min duration on Zoom. Starts 8.30pm till 9.15pm.
Video Approx. 35 Min. on10 Colour Principles.
Mark will admit people and start punctually.
MORE ZOOM DETAILS:
This educational and fun talk is open to all regardless of age and it is a virtual event via Zoom. Hence, you can connect from anywhere in the world.
THE ZOOM CONNECTION LINK WILL BE EMAILED TO YOU AFTRE YOU REGISTER.
If you fail to receive the Zoom connection an hour prior the event please contact us on info@iconiccolours.com
Zoom Connection Suggestions:
Connecting to Zoom a few minutes early is ideal.
This is a visual presentation so the bigger tablet or screen used is ideal.
To join the event simply click the Zoom link that is sent, if disconnected select it again.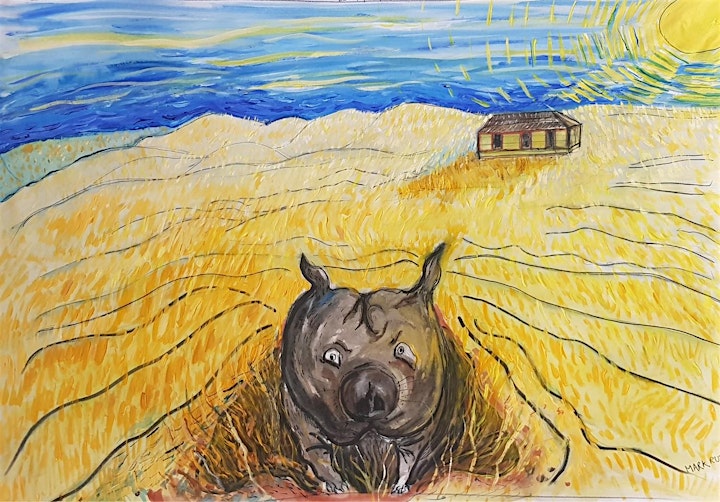 Mark's key reference painting for His talk: 'Wombat arising in the wheat fields' by Mark Rusic
Date and time
Location
Refund policy
Refunds up to 1 day before event
Eventbrite's fee is nonrefundable.