Description
'Reiki is a Japanese technique for stress reduction and relaxation that also promotes healing. It is administered by "laying on hands" and is based on the idea that an unseen "life force energy" flows through us and is what causes us to be alive. If one's "life force energy" is low, then we are more likely to get sick or feel stress, and if it is high, we are more capable of being happy and healthy.

This is a style of Reiki that was created in 1989. It is a combination of the Usui style as practiced by Takata Sensei and the Raku Kei style of Reiki created by Arthur Robertson. Learn more about Usui/Tibetan Reiki.'
from the International Center for Reiki Training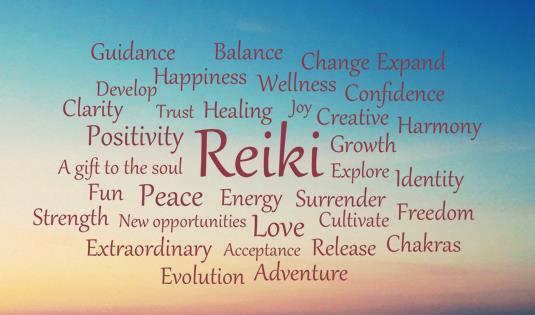 Friday ~ Sept 16th (10:00AM - 5:00PM) ~ $250
Reiki I Training (7 hours) Usui/Tibetan

Reiki is a Japanese relaxation technique that promotes healing. It was discovered by Mikao Usui in March of 1922 on top of Mount Kurama while fasting and meditating. It is a simple and powerful technique anyone can easily learn and use in their everyday life.
Healing attunement and Reiki I attunement are given on this day during the training…

Some topics that will be covered are:
• What is Reiki ~ How it works, history plus so much more
• Gassho Meditation
• Reiki Hand positions
• Body Scanning
• Complete treatment for self and the importance of self-practice
• Hayashi Healing Guide
*Using Reiki for specific purposes
*Using Reiki to heal unwanted habits ~ really useful for kids and adults alike!
You receive a 192 page class manual (if you have taken my Reiki Level 1 you have the book)
PLUS Handouts
Class certificate
Special Gift
***CEs and CEUs for International Energetic Healing Association members are provided for this class.***
IMPORTANT INFORMATION:
While practice takes place during the class, it is expected that you will set aside additional time to practice after the class is over. Please commit to this additional time which should be one evening a week for several weeks, or its equivalent, to practice Reiki with one, or more, people from your Reiki class or with members of your family or friends. We will be having Reiki Shares once a month for this purpose that you will be invited to join.

This Reiki class is a combination of lecture, discussion, and experience. Reiki is a self-practice healing experience, practice will permit you to gain experience and confidence to fully utilize your Reiki training and further develop your Reiki practice on this journey of self-discovery.
I encourage my students to attend Reiki Shares monthly and even work with me on a "Journey Mentor-ship" when local…the more you practice the stronger your connection becomes. You will also have direct access to me via email, Facebook and Skype.
Those wishing to pursue further with Crystal teaching and a Certificate Program towards becoming a Certified Crystal Healer with the International Energetic Healing Association, more information will be shared during class.

This is a small, intimate class environment for all of us to connect. I limit the classes to 10 people. Currently the location is in a private home and the address will be shared upon registration.
What to wear and what to bring:
Please wear comfy clothes because we will move around alot. I would also like to have you bring either a yoga mat or large towel to lay on.
Snacks, water, coffee and tea will be offered however lunch is on you! I encourage you to bring your lunch so we can spend time chatting rather than running to fetch lunch.
Pen and notebook are advised especially if you have a favorite! <3
If you have anything special you'd like present during your Reiki attunement.
There is a registration fee $100. This covers the cost of the Reiki I manual, printed materials, meditations and special gifts. The remaining can be paid in cash the day of the class or via bank deposit.


This is a fantastic class to do with a spouse, partner or friend and I highly encourage you to invite your friends to join. This class it for adults, however I do not mind older teens (17 years and above) to join as long as they are respectful. I find that Reiki is a fantastic way for teens to find balance in their lives especially when stressed.

REGISTRATION FEE POLICY: Class registration fees are non-refundable if the student cancels, but may be transferred to a future class within 1 year from the initial class date. If the class is cancelled by me, the teacher, the registration fee is fully refundable.