Using LinkedIn to Build Credibility, Influence, and New Opportunities with Big Business

Tuesday, 9 December 2014 from 9:00 am to 12:30 pm (AEDT)
Event Details

3 reasons why you should consider investing 3 hours –
We'll help you complete your 'Search Engine Optimised'Profile - we'll workshop the key steps to get it complete and ready to publish AND you'll finish it.
We'll work with you in creating a process to build and implement your online brand and influence, and to increase your ranking on LinkedIn.  You'll have a solid plan on how you'll influence potential buyers, customers, and the media. You'll have a strategy on how to publish on LinkedIn, a plan on how often you'll work on posts, groups and sharing, AND printed tangible checklists and guides specific to your goals
You'll learn to use our 3 Step Process (Seek – Connect – Communicate) to connect with new prospects that form part of your target market. We'll help you find those people, either through existing connections or completely new contacts, we'll provide steps on how to connect with them and give you a process for communicating with them as you build your influence AND you'll actually connect with 3 of them then and there. 
What you'll takeaway at the end of the 3 hours -
LinkedIn's Secret Settings Guide – Learn how to find your way around LinkedIn and master the settings. 

Learn the essential elements for great SEO rankings

Key Search & Connect Techniques – helping you find and connect with decision makers, new business opportunities and key people of influence enabling you to grow you own LinkedIn network of contacts and secure

A Straight Forward Guide to Publishing on LinkedIn – Taking your influence and brand to new levels in credibility and positioning you as a person of authority and influence.

3 Simple & Effective LinkedIn Checklists – Daily, Weekly, 90 Day checklist to keep you on track. 
 
Workshop
Tuesday 9 December 9am – 12.30pm
$195 per person
UNSW CBD Campus: Level 6, Winter Garden, 1 O'Connell Street, Sydney CBD, NSW 2000 

"Based on a 2013 study surveying over 3,000 sellers, top sellers were doing far more than other salespeople to leverage LinkedIn, with 61.4% of those conducting prospect research successfully initiating offline conversations with prospective clients. Yet the same survey showed that 58% don't know properly how to use what's available from LinkedIn!"
 (Jill Konrath & Ardath Albee 'Cracking the LinkedIn Sales Code', 2013)
So how do you tap into this extraordinary resource to build your credibility, influence, and new business opportunities?
There are 3 steps in this ½ day seminar:
 1.Chart your course
Decide why you should spend time on LinkedIn, and set objectives. Is it to connect with more clients? Influence existing connections? Expand business with current clients? Secure new business?

 2. Prepare your ship
Once your course has been set, you need to prepare your profile, nominate skills, decide settings, join groups, provide endorsements and seek testimonials, identify target customers, and plan your communication and activity strategy.

 3. Reap your rewards
 Maximize your reach and impact with your daily, weekly, and 90 day checklist. Decide who you wish to connect with, send invitations that will be accepted, and begin a strategy that will take people from stranger to colleague, colleague to client, and client to advocate.
You'll need to bring your laptop and the other resources we'll list for you, and be prepared to work on your LinkedIn account throughout the morning, giving you tangible 'take home' results.

Note: There will be small amount of prework to ensure the workshop delivers maximum value.
We'll cover: Profiles – SEO - Company Profiles – Settings – Groups – Endorsements – Recommendations – Publishing – LinkedIn Influencers and more
 Book now for your last chance this year to prepare for 2015.
 "Following the 3 step LinkedIn Influencer process, has dramatically improved my positioning in the market, and lead to new business opportunities".
  Padraig O'Sullivan, Expert in Expat Transitions and High Performing Teams
About Us - Graeme Cowan and Sonja Firth are the backbone of LinkedIn Influencer, both having used LinkedIn in their respective businesses to create a steady stream of new business over the last 3 years. For Graeme as a Keynote Speaker, creating regular blue chip client leads, and for Sonja in her outsourcing services company, regularly finding growth opportunities and in sharing her knowledge in maximising LinkedIn's value for her own clients.
 
For further information 
Phone 1300 768 823
Email courses@linkedininfluencer.com.au
Have questions about Using LinkedIn to Build Credibility, Influence, and New Opportunities with Big Business?
Contact Business Influencer
When & Where

UNSW CBD Campus
Level 6, Winter Garden
1 O'Connell Street
Sydney CBD, NSW 2000
Australia

Tuesday, 9 December 2014 from 9:00 am to 12:30 pm (AEDT)
Add to my calendar
Organiser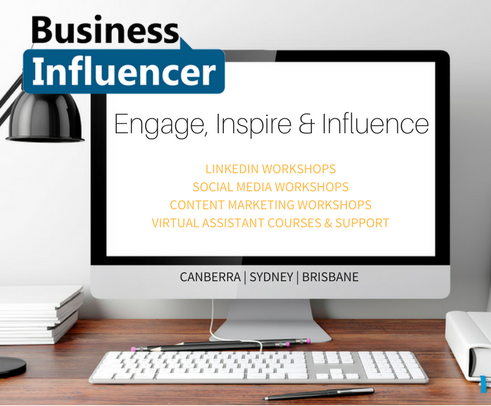 At Business Influencer, we empower organisations and individuals to harness the unlimited power of being online, digital and social.
We run workshops, online courses and provide individual coaching, enabling you and your team to create and manage your own social media, online presence including websites and digital marketing systems and online business tools. We also run workshops on learning these skills to run your own business from home as a Virtual Assistant or Virtual Business Manager. We were one of Sydney's first LinkedIn training specialists and continue to share our knowledge with individuals and businesses in Canberra, Sydney and Brisbane. 
We help brands and individuals optimise their online presence.
www.businessinfluencer.com.au
Mobile: 0421 147 620
Engage, Inspire & Influence
LINKEDIN WORKSHOPS | SOCIAL MEDIA WORKSHOPS | CONTENT MARKETING WORKSHOPS | VIRTUAL ASSISTANT COURSES & SUPPORT
CANBERRA | SYDNEY | BRISBANE