Description
Quick on the Draw: Speed-Sketching Techniques with Line and Colour
A full-day workshop with Lynne Chapman on Saturday March 24th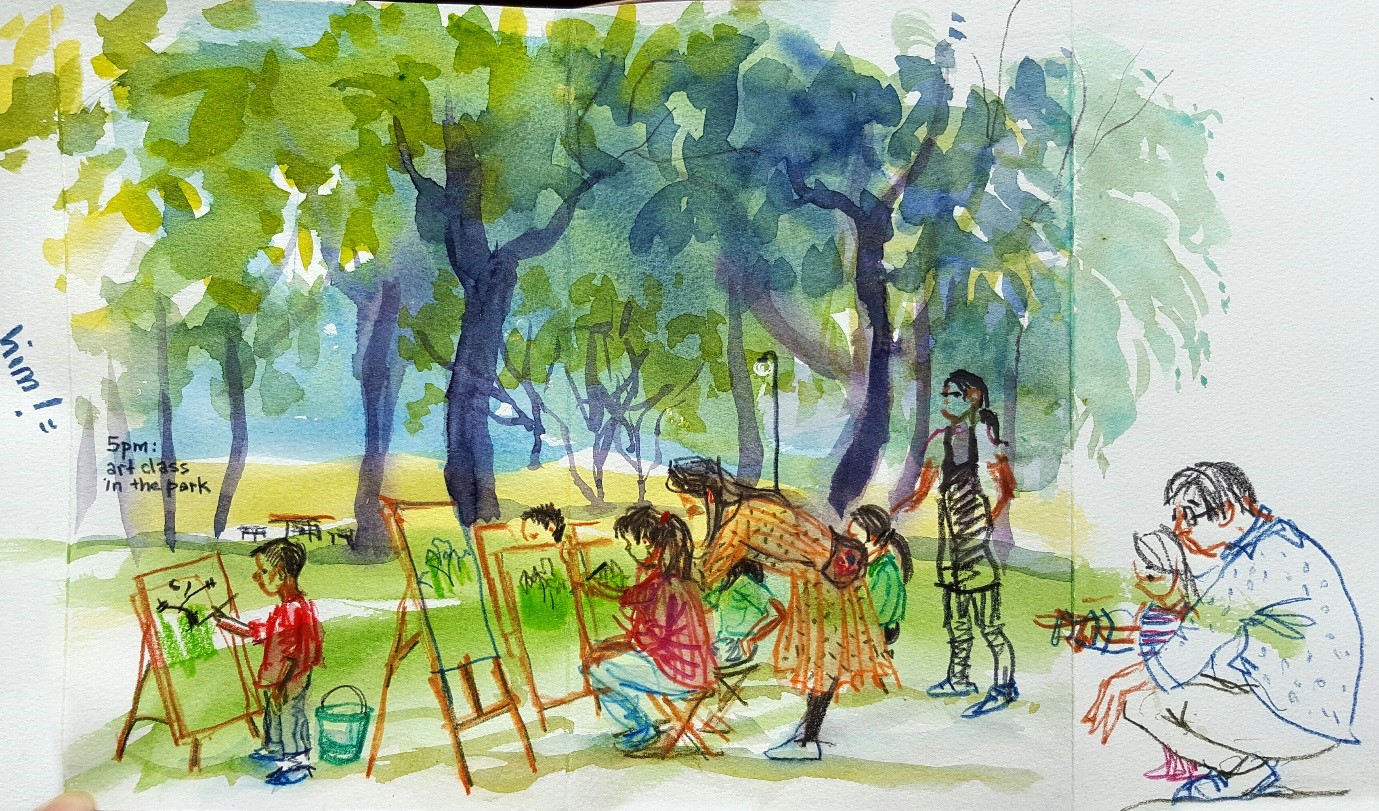 The Workshop
'Capturing the moment' is what urban sketching is all about, but one of the most tricky challenges with this, is the need to work quickly. There are many practical reasons why speed is useful: moving subjects (like people!), changing light, personal discomfort… Or a sketch might be an impromptu opportunity, when you only have a 10-minute window. I always try to work as fast as I can, as I find that my 'quickies' are generally my favourites and definitely the most fun to do.
There are lots of techniques you can use to make speed-sketching more practical. Over the course of our day together, I will share many different ideas for creating quick impressions of what you see, using both linear tools and paint. I will show you how to avoid 'over-thinking' a sketch, by tapping into your instincts, to help your eyes and hand connect, without letting your brain interfere.
We'll look at how to gauge the best approach for specific subjects, as well as carrying the right art materials for jumping in and capturing what excites us, before it's gone. We'll also learn how these simple techniques can add life, impact and movement to our sketchbooks.
I will be doing sketching demonstrations as we go along. It will be fast and furious, but hopefully lots of fun!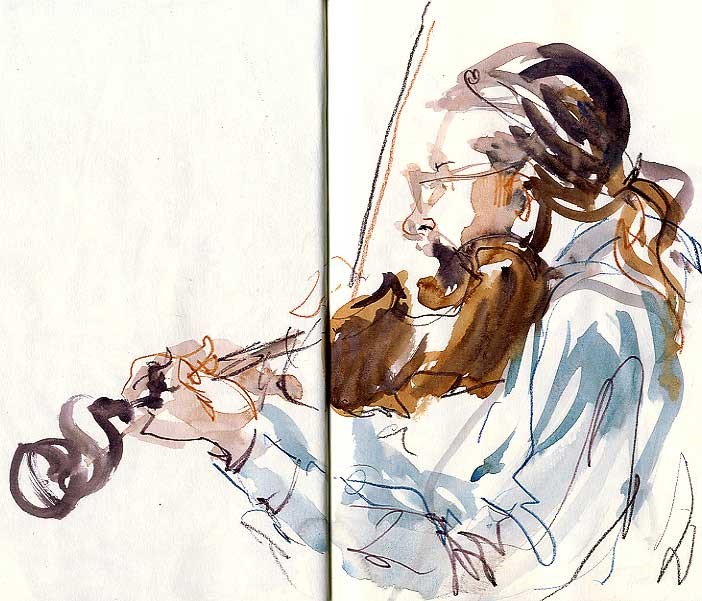 The Instructor
Lynne Chapman is an award-winner illustrator, who lives and works in Sheffield, England. She has over 30 published children's books and a Craftsy class on book illustration. She now works regularly as a resident sketcher with academic researchers. In 2015/16, she sketched for 10 months with sociologists at the University of Manchester and is currently sketcher-in-residence at the Centre for Transformative Work Design at UWA. Her widely acclaimed book, Sketching People, was published in 2016.
Lynne is passionate about drawing and enjoys sharing her experience and enthusiasm with others. For 20 years, she has been travelling the UK delivering inspirational lectures and workshops for adults and children. Lynne was invited to become an Urban Sketchers correspondent in 2009 and, in 2010, founded Urban Sketchers Yorkshire. She has delivered workshops and lectures on sketching at five Urban Sketchers Symposiums.
You can see Lynne's sketching work at www.lynnechapman.net and her children's books at www.lynnechapman.co.uk
You can follow Lynne's sketching residency with UWA on her blog at https://lynnechapman.blogspot.com.au/search/label/residency or on the CTWD project website at https://www.sketchingworkdesign.com/

Participants
Classes will be no larger than 16 (minimum of 5 participants). People with any level of experience are welcome – the class will be suitable for relative beginners, as well as the more experienced sketcher.

Meeting Information
Our day will begin and end at Winthrop Hall (west side of the building) on the UWA campus (see map). We will meet at 9.45 for a 10am start. Please be prompt, as we will be moving around. The class will finish at 4.30.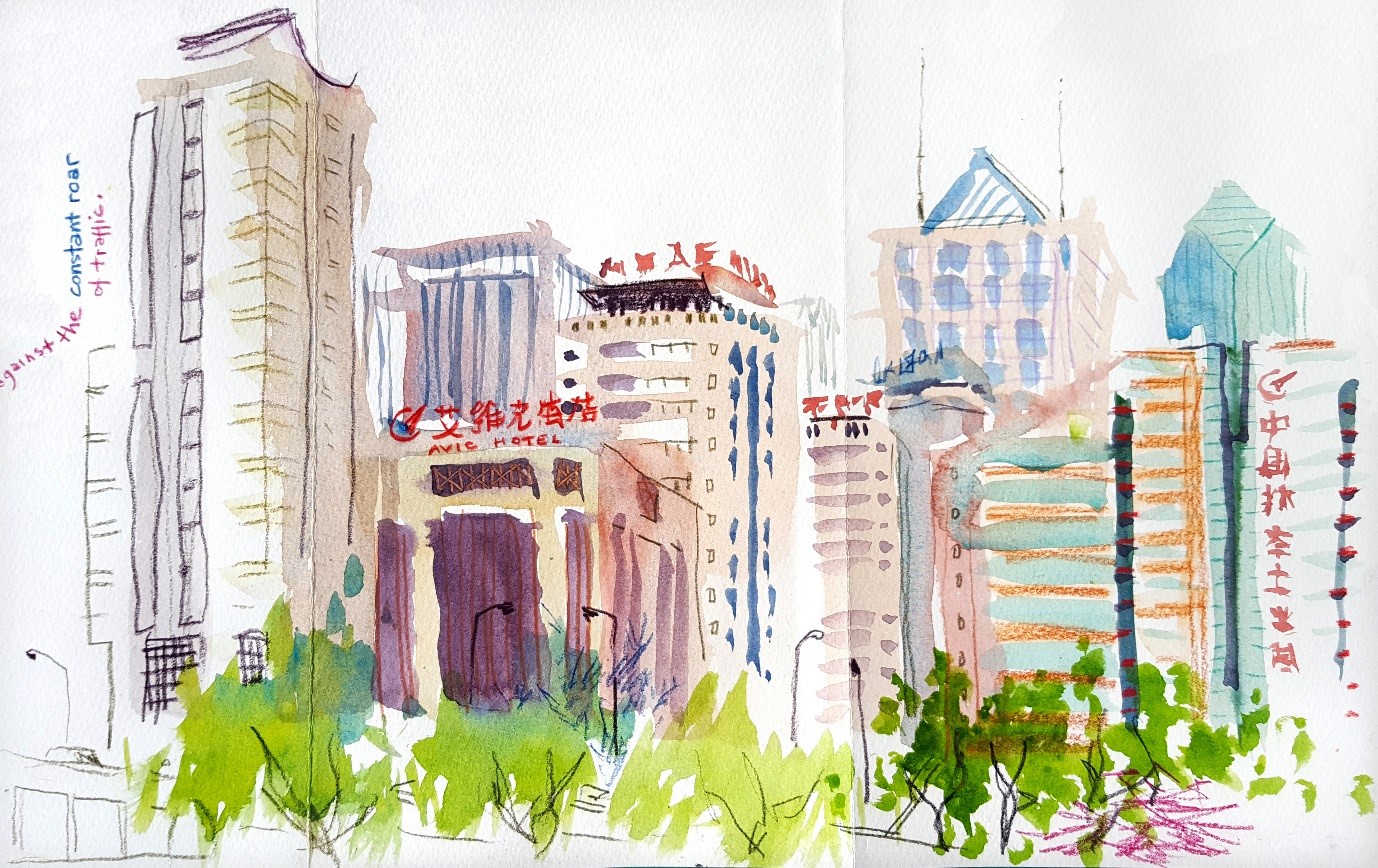 Supply list
Sketchbook: ideally watercolour paper, but good quality paper will work (it needs to be suitable for taking paint). No bigger than A4 or smaller than A5. Any format you like. Bring a couple of medium binder clips, to keep your pages from blowing.
Bring the art materials you generally use, but please ensure you have:
* a set of watercolours
* a small selection of watercolour pencils (NB if you're buying them especially, my personal favourites are Derwent Inktense)
* a medium watercolour brush (approx size 8 - 10)
* a bold line-drawing tool (eg soft pencil, graphite stick, 'Magic' pencil)
* two small water pots and a paper towel or rag.
Bring a sketching stool or folding mat. We will try to keep out of the sun, but please wear sunscreen and bring a hat.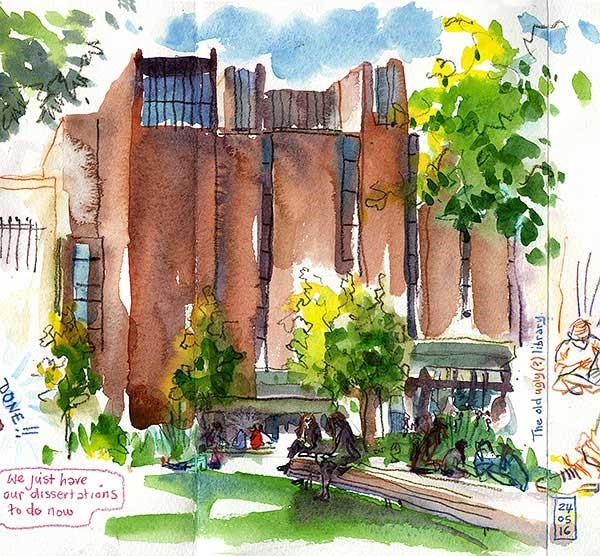 To Book
The cost of the workshop includes a picnic lunch and water. All participants will also get a handout, so they can remember and practise the tips later.
Fees are refundable up to one week before the workshop, subject to a $60 cancellation fee. No refunds will be possible after March 16th. In the event of too few participants, all fees will be refunded.