Location
The Orange Palette
1a/31 Berriman Drive
WANGARA, WA
Australia
If you want to learn how to connect with your inner being and hear with clarity the voice of your own intuition, this event is for you!
About this event
Intuition is the language of the Soul.
With so much information in this world vying for your attention and for every thought, it's easy to fail to hear the guidance of your inner voice.
This is the perfect time to seek the answers from within.
Turn inward, where you'll find the solutions and valuable insights that are waiting to assist you.
Your inner being knows exactly what you deeply desire, knows all your dreams, all your wants, and knows the way to get there in the most unimaginable of ways.
Most importantly, your inner being wants the best for you and is in constant communication with you. Are you listening?
Are you ready to unlock the power of your intuition?
We all have a direct channel to the higher representation of who we really are, and we all have the ability to reach to and connect with it.
When you learn to follow and trust your intuition, you'll begin to have a sense of not only the right timing, but you'll also begin to be and live in a new way. Your life will shift to a different level, in marvellous ways.
____________________________________________
You Will LEARN…
During the 'Unlock your Inner Superpower – Your Intuition' workshop I will share with you what I know about connecting to your inner guidance and the 3-step process that will help you to nurture a beautiful connection with your inner being so you can access your superpower.
AND, I'll guide you through beautiful meditations that will allow you to experience the delightful feeling of connecting with your intuition.
At the end of this workshop You Will HAVE...
A clear understanding of the importance of tapping into your inner guidance and why you should make it part of your life, as well as having a roadmap to develop a connection and relationship with your inner self.
I firmly believe that learning how to connect, access and trust the whispers from your soul is one of the most empowering choices you can make. I have experienced many times the transformative effect of following my soul's guidance and now more than ever I feel guided to share it with you.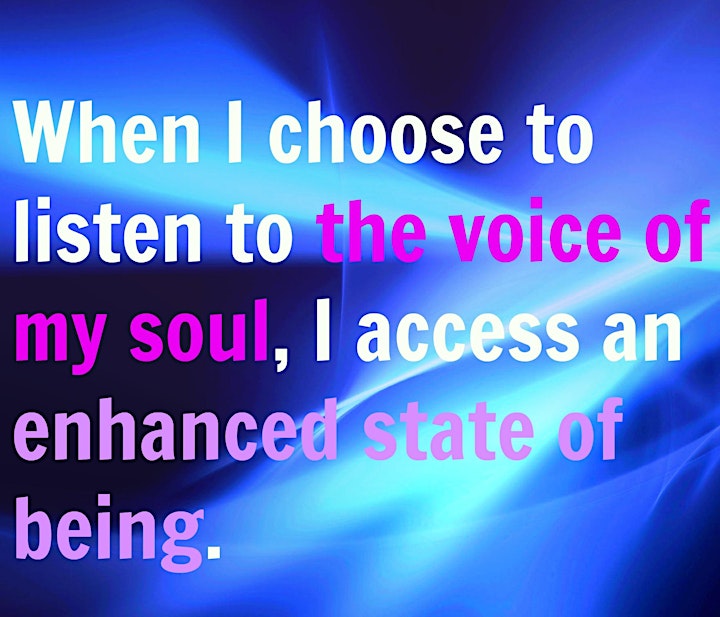 EVENT DETAILS
Date: Saturday, October 3rd, 2020
Time: 1.00 to 4.00pm
Where: The Orange Palette, 1a/31 Berriman Drive, WANGARA
Standard Ticket: $55
Silver Ticket: $85 – includes a signed copy of Freedom of the Soul
____________________________________________
If You've EVER…
Looked at your life and said to yourself, "There must be more than this", then you know you are ready for more. More alignment, more flow, more joy, more meaning…
This is your opportunity to discover how you can open up to the more you desire, to living with more awareness and from a new point of power.
Join me for the 'Unlock your Inner Superpower – Your Intuition' workshop to learn the steps to connect with your inner compass.
As always in support of your journey,
Liliana
____________________________________________
Ticket Administration
Places are limited. Book your place now to avoid missing out.
If you have any questions, please contact me on liliana@lilianavanasco.com
A confirmation email will be sent out closer to the event date. Please add liliana@lilianavanasco.com to your address book so you don't miss my e-mails.
____________________________________________
PRAISE
"As always, Liliana brings a wealth of wisdom and experience to her classes. She delicately delivers an experience that guides you deeper into your soul, to help you remember that part of you that is already within. Soul Lessons is the perfect class to help you discover your own freedom from within. This class consistently has rave reviews from all who attend as they gain so many pearls of wisdom to apply to life and make positive change. This is the kind of class you gift yourself and thank yourself 10 years later that you did." - Eesha Patel, CEO of Siddhi Space
"Liliana, your talk was amazing. It really inspired me! I felt that I was meant to be there today and listen to what you had to say. It really resonated with my little soul. You are an amazing and inspirational lady. I am sure that I'm not the only one who thought this, and many of the others in the class would agree with me. Thank you." – Emily, Perth
"Hi Liliana, I wanted to let you know that your talk at the 22nd Annual Reiki Day was incredible. Thank you so much, I'm still feeling empowered and energised from it. Speak soon." - Jennifer F., Perth
"I am grateful that at least once a week I was able to take time for my spiritual self and to reflect on the teachings in a group. I was always grateful for how I would feel after every session. The feelings were energized and inspirational. I am grateful for the time that was spent finding flow and purpose and the constant reminder about intent and abundance." - Marisa R., Perth
For more information about Liliana visit www.lilianavanasco.com