Film screening and artist talk
About this event
Join 23rd Biennale of Sydney (2022) participants David Haines and Joyce Hinterding for a rare screening of their work The Grounding Ungrounding (2019) at the Western Sydney University Transformation Hub, Lithgow.
Blue Mountains-based artists David Haines and Joyce Hinterding's artistic practice often has a concern for invisible energies and sounds embedded in our environment. The artists' 2019 open-ended video work The Grounding Ungrounding highlights their unique fieldwork processes guided by the spirit of pataphysics.
Following the screening, audiences are invited to participate in a conversation with David Haines and Joyce Hinterding and the Biennale of Sydney's Programs and Learning Manager Lleah Smith, as they discuss the collaborators' inventive working methodologies and grapple with some of the driving questions informing the evolution of the 23rd Biennale of Sydney, titled rīvus.
Light refreshments will be served.
BIOS
David Haines & Joyce Hinterding
David Haines and Joyce Hinterding live and work in the Blue Mountains in New South Wales, Australia, and work both collaboratively and independently. Their solo and collaborative practices span various media from large-scale immersive video installation and experimental audio works for performance to discrete objects, images and aroma compositions. They often combine mediums with a concern for energies and the intersection between hallucination and the landscape, incorporating sound, installation, video, performance, sculpture, photography, drawing and computer game technologies.
Lleah Smith
Lleah Smith is a pedagogical practitioner. She has worked across Australia and India since 2011. At the core of her practice is an interest in collaboration and knowledge exchange where 'learning' is the medium, the artwork and the education. Smith is fascinated by the 'educational-turn' in contemporary art-making and the radical changes and pedagogical shifts impacting how we teach and how we learn. She engages in making, writing and research through her independent practice and position as Programs and Learning Manager at the Biennale of Sydney, the third oldest Biennale in the world. Smith is also a Teaching Associate at Monash University.
About the 23rd Biennale of Sydney (2022)
rīvus – the 23rd Biennale of Sydney – will be articulated through a series of conceptual wetlands and imagined ecosystems populated by artworks, public programs, experiments, research and activisms, following the currents of meandering tributaries that expand into a delta of interrelated ideas.
Those invited to take part in the Biennale will be known as 'participants' rather than 'artists', reflecting their diverse skills, practices and modes of being that extend beyond the realm of the visual arts. The participants – 59 individuals and collectives to date – live across six continents and 33 countries such as Cameroon, Cuba, Slovenia, Taiwan, Tonga and the Netherlands.
rīvus, meaning 'stream' in Latin, is being developed and realised by a Curatorium including José Roca, Artistic Director, 23rd Biennale of Sydney, Paschal Daantos Berry (Art Gallery of New South Wales), Anna Davis (MCA), Hannah Donnelly (Information + Cultural Exchange) and Talia Linz (Artspace).
The Curatorium said: 'Indigenous knowledge has long understood non-human entities as living ancestral beings with a right to life that must be protected. But only recently have some plants, mountains and bodies of water been granted legal personhood. If we can recognise that a river has a voice, what might they say?'
'rīvus will enable aqueous beings – rivers, wetlands and other salt and freshwater ecosystems – to share a dialogue with artists, architects, designers, scientists, and communities. Considering the water ecology's perspective raises unlikely questions: Can a river sue over psychoactive sewage? Will oysters grow teeth in aquatic revenge? What do the eels think? Are waves the ocean's desire?'
The 23rd Biennale of Sydney will be presented from Saturday, 12 March to Monday, 13 June 2022.
About the Biennale of Sydney
The Biennale of Sydney is a leading international contemporary art event. It plays an indispensable role in Australia's engagement with the world, and a meaningful role in the life of the nation. For almost 50 years, the Biennale has been a unifying force in the Australian arts sector, embedding boldly creative art exhibitions and experiences in the everyday life of Sydney and putting the artistic excellence of Australia front and centre on the world stage. The Biennale of Sydney has commissioned and presented exceptional works of art by more than 1900 national and international artists from more than 130 countries. The Biennale of Sydney is committed to free access for all.
Photograph: David Haines & Joyce Hinterding, Geology, 2015. Installation view for 'Energies: Haines & Hinterding', Christchurch Art Gallery Te Puna O Waiwhatu, Christchurch, New Zealand, 2016. Commissioned by the Museum of Contemporary Art Australia. Supported by Christchurch Art Gallery Te Puna O Waiwhatu, Christchurch, New Zealand. Courtesy the artists and Sarah Cottier Gallery, Sydney. Photograph: John Collie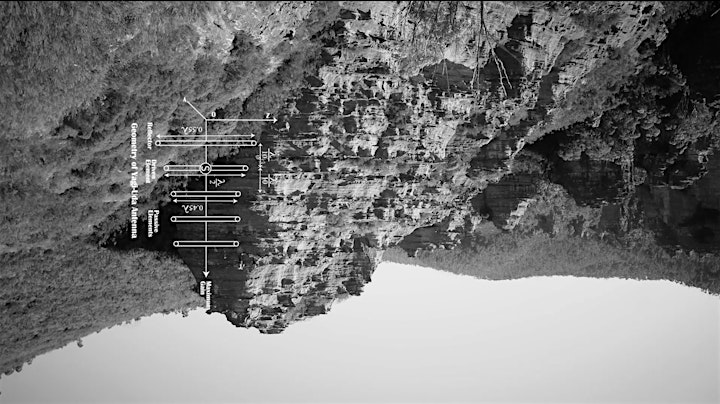 Photograph: David Haines & Joyce Hinterding, The Grounding Ungrounding, 2018 (video still),14:38 mins.
Organiser of Unearthing energies with Haines and Hinterding | Film screening and talk