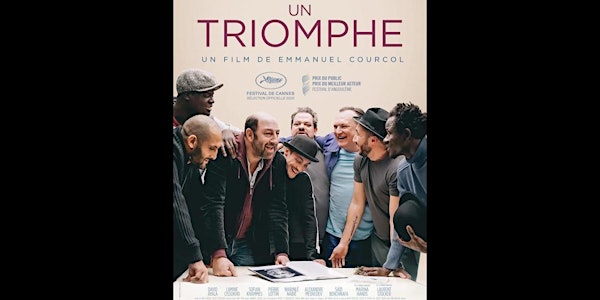 Un Triomphe / The Big Hit - à la rencontre de l'équipe ENSEMBLE MAINTENANT!
Location
Palace Kino Cinemas
45 Collins Street
Melbourne, VIC 3000
Australia
L'équipe d'ENSEMBLE MAINTENANT! vous invite à la rencontrer au cinéma et ensuite voir le superbe français film Un Triomphe / The Big Hit.
About this event
Dans le cadre des élections consulaires qui se tiennent le 30 mai à l'urne et du 21 au 26 mai par internet, l'équipe d'ENSEMBLE MAINTENANT ! vous invite au cinéma pour la rencontrer et à voir le film Un Triomphe / The Big Hit du réalisateur Emmanuel Courcol.
Rejoignez les membres de notre équipe, Serge Thomann, notre tête de liste, Valérie Blayac, Jean-Paul Esnault et Pierre Lelong avant le film pour un verre.
Nous vous convions ensuite à voir ce beau film après son grand succès lors de l'Alliance Française French Film Festival et avant qu'il ne sorte en salle. Le film qui sort en France le 1er Septembre a déjà reçu d'excellentes critiques et a gagné le prix de la Meilleure Comédie aux 2020 European Films Awards après avoir été sélectionné à Cannes.
Réservez vos places rapidement car elles sont limitées.
Le film sera introduit par la réalisatrice NADIA TASS.
Nous vous disons à très bientôt!
https://www.palacefilms.com.au/the-big-hit
L'équipe d'ENSEMBLE MAINTENANT!
Serge Thomann - Victoria / Alsace - Arts et Communications + Priscilla Koukoui - NSW / Pays de la Loire - Innovation et Technologies + Gaspard Bidot - NSW / Paris - Finances + Audrey Barucchi - Queensland / PACA - CleanTech + Philippe Gravier - South Australia / Rhône Alpes - Transports + Christine Smith - Western Australia / Normandie - Santé + Pierre Lelong - Victoria / Auvergne - Environnement - Transition énergétique + Valérie Blayac - Victoria / Normandie - Commerce Import + Romain Bapst - Queensland / Alsace - Restauration + Sophie Pinon-Guerin - NSW / Paris - Communications et Finances + Jean-Paul Esnault - Victoria / Pays de la Loire - Fonction Publique