Multiple Dates
Ultimate Authentic Sales Mastery Workshop For Small Business Owners
Description
Don't feel out of your depth again when selling? No matter what business you are in or what you do...YOU ARE IN SALES. And the success of your business depends on how many sales you make.
You will learn that rather than dreading rejections, you will be keen to step out of your comfort zone to make that important call that could make or break your business.
Discover why your business offer is unique and build a compelling story

Learn what to say to whom, when using NLP Techniques to build instant Rapport with Prospects.

Discover how the 5 Keys of Authentic Selling will help you overcome Cold-Calling Reluctance.

Learn the skills to dissolve underlying beliefs about selling and understand the recognised rapport building methods to foster authentic connections.

Overcome objections by knowing where to take the conversation

Understand that if you are in business, you are in sales – Get good at it 12 step system

Learn how to develop the right marketing plan for your niche – Target & Tell
After 30 years in sales and coaching high performing sales teams, I've developed a proven blueprint that will enable you to overcome these challenges and become a confident & accomplished salesperson.
The potent upside of this system is it can be repeated over & over…continually creating future successes.
If you are interested in building genuine relationships with clients, don't feel comfortable with sales scripts and are sure there has to be an easier method of cold calling other than slogging from one call to the next applying "it's a numbers game thinking", then you can't afford to miss this Two-Day Workshop.
The 5 Keys of Authentic Selling will expand your comfort zone and imbed new beliefs around sales...providing true value to your business and your life.
Learn how the 5 Keys of Authentic Selling…
Confidence - Transformation - Authenticity - Trust - Influence…will change your beliefs around growing your business!
At this 2-Day Workshop you will discover how the 5 Keys of Authentic Selling helps you in overcoming any underlying reluctance and anxieties around selling. Learn how to overcome any fears that are holding you back from growing your business.
Read what Minutepress business owner Wendy said about this course…
"I loved the trainers teaching style. Janeen was encouraging and honest and made everything easy to listen to and absorb. I loved the way Janeen brought me out of my shell and made me feel comfortable in speaking openly. So much was covered in this course but I believe that there is so much more to learn from Janeen on the subject of selling and about life in general. She has a mountain of knowledge and wisdom. I would like to continue on, learning from Janeen – she has such an amazing understanding of what makes people "tick". I highly recommend this excellent course."
Maximum 6 places available
NEXT COURSE DATE NOVEMBER 24 & 25

Personalised Coaching for Your Business
Book early to ensure you don't miss out.
Learn from sales guru and author of 'Good Girls do Sell'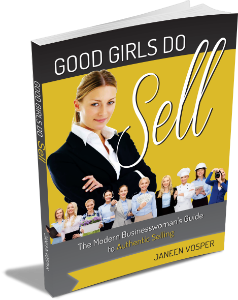 Organiser of Ultimate Authentic Sales Mastery Workshop For Small Business Owners
As an author and sales coach, I typically works with Sales Teams, Small Business Owners and Entrepreneurs in developing authentic-selling techniques and helping cure any cold calling reluctance.  With over 30+ years' experience working in sales, I have assisted countless sales staff acquire the confidence to become top earners in their fields.
My passion is working with entrepreneurial women to develop confidence enabling them to have a voice to promote their business and enjoy success in all aspects of their professional and personal lives.
Having presented to the cream of the public speaking community at international conventions in Japan, New Zealand, across the US and around Australia, I've gained the status as a Fellow of ITC & ITC Corporate Trainer (International Training in Communication) which recognises me (yeh!) as a specialist elite trainer.  My expertise in presenting doesn't stop with delivering workshops around the world though. (Now this pretty cool) As the winner of the Australian region POWERtalk public speaking contest; I was chuffed to be able to represent my country in Hawaii in 2013. (yeh again!)