Twilight Trail Run for Shake It Up

Saturday, 1 March 2014 from 4:00 pm to 8:00 pm (AEDT)
Event Details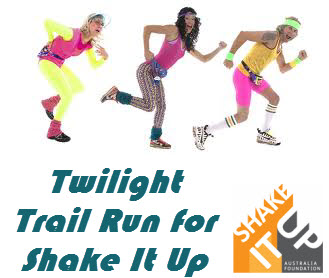 Run Details:
As part of their fundraising for Shake It Up and the Tassie Traverse, Shane and Richelle at The Ultra Life have organised an Twilight Trail Run Fun Run, with a difference!!
Firstly, it will be a handicapped race, so anyone, and we mean ANYONE can win it!! 
And for the fun part, we ask you to come in your best 80's retro gear!!  Whether you pull out the flouro lycra, the Madonna cone bra, or the big hair with the sweat band, its up you!
Key Information:   
What: 5km and 10 km distances on marked trails
Cost: Early Bird tickets (before 1 Feb 2014) - $20 (+ booking fee), Standard tickets (after 1 Feb 2014) - $25 (+ booking fee).   Entries are capped, so get in early!  
When:  Twilight - 4pm on Saturday 1 March, 2014
Where: Birds Land Reserve, Mt Morton Rd, Belgrave (its just behind Lysterfield Park)
Race details:  Races will be handicapped.  This means that when you register, you need to tell us your best flat 5km or 10km time, and your start time will be adjusted accordingly.  Honesty policy applies here, and please keep in mind this is for FUN!  Please also note there will be no official timing.  (see handicap details below)
Prizes: 
There will be prizes for winners and best dressed.  Judges decision will be final, and no correspondence will be entered into.
Food and Drink: 
There will be no water out on the course, so please bring your own hydration if you need it, ie. a bottle or a camelback.  Bottles of water will be available for sale at the event.
Electrolytes will be available at the finish line, thanks to our sponsors Infinit Nutrition.
Bring the family, and hang around for a picnic. 
BBQ snags will be available for a gold coin donation, and soft drinks and Gatorade will also be available for sale.
Raffle
We will be holding a raffle fundraiser, with some AWESOME prizes, so please bring along the contents of your piggy bank!
Updates
Be sure to like The Ultra Life on facebook for the most up to date event details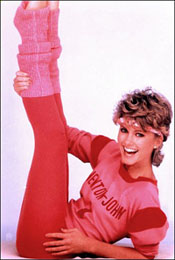 Frequently Asked Questions
How does the handicapping work? 
Have you ever dreamed of standing on the podium, but in reality, you know you will always be a middle or back of the packer?  Well dream no more, this is your time to shine!  Put simply, faster runners start after slower runners, kind of like giving the slower runners a head start.
 Heres an example:
 Blake's best 10km on the flat might be 35 mins
Shane's best 10km on the flat might be 40 mins
Richelle's best 10km on the flat might be 65 mins
 During this race, if we are aiming for a 6pm finish, heres the start times:
 Blake's start time: 5.25pm
Shane's start time: 5.20pm
Richelle's start time: 4.55pm
What if I dont know my time for my best flat 5km/10km?
If you dont know, you have time between now and the event to go for a run of that distance, and time yourself.  Take a few mins off if you know you will go faster in a race.
How much of my entry fee goes to Shake It Up?
We will be honest with you and say the majority of your entry fee will go to Shake It Up.  We are however, required to pay various permit fees to get this event up and running, so the exact percentage donated will depend on how many entrants we get.
Refunds and Name Changes
Name changes are permitted on the day, just get there a few mins early
If you can't make it, unfortunately refunds are not available.  Consider it your donation to Shake It Up!
Can children enter the event?
Due to insurance restrictions, all competitors must be over 18.  Kids however are welcome to come along for a picnic, cheer everyone else on, and dress up of course!
Transport and Parking
Parking is available at Birdsland, enter off Mt Morton Rd.  Carparking is quite tight, so please car pool or take the train where possible . 
Alternatively you can catch the train to Tecoma train station, on the Belgrave line, which is 2.5km from the venue.
What happens on a day of Total Fire Ban, or Code Red?
If the 1st of March 2014 is declared a Total Fire Ban, or a Code Red bushfire day, the race will be postponed until a later date (to be determined).  Participants will receive an email the night before the race if this is the case.
How do I contact the organisers?
Contact Shane and Richelle via email at:  theultralifeevents@gmail.com
When & Where

Birdsland Reserve
Mount Morton Road
Belgrave, VIC 3160
Australia

Saturday, 1 March 2014 from 4:00 pm to 8:00 pm (AEDT)
Add to my calendar
Organiser
Shane and Richelle reckon they have The Ultra Life, and are super keen for you to come and join in on the fun of the great outdoors!

Whether you are into mountain biking, trail running, or just some hiking and red wine with the girls, then hey, so are we!!  
p for our newsletter, and join in the fun!