About this Event
Tunes on the Track - Bush Fire Appeal Concert
FREE ENTRY to all Rural Fire Service workers, volunteers and people that have lost homes or have been devastated by the latest bush fire.
$10 from every ticket sold will be donated to the Local Rural Fire Service
$1 from every drink will be donated to the Rural Fire Service
Saturday 14th of December, Tunes on the Track will be Coffs Harbour's newest Beer, Bites and Beats event. To be held at the Coffs Harbour Racing Course where the venue fits the name.
Sneaky Sound System will be headlining and The Potbelleez (dj set) will be supporting with more acts to be announced. We will throw in some local flair to make sure we are supporting the talented Coffs Coast.
We will supply 5 hours of beers, bites and beats all you need to do is bring your crew and get ready for to show us your best dance moves all while creating some wicked memories .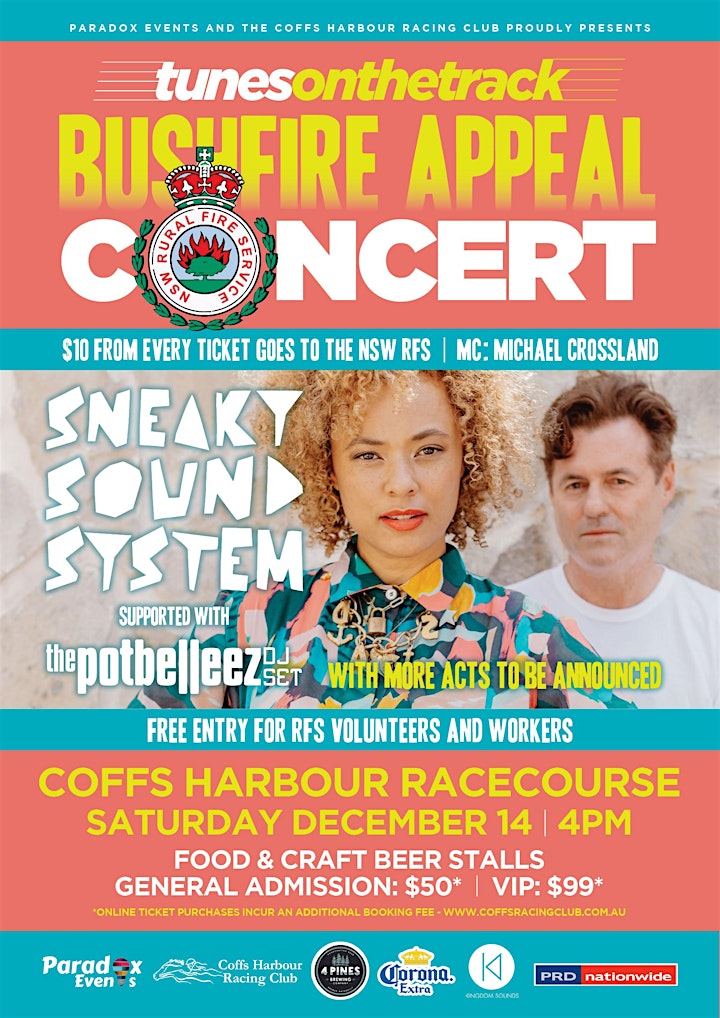 Sneaky Sound System is Miss Connie and Black Angus.
2006 saw the release of their self-titled, 3 x platinum debut album. Spearheaded by UFO, Pictures and I Love It, it won ARIA Awards for Breakthrough Artist and Best Dance Release.
Second long-player and #1 album '2' followed in 2008 with more dancefloor slayers - Kansas City, When We Were Young and #1 UK club smash It's Not My Problem. In 2009 I Will Be Here, a collaboration with superstar DJ Tiesto, topped both the US dance airplay and UK club charts.
In 2011, album no. 3: From Here To Anywhere. MTV called it: "incredible", Sydney's Telegraph "a delicious feast of world class dance-pop songs". A nomination in the prestigious 2012 Intl DJ Awards underscored Sneaky's escalating reputation.
Meantime Connie lent vocals and lyrics to albums from superstars Jay-Z, Kanye West and Snoop Dogg. A 2013 a critics poll ranked Connie #18 of all-time Australian singers. And Sneaky Sundays, their beloved club night, is now 15+ years strong and, after four phenomenal years at Scorpios, Mykonos, moves to Bali hotspot Mrs Sippy for 2019.
Ten+ years after their first release, new remixes saw Pictures and I Love It back at the top of the ARIA Club Chart in 2018. Sneaky's recent releases like Summertime Madness, All I Need Is You, I Ain't Over You and Do Ya Thing, are more akin to the sound of their Sneaky Sundays parties. Can't Help The Way That I Feel reached the pinnacle of dance music when it charted #1 on the UK club chart in December 2018, and the long-awaited follow up, WE BELONG, was released July 2019 on Cr2 Records. RAISE, a collaboration with French DJ/Producer Watermat, was released October 2019.
One of Australia's most successful electronic dance music acts, The Potbelleez , have launched into 2016 with another huge anthem Horny (Ministry of Sound) - Horny is co-produced with legendary Melbourne House producer Ivan Gough and delivers an rocking club anthem to add to The Potbelleez string of radio and chart hits .
Returning to their anthemic best, The Potbelleez have been writing and recording new material at studios across the world, while at the same time remaining one of the Australia most in-demand and electrifying live acts.
The groups previous single Saved In A Bottle nominated for APRA Dance Work Of The Year and Ilan Kidron (lead singer & songwriter) was bestowed a ASCAP Award for 'Top Pop Song' at the 22 nd ASCAP Latin Music Awrads in New York City earlier this year, for the song he co-wrote (with fellow Sydney siders DNA Songs) for Ricky Martin Come With Me .
As One of Australia's most successful dance groups the Potbelleez made their name performing on the very biggest Festival stages worldwide. The Potbelleez performances include Stereosonic –Future Music Festival – MTV Ibiza - Global Gathering Korea – Electric Picnic Ireland as well as club shows in Russia – Germany – UK – Korea – Thailand -.
The Potbelleez have enjoyed a golden run of hits in Australia as well as Europe with co-penning anthems Don't Hold Back and Are You With Me and which have all featured prominently across major advertising and television campaigns including for Jeep, the Apprentice and Samsung to name a few.
The Potbelleez have sold over 750,000 singles and albums in Australia and are known for some of the biggest dance tracks over the past few years including Hello, From The Music, Are You With Me, Saved In A Bottle and the triple platinum, top 5 single, Don't Hold Back