Do you want to be a duathlete? Do you want to be a TUFFKID? Then take the opportunity to experience the TUFFKIDZ Duathlon
About this Event
Do you want to be a duathlete? Do you want to be a TUFFKID?
Then take the opportunity to experience the Ipswich City Rotary TUFFKIDZ Duathlon.
These events are specifically designed for all children in grades Prep to High school who want to be a duathlete for a day and a registered TUFFKID.
Entry Fee:
$10 per person - online
$15 on the day
Team entries available
An approved bike helmet, running shoes and a t-shirt are compulsory.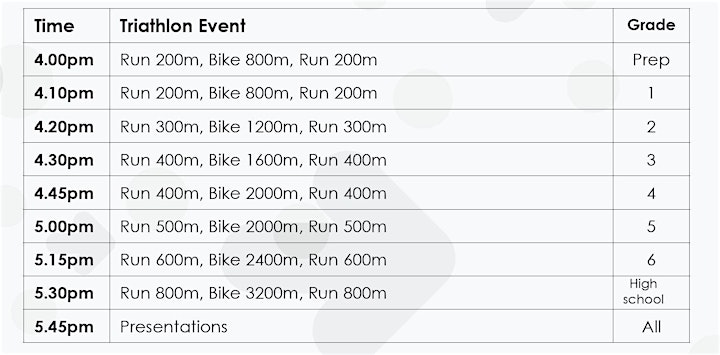 Important Information:
On the Day registration - Online registration will be available until Friday 12th March at 3:00 pm.
On the day registration from 3:15pm.
Parking - Ample street parking is available on Huxham Street. 
Limited parking onsite available
On the Day - All legs will take place at the Ipswich Cycle Park
-Arrive approximately 30 minutes before the start of your event. 
-If you have registered online you still need to check in at the registration area. Each participating child will be required to be present so they can get their unique number written on their arm. The number on their arm identifies they are registered for the Tuffkidz Duathlon.
You will be riding your bike first so keep your bike with you ready for when you are called to the start area.
An approved bike helmet, running shoes and a covered torso are compulsory.
All finishers receive a TUFFKIDZ certificate and go into the draw to win prizes!  Be sure to stay until the end of the events to have your chance to win!
For registration information contact:
Ipswich Hospital Foundation on 1300 736 428
For event information contact:
Peter McMahon: 0409 897 188
First Aid - Qualified first aid personnel will be in attendance.