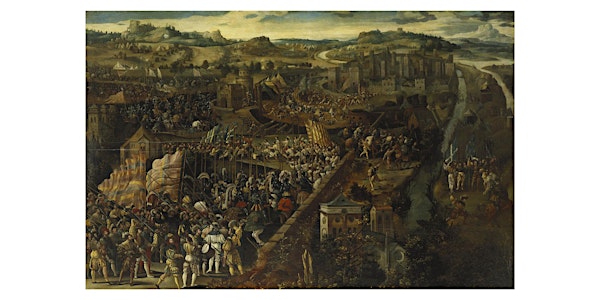 Triumphant Entries during the Italian Wars 1494-1559: Celebrating Alliances...
Location
Woolnough Lecture Theatre, Geology Building
The University of Western Australia
35 Stirling Highw
Crawley, WA 6009
Australia
Description
TRIUMPHANT ENTRIES DURING THE ITALIAN WARS 1494-1559: CELEBRATING ALLIANCES AND DISPLAYING CULTURAL PROWESS IN THE FACE OF UNSTEADY PEACE
A public lecture by Elizabeth Reid, Postdoctoral Research Fellow, UWA.
Between 1494 and 1559 two major European powers, the French Valois and the Austro-Spanish Habsburg fought a series of wars in a competitive bid to expand their territory into the Italian Peninsula. This period was characterised by ever-shifting allegiances, conspiracies, battles, and peace treaties. Major military victories or new alliances forged, and sealed by marriage, often occasioned a kind of 'victory-lap' whereby the triumphant ruler or his bride-prize entered allied territory and were treated to carefully orchestrated festivities. Artists, composers, poets and performers utilised gendered allegories to honour the entering party and to communicate the rich cultural identity of the city itself. Entries were just one level at which the politics of peace played on culturally engrained ideas of masculine strength juxtaposed with feminine vulnerability. This talk will contextualise and discuss key entries in light of this gendered framework. It is supported by a new ARC research project that aims to reconsider the events and cultural output of the Italian Wars through the lens of gender.
This lecture is part of a series: Peace and War: Representations in European Art and Literature - presented by the UWA Institute of Advanced Studies and the UWA Centre for Medieval and Early Modern Studies.
The three lectures in this series, offered by UWA academics associated with the UWA Centre for Medieval and Early Modern Studies, focus on representations of war and peace in European art and literature. Collectively, they will examine the contexts and reception of cultural and political practices of war and peace in the medieval and early modern era from the perspectives of emotions history, medievalism, and gender studies. In this way, the series stands to challenge conventional interpretations of European life in wartime from the sixteenth- to the nineteenth century.