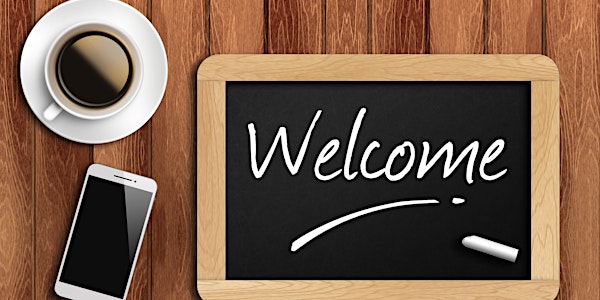 Multiple Dates
TRIAL DAY + COFFEE - Introductory day of CoWorking at CoSydney Chippendale
Sales Have Ended
Registrations are closed
Thanks for signing up for your free trial day with CoSydney CoWorking + Project Space. We're looking forward to meeting you and finding out more about the work you do. Kind regards, Vinh Van Lam & Stuart Horrex Co-founders CoSydney CoWorking + Project Space
Sales Have Ended
Registrations are closed
Thanks for signing up for your free trial day with CoSydney CoWorking + Project Space. We're looking forward to meeting you and finding out more about the work you do. Kind regards, Vinh Van Lam & Stuart Horrex Co-founders CoSydney CoWorking + Project Space
Description
One day of Casual CoWorking at CoSydney
plus
One cup of coffee (or other selected beverage) from CoSydney's Coffee House
The day Trial is for hot desk coworking only. Meeting spacing will require making advance booking and a standard meeting space hire will apply.
Whether you are:
a freelancer working from home who needs somewhere to hold client meetings

an out-of-state business looking to expand in to Sydney

an inner Sydney entrepreneur looking for a permanent workspace;
Looking for

... we have some fantastic benefits going beyond the standard coworking offering special discounts on our standard membership packages, value add inclusions from contributing key community members, and lots of free coffee!
Join our dynamic & inspiring social enterprise offering a CoWorking + Project Space for all creative industry professionals, freelancers, business owners, & entrepreneurs in the heart of Sydney's Chippendale Creative Precinct only minutes from Sydney Central & CBD.
More than just a shared office or hot desks… CoSydney offers a community of support and encouragement for everyone interested in a practical approach to the creativity of business, and the business of creativity and innovation.
Founded by Vinh Van Lam and Stuart Horrex (http://cosydney.com.au/#aboutus) in early 2015, CoSydney provides a community of support for all creative industry professionals, freelancers, business owners, and entrepreneurs.
With a Coffee House on site, an ever-changing array of art on the walls (from key community member - ArtSHINE Gallery), we invite you to visit us, grab yourself a great deal on membership, and join our growing community!
More info about the space:
CoSydney CoWorking + Project Space offers access to fully furnished shared office space along with hot desks and event & meeting spaces. With quiet areas, formal and informal meeting spaces, lounge space, outside decking & meeting areas, and full kitchen. CoSydney CoWorking + Project Space is a relaxed environment with plenty of natural light.
20/20 wifi.

Hot-desk office space - coworking desks, office chairs, lockers, power, and office kitchen.

Casual, part-time, short-term, or permanent - No Outgoings. No Bonds. No Contracts.

One to one meeting spaces available.

Small group meeting spaces available.

Board room table (with AV & presentation facilities).

Regular Events

Art shows & Art exhibitions.
CoSydney CoWorking + Project Space offers community members the basic infrastructure needed to grow business (grow better, not always bigger); independently, but not alone.
We look forward to seeing you :)
Vinh Van Lam & Stuart Horrex
Cofounders
CoSydney CoWorking + Project Space
Organiser of TRIAL DAY + COFFEE - Introductory day of CoWorking at CoSydney Chippendale
More than just coworking spaces, shared office spaces, or hot desks… CoSydney CoWorking is a space where creativity meets enterprise.
Vinh Van Lam & Stuart Horrex cofounded CoSydney and ArtSHINE industries 2 years ago. 
At ArtSHINE we work as a Creative Industries Enterprise Acceleration Platform + Launch Pad working to identify, advance, fund, and accelerate the development of commercially minded and innovative Creative Industries Professionals.
- - 
ArtSHINE industries incorporates CoSydney CoWorking, the ArtSHINE Gallery, the ArtSHINE Agency, and the ArtSHINE Coffee House (because all creative enterprise needs good coffee).
We've a dynamic and inspiring mission to accelerate the success of Creative Entrepreneurs and Creative Economies. We play host to a community of Creative Industries Professionals with a focus on the arts, design, fashion, entertainment, photography, music, writing, film & television, digital technology, and games & interactive content.
Come join with us as we innovate, create, share bold & engaging work, enrich creative practices, and strengthen local communities.