Trend Talks Beauty: The changing face of beauty
About this event
TRENDtalks is an Are Media initiative designed to equip marketing decision makers with the latest consumer, cultural, and category trends, insights and research.
Hosted by Michael Brown, Beauty Expert and Presenter -
Panel speakers include:
Lyndall Campher – Media Director: L'Oréal Australia and New Zealand
Livia Wang - Co-founder and Chief Brand Officer of Access Corporate Group
Niamh Mooney – Founder of Skin Software
Maria Thattil - Miss Universe Australia/Beauty Influencer
Brooke Le Poer Trench - Lifestyle Director at The Australian Women's Weekly
TRENDtalks: Beauty will reveal the latest trends, including how the beauty landscape has evolved along with consumer expectations to become BETTER in every dimension. From ingredients and innovation, to corporate social responsibility, beauty is put under a lens of great expectations and the business of beauty is rising to the occasion.
Open to marketers and those working within the beauty, TRENDtalks: Beauty will be held on Wednesday, 20th October at 10.00am.
Plus, all registered guests will be in the running to win a GHD unplugged cordless straightener and GHD Helios professional hair dryer! (RRP $770)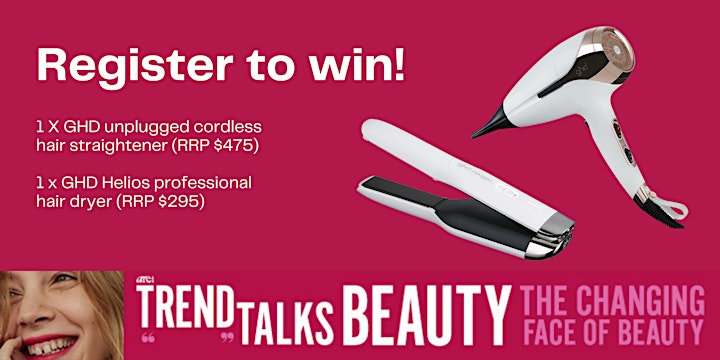 Organiser of TRENDtalks Beauty