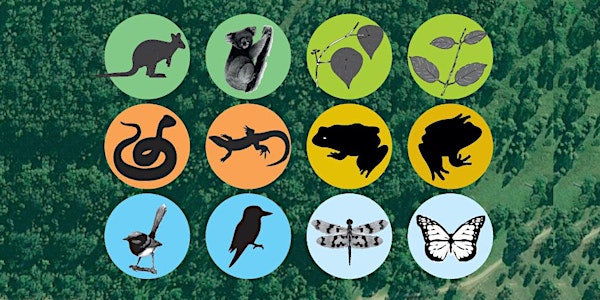 Tracks and Traces: Finding hidden wildlife of the Dungog Common
Location
'The Ruins'
Dungog Common
Common Road
Dungog, NSW 2420
Australia
Description
You are invited to a citizen science event at the Dungog Common - a morning where naturalists will work with the community to survey the local area. The aim is to discover which species are found at The Common using direct observation and indirect approaches while learning about techniques involved in biological surveys from an expert.

For the event we will identify and record the presence of a range of species of animals and plants found on the Dungog Common - a 260 ha reserve at the edge of Dungog - over the morning of March 4, 2018. Teams of up to ten participants will be led by an ecologist who will provide advice to participants on species identification and survey techniques.

This is a terrific opportunity to explore an exceptional natural resource on Dungog's doorstep under the guidance of a biologist and in the company of like-minded curious amateur naturalists in an informal atmosphere.

It is a collaborative event organised by the Dungog Common Recreation Reserve Trust, Dungog Common Landcare group and the Paterson Allyn Williams Science Hub. It is funded by a grant from the NSW Government Local Land Services.

Register now to explore the biodiversity and natural beauty of the Dungog Common.

---


Important Information
What to bring with you
For your safety, enclosed shoes are mandatory. We also recommend you wear long pants and bring a wide-brimmed hat and sunscreen, insect repellent, water bottle, raincoat and binoculars.



Timetable
Please arrive to register between 10:00 am and 10:15 am. There will be a brief induction and safety briefing at 10:15 am. The survey will run from 10:30 am to 12:30 pm followed by a free lunch from 12:45 pm to 1:45 pm.

Registration includes completion of a standard participant registration form for insurance purposes confirming your agreement to conditions of participation in the event. Conditions of participation are:

I will wear and/or carry appropriate clothing, equipment and protective gear as advised on the Tracks and Traces Eventbrite page at time of booking.

I will notify management during registration of any relevant medical conditions and pre-existing injuries that may affect my participation.

I consent to authorise and take full responsibility for medical treatment and associated costs that may arise from any medical condition or pre-existing injury I may have.


I will comply with the advice on safety, and of handling animals and plants given during the induction and safety briefing prior to the survey.

I will follow the advice of my survey leader and ensure my actions do not endanger the safety and welfare of others.

I will report any safety hazards, injuries or accidents to survey leaders or management immediately.

I agree to the use and publication of images of me taken during the event unless I have made management aware during registration that I do not wish to be photographed.

Waiver: I acknowledge that the Dungog Common may contain all manner of obstacles, risks and dangers, both known and unknown, natural and man-made, which may result in loss or damage to my property or personal injury. Knowing the aforementioned matters to be the case, I choose to participate AT MY OWN RISK, waiving and foregoing any rights to make any claims for losses and injuries.

FAQs
Are there any age restrictions for participating in the event?
Children under 15 must be accompanied by an adult. Children aged between 15-18 who are unaccompanied by an adult must provide written parental consent to participate.

What are my transport/parking options for getting to and from the event? How do I get there?

The entrance to Dungog Common is at the end of the sealed section of Common Rd, Dungog, next to Shelton's Bus Depot (see the map at bottom of this page). After entering the Common, continue driving along Common Rd for approximately 1 km until you reach The Ruins where parking will be available.

What if it's raining?
The event will still go ahead if there is light rain. If it has to be cancelled due to heavy rain, participants will be informed by email.
Do I have to bring my printed ticket to the event?
No, however for logistical and catering purposes you must register for the event on this page before attending.

What if I have registered and I can no longer make it? How do I cancel my registration?
Please follow the Eventbrite ticket cancellation procedure. If you have any issues, contact the organiser (below).
How can I contact the organiser with any questions?
If you have any queries, please email Ros Runciman from the Dungog Common Recreation Reserve Trust.