Does the existing ecosystem help or hinder you? Join us at this unique panel event and hear wisdom and advice from those who've been there.
About this event
Panel discussion with speaker
Keynote speaker: Sarah Curtis-Fawley, SBE Australia
Topic: Accelerating Opportunity - Towards a supportive entrepreneurial ecosystem for women-led startups
Growing new ventures to a global scale is vitally important for Australia's economy, but both entrepreneurial activity and attitudes lag behind benchmark countries such as the United States and Canada. Australians are about half as likely as Americans to be in the process of starting a business, less likely to know someone who has started a business in the last two years, less likely to identify business opportunities and, when a profitable opportunity is spotted, Australians are less likely to act on it than Americans. This is particularly true for Australian women.
According to data from the Global Entrepreneurship Monitor, currently there is a large gap between female and male engagement in entrepreneurship in Australia. Sarah's research investigated how male and female founders navigate and experience the entrepreneurial ecosystem in order to highlight potential areas of opportunity to support nascent female founders. An extensive literature review on gender and entrepreneurship led to the development of a conceptual model, which posits that men and women develop and claim an 'entrepreneurial identity' in disparate ways, which in turn compounds the disadvantages women face in terms of the accrual of social capital.
A less robust entrepreneurial identity and lower social capital has the effect of limiting aspiring and nascent female founders' access to critical resources, information, and support, which makes their entrepreneurial "process" more challenging than that of men. Sarah will share findings from her research as well as a range of recommendations to cultivate increased female participation in entrepreneurial activity.
Panel Discussion:
How To Amplify the Success of Women Led Ventures
Panelists:
Lauren Hall, Founder and CEO, iVvy
Renece Brewster, Co-founder and CEO, Visual Domain
Charlotte Petris, Founder and CEO, Timelio
Sarah Curtis-Fawley, Talent Acquisition Lead, SBE Australia
Jim Cassidy, Founder, Little Fish to Big Fish; Board member, SBE Australia, Founding Partner, Rampersand.
Ian Gardiner, Co-founder, Innovation Bay; Investment Partner, Jelix Ventures
Hosts
Nicole Cook, CEO, SBE Australia
Nicola Swift, CEO, Heads over Heels
Malia Forner, Partner, EY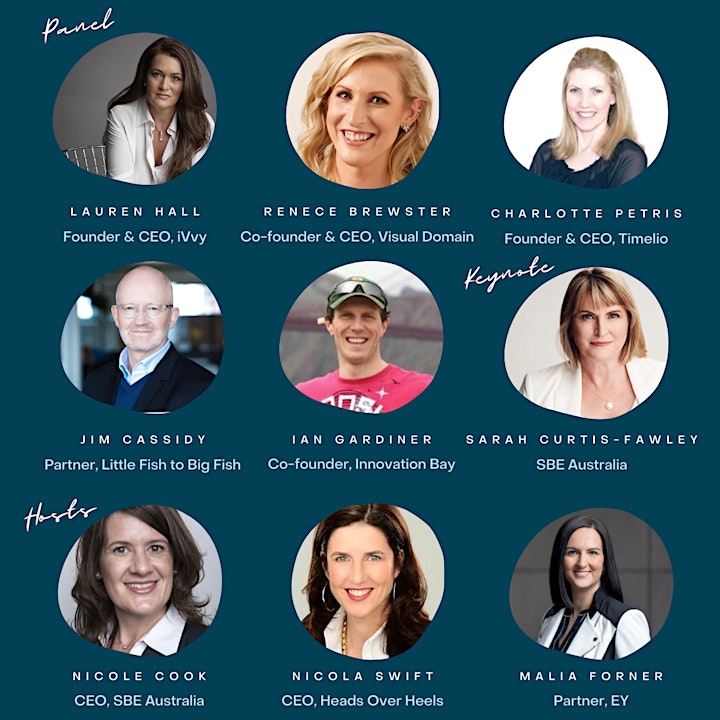 Questions?
As always, we want to ensure the content is relevant to you, if there is anything specific you would like us to cover or if you have any burning questions for our panel - please drop us a note at info@sbeaustralia.org.
We hope to see you there!
This event is part of Spark Festival and upholds the Spark Code of Conduct.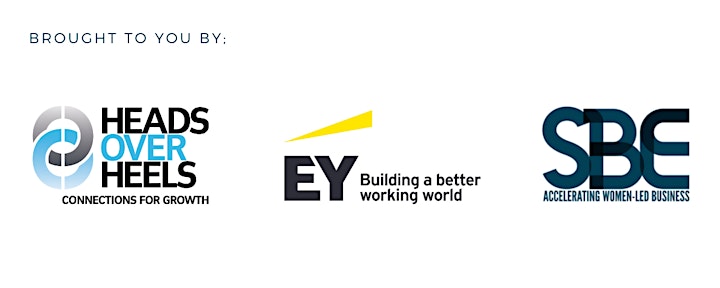 Organiser of Towards a supportive entrepreneurial ecosystem for women-led startups
Founded in 2013, SBE Australia is a not-for-profit organisation dedicated to supporting women-led tech and life sciences companies grow and scale their businesses. SBE Australia aims to empower women-led businesses by providing experience, knowledge, tools, training, networks and partners, without taking equity.
We are best known for running the Springboard Enterprises Tech Program for the past eight years and the Springboard Enterprises Life Sciences Program since 2018. Our impact and success is evident from our impressive statistics: over $600M raised by accelerated companies, 85% have raised capital, 2 IPOs and 9 exits plus an alumnae of 143 Evolve (early stage) founders. We have a highly-vetted network of innovators, investors, corporate partners and influencers who are dedicated to building high-growth companies led by women.