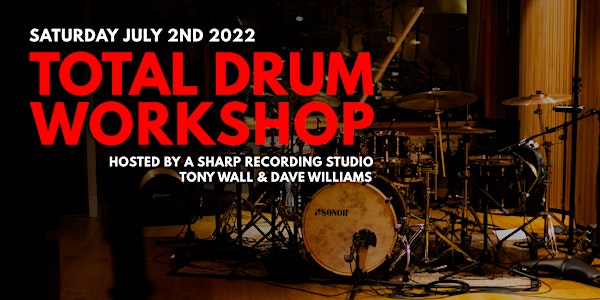 TOTAL DRUM WORKSHOP @ A Sharp Recording Studio w/ Tony Wall & Dave Williams
Location
A Sharp Recording Studio
339 Belmore Road
#1
Riverwood, NSW 2210
Australia
Discover the art of drum recording at one of Sydney's most iconic recording studios, A Sharp Recording Studio!
About this event
Welcome to the TOTAL DRUM WORKSHOP hosted by A Sharp Recording Studio!
Spend a day in the studio with engineer/producer Tony Wall (INXS, Olivia Newton-John, Kanye West, KISS, Jimmy Barnes) and drumming legend Dave Williams (Delta Goodrem, Melissa Tallon, Craig McLachlin, The Sun Pilots) working through the techniques and methods used to capture world-class drum recordings.
The day will be broken into 4 dedicated units allowing you to pick-and-choose the topics that you'd most like to learn - or purchase a full-day ticket for access to the entire course + more!
This course is perfect for everyone interested in drum recording - from audio engineering students and drummers at the start of their career, all the way through to seasoned industry professionals looking to expand their toolbox of modern recording techniques!
SPOTS ARE LIMITED - BOOK NOW!
1. SETUP (9:00am to 11:00am)
Learn how world-class drummers and drum techs prepare for a recording session. Understand the sound of your drum kit, explore different heads and tuning techniques, kit maintenance, discover the importance of cymbal & stick selection, and learn how to communicate effectively to get the most out of the session!
2. PRE-PRODUCTION (11:00am to 12:30pm)
Before you hit "record", get hands-on with one of Sydney's largest collections of studio microphones. Discuss the nature of microphones, and why we use certain types of equipment on the various parts of the kit. Understand proximity effect, phase relationships, and how microphones react with each other in a multi-microphone setup.
3. RECORDING (12:30pm to 4:00pm)
In this unit we'll cover the critical phase of miking the kit, setting up preamps and processing, and communicating with the drummer during a session.
Explore some unconventional microphone techniques, understand how to deal with symmetrical and asymmetrical kits, re-create some famous/classic micing techniques (The Beatles, Led Zeppelin) and learn some tricks for dealing with crowded or difficult drum setups.
Delve into the world of pre-amps, EQ's and compression, the importance of a good headphone mix, and some secrets for developing a solid "go-to" system of recording for when time is tight (getting it right first time!)
4. POST PRODUCTION (4:00pm to 6:00pm)
Now that you've recorded your parts, what's next?
Get to know your sounds and identify common problems at this phase of a session. Choose which mics are needed for the mix, check phase again, understand how & when to use Triggered sounds to enhance the kit, and delve into processing with compression, EQ, effects and distortion!
TICKET INFORMATION & PRICING:
$50.00 per unit
$190.00 for a full day (all four units included).
All attendees will be given a gift on arrival, as well as early-access to future workshops and discounted studio time!