Description
Magda Szubanksi
"Thrown to the lions": How to survive the cyber marketplace of ideas.
Proudly presented as part of Social Sciences Week @UNSW.
Social media is the new arena where ideas and individuals live or die at the will of the mob.
As a celebrity, Magda Szubanski has often found herself at the centre of these lawless, sometimes bruising interactions. But it was as an advocate for marriage equality that she encountered the real nature of the internet, red in tooth and claw.
Social media is the 21st Century marketplace of ideas, the cyber agora, the digital forum. It is where we can all come together to discuss the ideas that create society.
With only her sense of humour to defend her, Magda has copped some of the worst social media has to offer. But if Magda – a genuine national treasure, twice voted Australia's most trusted personality – can receive these streams of abuse, why would anyone else raise their voice in the public square?
Having recently returned from a trip to Israel and Palestine to meet with grassroots peacemakers, Magda is keen to know if we can find new ways to meet and talk, ways that we can reach across seemingly uncrossable divides to find one another.
She continues to believe social media can be a powerful force for good – but only if we make it that way. We are the co-designers of this new frontier. And not all participants are operating in good faith.
She recently helped initiate an Interfaith/no faith/straight/LGBTQI coalition that launched a non-combative alternative to Israel Folau's gofundme campaign, called "For Love". The For Love gofundme campaign raised $275,000 for the Children's Cancer Foundation. 10% of which will go to Twenty10
So, how do we drain the poison that has entered the lifeblood of society?
Let's find out together.
Doors open 5.45pm for a 6.00pm start. This is a free event. Registration essential.
---
About our speaker:
Magda Szubanski AO is a multi award-winning actor, author and reluctant activist. Her memoir, Reckoning (2015), received rave reviews. A highly personal account of the intergenerational trauma that has stalked her Polish/Scottish/Irish family across the centuries, it won numerous awards including: Book of the Year; Biography of the Year; NSW Premier's Literary Award; Victorian Community History Award; and was shortlisted for the National Biography Award.
For her contribution to the arts and Marriage Equality Magda was a state nominee for Australian of the Year, was made an Officer of the Order of Australia, and was recipient of Liberty Victoria's "Voltaire Award" for Free Speech as well receiving an "Excellence in Women's Leadership" Award 2018.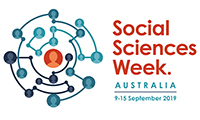 This event is proudly presented by UNSW School of Social Sciences and supported by The Australian Human Rights Institute as part of Social Sciences Week @UNSW 2019. Click here for a full list of upcoming events.