Description
An examination of tricks employed by scammers in work–at-home and romance scams
Mass-marketing fraud (MMF) is a serious, complex and organised crime. The internet has opened up the floodgates to MMF given that criminals can target more potential victims with limited effort, and trick them into making electronic and crypto-currency transfers for mistaken charity, investment or love. In 2016 the Crime Survey of England and Wales, published by the Office of National Statistics, revealed for the first time that fraud is the most prevalent crime committed against people in England and Wales. In 2015 the Australian Competition and Consumer Commission reported that Australians lost $45 million to scams.
This presentation discusses work from the Detecting and Preventing MMF (DAPM) project, including findings from interviews conducted with work-at-home and romance scam victims. Comparisons are made between the anatomy of these scams and the persuasive strategies employed by the criminals. It is argued that internet communication technologies play an important role in the success of these scams and are used to build trusting relationships to push victims into parting with their money. The findings have implications for crime prevention as well as how to provide appropriate support for these victims.
About the presenter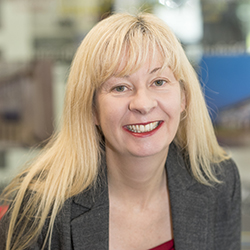 Professor Monica Whitty
Monica Whitty is Professor of Human Factors in Cyber Security in the Cyber Security Centre at Warwick Manufacturing Group, University of Warwick, United Kingdom. She holds a Chair in the Department of Media and Communications at the University of Melbourne. She is a psychologist, whose research over the last 15 years has focused on the ways individuals behave in cyberspace.
She is first author of 'Cyberpsychology: The study of individuals, society and digital technologies' (Wiley, in press) with Garry Young and 'Truth, Lies and Trust on the Internet' (2009, Routledge) with Adam Joinson.
Monica is the lead investigator on the DAPM project with the University of Warwick, University College London, University of Lancaster and Cardiff University.
She has published on cyber-relationships, online deception, stress and coping, mass-marketing fraud, insider threat, online identity, deception, cyberstalking, cyberethics, internet surveillance and taboos in video games.
This seminar is co-hosted with the

Australian Competition & Consumer Commission
This event will be hosted live in Canberra, and streamed via video conference at ACCC offices in the following locations:
Melbourne
Brisbane
Adelaide
Perth
Sydney
Darwin
When registering for the event, please choose the location where you will be attending.
Organiser of There's a scam out there for everyone