Location
Melbourne
Williamstown Town Hall
104 Ferguson St
Williamstown, Vic 3016
Australia
Description
The 2019 Wellness Summit!
The Wellness Summit returns to Melbourne for two days of powerhouse wellness in August 2019 on the 17th and 18th of August, 2019. The Wellness Couch podcast network brings to you Australia's leaders in health, wellness and personal growth. Get ready to be inspired, informed and empowered to take the next transformational step forward in your wellness adventure.
If you're new to us, watch the highlights videos of our previous events at www.thewellnesssummit.com and click on the speakers to read their bios to get a feel for what we're about.
In a nutshell, imagine 16 hours with over 20 inspiring wellness leaders, over 600 like-minded wellness enthusiasts and a hand-picked selection of world-class exhibitors to enhance your experience.
The Wellness Summit has been selling out since 2013, and with 20+ podcasts on the network and over 2 million annual downloads, tickets to this year's event are sure to be snapped up in record time.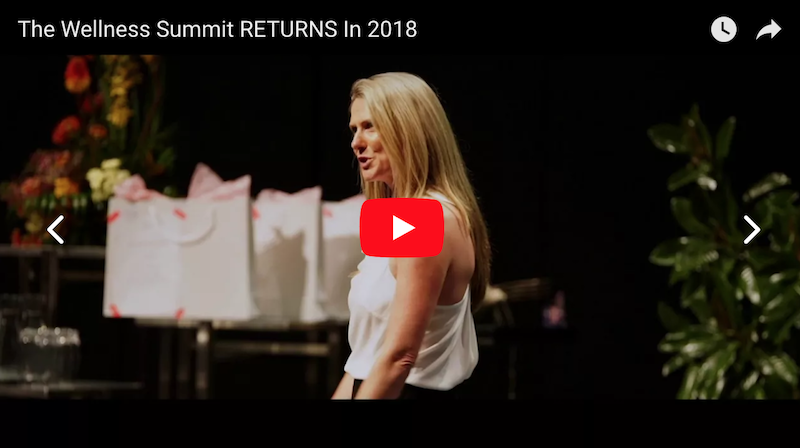 "THE SUMMIT WAS FRICKING AMAZING. I can't begin to tell you how empowering, fantastic, earth-shattering, life-changing it was" – Ada
Join Australia's premier thought leaders in nutrition, self-care, mindset, movement and success at The Wellness Summit.
What To Expect -
8 MAIN SESSIONS
OVER 20 WELLNESS LEADERS PRESENTING ON:

NUTRITION

GUT HEALTH

DIETS
LOW TOX LIVING
WEALTH WELLNESS
FEMALE HEALTH
MINDSET
SELF-CARE
MINDFULNESS
LONGEVITY
STRESS MANAGEMENT
LOVE & RELATIONSHIPS
SPIRIT
& SO MUCH MORE
Is The Wellness Summit For You?
Are you confused with the mixed messaging about what it takes to live a wellness lifestyle?

Are you determined to be the healthiest, most vibrant version of yourself?


Do you want the latest information on self-care, mindset, nutrition (including gluten-free living, the ideal diet, fermentation, etc) hormones, rituals, mental health, life purpose, relationships and more?

Do you want to raise a healthy family and share the wisdom of the wellness lifestyle with your children, siblings, partner, parents and extended family?

Are you looking to create an outstanding peer group of like-minded people? With so many like-minded people in attendance, it's nigh on impossible to leave without collecting one phone number and organising one date with a new friend!

Over the course of two jam-packed, inspiration-filled day you will be taken on an adventure of education, entertainment and empowerment in the pursuit that you will be inspired to play a bigger game in your own life (no matter how big or small it already is).
Our intention is to inspire the living daylights out of you so that you are truly jumping out of your skin to raise the bar and take the people you love the most along the ride with you.
About The Wellness Couch
The wellness Couch was founded by the hosts of the network's flagship podcast, The Wellness Guys, with annual downloads now exceeding 1.75 million. With over 20 podcasts and 30+ hosts located all over Australia and the world, The Wellness Basecamp was created in order to connect listeners with podcasters and the wellness sector of the local community where the event is based.
Frequently Asked Questions
Q: What Is The Wellness Summit?
The Wellness Summit is the signature two-day event hosted by Australia's #1 health and wellness podcasting network The Wellness Couch. Created in 2012, today the Couch now attracts annual downloads exceeding 2 million and lifetime downloads of almost 9 million. With 20+ shows and over 30 hosts covering the big stories and issues in the wellness world, The Wellness Summit was created in order to bring our podcasts to life in one real-world, life-changing weekend.
Q: Who are the speakers at The Wellness Summit?
The Wellness Summit is designed to bring our podcasts to life. So naturally enough, speakers featured at The Wellness Summit are podcasters on The Wellness Couch. The idea is that before and after the Summit you can engage and learn even more from your favourite speakers by tuning in to their regular podcasts. See the speaker images at the bottom of this page for a full lineup! Or visit https://www.thewellnesssummit.com for a speaker schedule.
Q: What topics do you cover at The Wellness Summit?
As a podcast network, The Wellness Couch is renowned for keeping its listeners at the cutting edge of knowledge in health, wellness and personal growth. There is a large focus on nutrition and its many components (from gut health and fermenting to dieting and intermittent fasting). Self-care and living congruently is on the agenda with Kim Morrison, Brett Hill and others. Longevity - and what it takes to live a fulfilling life - is shared by Marcus Pearce. Mindfulness, mindset and spirituality are regular themes. Female health, sleep, stress, movement and more all feature at The Wellness Summit.
Q: What time does The Wellness Summit begin?
The Wellness Summit begins at 9am sharp on both Saturday & Sunday and concludes at 5pm on both days. Registration will take place from 8am. The event has three breaks each day – morning tea, lunch and afternoon tea. Food is not provided however many exhibitors have products for sale. More information will be provided closer to the event regarding food.

Q: Is the event close to shops and accommodation?
Yes! Williamstown Town Hall is a short 2 minute stroll to renowned wellness-inspired cafes, great coffee and incredible food. There is a bounty of accommodation choices for the interstate or rural traveller. Independent hotels in Williamstown or the larger establishments in the CBD are at your disposal. And then there is airBnb!
Q: Why did you create The Wellness Summit?
There's only so much information you can share on a podcast! With over 20 podcasts now on The Wellness Couch, we recognise that listening to a podcast is one thing, but having the accountability of learning alongside other wellness enthusiasts is an entirely different experience. Workshopping your way through a live event like this one can also help to bring clarity to your wellness journey. On top of that, podcasts are lonely! And the icing on the cake is we love meeting our listeners and hearing your stories of success and challenge first hand. It's the fuel that keeps us doing what we do.
Q: Will my Dietary Requirements be looked after?
Whilst food is not included in your ticket price, you will be able to purchase lunch at The Wellness Summit. And being The Wellness Summit, all dietary preferences are catered for. Menu options will be sent prior to the event. Alternatively, local restaurants and cafes in Williamstown will definitely cater to any dietary requirements. We will send detailed information of your food options closer to the event date.
Q: Can I bring my teenage child along?
Absolutely! We highly recommend bringing your partner if at all possible and if you have children who are inspired by the health and wellness message then we can't recommend this event enough! To encourage as many young adults attend as possible, registration is just $97 for your child (17 or younger). We don't set an age minimum on child attendees; please keep in mind that adult concepts are often and openly discussed.
If you are considering bringing a young child, we simply ask that you take an aisle seat and exit to a quiet place (in the foyer) if your child becomes loud or irritable.
Q: If I have a question, who do I contact?
Simply send an email to podcasts@thewellnesscouch.com and one of our team will respond within 1 business day.
Q: What is the refund policy?
Tickets to The Wellness Summit are 100% transferable. We do not offer refunds, however, you are welcome to re-sell or gift it to your friends or family. Simply sign back in to Eventbrite and change the name details with the new attendee's details.