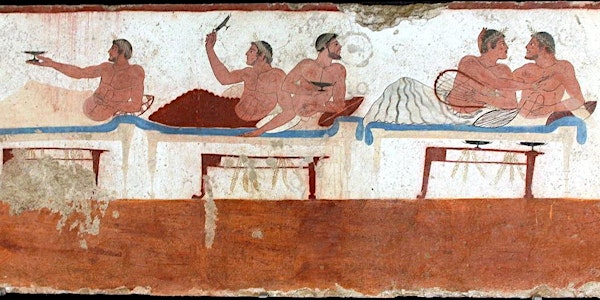 The Tomb of the Diver: Death, Drinking and Living it up in the Ancient Gree...
Event Information
Location
AAIA Boardroom, Centre for Classical and Near Eastern Studies of Australia
Room 480 - Level 4
The Madsen Building
The University of Sydney, NSW 2006
Australia
Refund policy
Refunds up to 1 day before event
Description
The "Tomb of Diver" is a fifth century BC grave found outside the Greek city of Poseidonia in South Italy. Despite the fifty years that have elapsed since its discovery, the tomb remains unique: its painted internal walls depict a convivial scene of a symposion, or ritualised Greek drinking party. The symposium was a common subject on painted ancient Greek vases, but highly unusual as funerary decoration. What does this extraordinary scene of drinking and festivity tell us about attitudes to life, death and the afterlife in ancient South Italy, and the occupant of this elaborate grave? And how do we interpret the enigmatic image of the lone diver on the lid of the tomb?
About the Speaker

Dr Gillian Shepherd is a lecturer in Ancient Mediterranean Studies and director of the A.D. Trendall Research Centre for Ancient Mediterranean Studies at La Trobe University. Gillian studied Classics and Fine Arts at the University of Melbourne before going on to complete a PhD in Classical Archaeology at Trinity College, Cambridge, followed by a research fellowship at St Hugh's College, Oxford. Until her return to Australia in 2012 to take up her position at La Trobe University, Gillian was Lecturer in Classical Archaeology at the University of Birmingham, UK. Her research interests include the ancient Greek colonisation of Sicily and Italy, burial customs, the archaeology and art of Greece and Magna Graecia, and childhood in antiquity. She is a co-editor of the recently published Oxford Handbook of the Archaeology of Childhood.
Centre for Classical and Near eastern Studies of Australia, Level 4, Madsen Building, University of Sydney.

Date and time
Location
AAIA Boardroom, Centre for Classical and Near Eastern Studies of Australia
Room 480 - Level 4
The Madsen Building
The University of Sydney, NSW 2006
Australia
Refund policy
Refunds up to 1 day before event