About this Event
Melbourne are you ready?
Six of the world's leading Flow educators are coming together for one epic day where we will take you on a journey, beyond the pale, to unravel the mystery of Flow.
In Flow we feel our best and we perform our best, and those who design their lives around Flow are known to be the happiest in the world. It is a peak mental state that can be harnessed for both optimal well-being and peak performance, and we are here to show you how.
This experiential workshop will explore the outer reaches of human potential through the lens of positive psychology and applied neuroscience. We'll show you how to design your best life using nothing more than your brain and body, heart and mind. We will equip you with a new way of tackling everyday challenges of the 21st century where many of us are tired and wired, depleted and distracted.
This is your opportunity to explore a new way to feel better, think better, connect better, move better, and perform better.
We're inviting people who want to join us beyond the pale. We promise you'll leave with the tools you need to start your journey towards living an optimised life.
Can't make this event? CLICK HERE to join the wait list for future events in your city.
Topics Include:
Brain, Breath & Body Optimisation
How to use your brain, breath and body to feel your best and perform your best.
Heart & Mind Optimisation
The paradox of change and how to create a new set of rules. Yours!
Becoming conscious of your vices and harnessing them for success.
The art of self compassion, emotional resilience, and creating a life in Flow anchored to your beliefs and values.
Organisational Optimisation
How to create high-flow lifestyles and cultures in a world of volatile, uncertain, complex and ambiguous conditions.
You Will Learn How To:
Use your brain and body to affect your heart and mind
Design your life around Flow using Flow Triggers and the Flow Cycle
Shift your state of mind and form new habits
Master your feelings and emotions
Remain alert and calm under pressure
Perform with compassion and empathy
Build resilience and grit
Connect, heal and grow
Embrace the power of play
This workshop is for you if you...
Want to adapt and succeed in today's rapidly changing world
Are looking to unlock your unique qualities and embody the person you are meant to be
Need to quieten your inner critic and calm your nervous system
Feel stuck, overwhelmed or in the midst of adjusting your sails to meet the demands of the ever-changing and complex world
Have experienced or are experiencing burnout or depletion
Are operating at your best and want to take things to the next level
Can't make this event? CLICK HERE to join the wait list for future events in your city.
About Kokoro
We exist to educate, empower and challenge people to see the world from new and liberating perspectives. To equip humans with the capacity to write their own story and contribute to improving the human experience for one and for all. In a world of exponential change we are committed to growing better humans in service of solving the wicked problems of the world and claiming our birthright of joy, awe and Flow.
Trained by the world's leaders in Flow science, The Flow Genome Project, we are here to co-create the conditions needed for whole flourishing humans.
Kokoro Presenters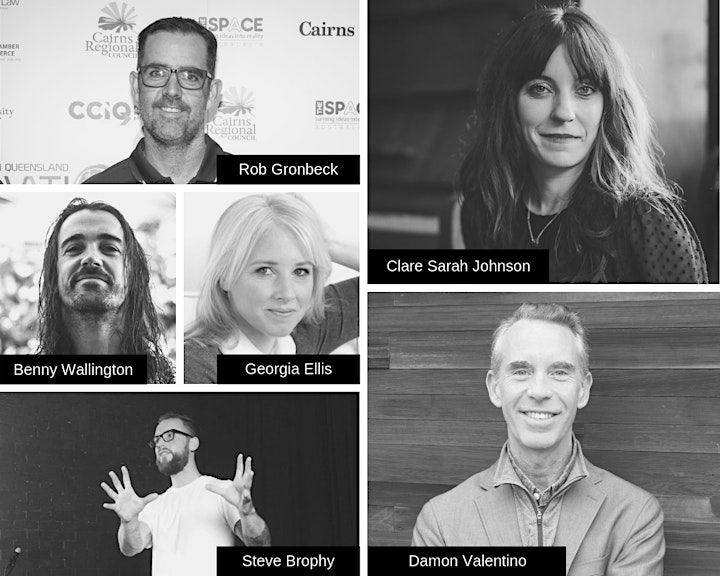 Benny Wallington www.bennywallington.com
What You'll Learn
• The Neurochemistry of Vices
• Hacking tipsy & performance partying
• Neo-tribalism and the power of ceremony
Rob Gronbeck www.thebrainroom.com.au
What You'll Learn
• How to train yourself to improve your body and brain's ability to manage stress and be more resilient
• How to take care of your brain so you are more creative, productive and attentive when high performance is required
• How to use rest and recovery for peak performance
Damon Valentino www.sidestreetcoaching.com
What You'll Learn
• The art of self-compassion and emotional resilience
• How to remain alert and calm under pressure
• How to build a life around Flow anchored to your beliefs and values
Georgia Ellis www.bluechipminds.com
What You'll Learn
• The paradox of homeostasis and pushing the limits
• What got you here, won't get you there.
• A new set of rules! Yours!
Clare Sarah Johnson www.claresarahjohnson.com
What You'll Learn
• Creating high-Flow lifestyles using the Flow Cycle
• The Art & Science of Hedonic Engineering
• Anchoring VUCA conditions to optimal wellbeing & peak performance
Steve Brophy www.thrivecapacity.com
What You'll Learn
• Embodied cognition - move better, think better, feel better
• The power of Play for creativity, focus and stress management
• Habit formation strategies that work
Can't make this event? CLICK HERE to join the wait list for future events in your city.