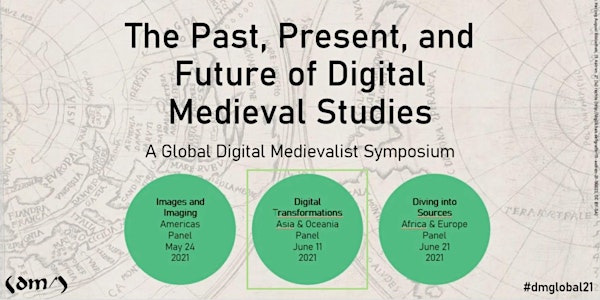 The Past, Present, and Future of Digital Medieval Studies
A Global Digital Medievalist Symposium
About this event
Asia and Oceania Panel
Languages, Texts, Environments: Digital Transformations in our Past, Present and Future
The Asia and Oceania panel offers a fresh perspective for digital medievalists, since the Middle Ages and the scheme of historical periodisation that applies to Europe has little relevance to the historical timelines which unfolded in Asia and the region of Oceania. Spanning the eastern and western hemispheres, the nations of Asia and the islands of Oceania have divergent histories and encompass an incredibly diverse mix of cultures. This panel seeks to offer a small taste of activities undertaken in the sphere of scholarship broadly termed digital humanities, and to introduce new topics and questions to our Digital Medievalist audience.
The panel is divided into four one-hour sessions:
Title: Archiving Indigenous Australia:
(AEST):13:00 - 14:00, (BST):04:00 - 05:00, (CEST):05:00 - 06:00, (EDT):23:00 - 24:00
Title: Engaging Chinese Literature
(AEST):14:15 - 15:15, (BST): 05:15 - 06:15, (CEST): 06:15 - 07:15, (EDT):24:15 - 01:15
Title: Reading Indian and Japanese Scripts
(AEST): 15:30 - 16:30, (BST): 06:30 - 07:30, (CEST): 07:30 - 08:30, (EDT):01:30 - 02:30
Title: Virtual Reconstruction & Discussion
(AEST) 17:00 - 18:30, (BST): 08:00 - 09:30, (CEST):09:00 - 10:30, (EDT):03:00 - 04:30
(Preliminary schedule)
Registration via Eventbrite. We will use the contact details you provide there to send you further information about the conference. This will include a zoom invitation, a few days prior to the event on June 11.
A Global Digital Medievalist Symposium
The Past, Present, and Future of Digital Medieval Studies
The era of COVID-19 has been transformational for medieval digital humanities. Medievalists have come to learn the limits and possibilities of online scholarship, whether in the virtual classroom or in the transfer of knowledge among specialists. Although direct access to material sources and the easy face-to-face exchanges with colleagues are deeply missed, we have come to understand that digitally-inflected scholarship can be more economical, more global, and –in limited ways– more equitable for many medievalists. And because we have come to this inflection point, members of the Digital Medievalist Board are launching a conference series that marks this turn and aims to build upon what we have learned. Our theme, The Past, Present and Future of Medieval Digital Humanities is both retrospective and prospective in scope, bringing digital medievalist practitioners into conversation with each other as we step into a new scholarly environment where digital methods take on a new importance.
Our new global awareness has inspired us to plan three conference dates, each of which is aligned with a geographic space and accommodates scholars from three time zones grouped as The Americas, Asia & Oceania, and Europe & Africa. The Americas conversation will take place on Monday, 24 May 2021, Asia and Oceania on Friday, June 11, and Europe and Africa on Monday, June 21.
For further information, link to https://digitalmedievalist.wordpress.com/the-past-present-and-future-of-digital-medieval-studies-a-global-digital-medievalist-symposium/
ANU recognises that your privacy is very important. The way we collect, use, disclose, secure and dispose of your personal information is governed by our compliance with, and obligations as an 'agency' under the Privacy Act 1988 (Cth), including the Australian Privacy Principles (APPs).