Sales Have Ended
Ticket sales have ended
You give permission to Diversity Arts Australia and third parties (such as our project partner Metro Arts), to take photographs, video and audio recordings of you. You agree to assign the rights to these recordings to those outlined above, and give permission for the editing, re-recording, duplication, reproduction, exhibition, broadcast and/or distribution of the recordings for archival, promotional, technical, research and educational purposes. We will ask your permission for any use beyond the scope listed here. Should you have any issues with this image release or wish to opt out, please advise Diversity Arts Australia by email info@diversityarts.org.au or phone 02 8821 9169. You agree to be added to the Diversity Arts Australia mailing list. Should you wish to opt out, please email info@diversityarts.org.au or phone 02 8821 9169. To read more about how Diversity Arts' Privacy Policy and how we collect information, visit: http://diversityarts.org.au/about/privacy-policy/
Sales Have Ended
Ticket sales have ended
You give permission to Diversity Arts Australia and third parties (such as our project partner Metro Arts), to take photographs, video and audio recordings of you. You agree to assign the rights to these recordings to those outlined above, and give permission for the editing, re-recording, duplication, reproduction, exhibition, broadcast and/or distribution of the recordings for archival, promotional, technical, research and educational purposes. We will ask your permission for any use beyond the scope listed here. Should you have any issues with this image release or wish to opt out, please advise Diversity Arts Australia by email info@diversityarts.org.au or phone 02 8821 9169. You agree to be added to the Diversity Arts Australia mailing list. Should you wish to opt out, please email info@diversityarts.org.au or phone 02 8821 9169. To read more about how Diversity Arts' Privacy Policy and how we collect information, visit: http://diversityarts.org.au/about/privacy-policy/
We are in the midst of a Creative Revolution
About this event
A global, systemic, political and cultural paradigm shift, spurred on by a pandemic and ignited by Black Lives Matter, where justice and truth telling has been propelled to the forefront, demanding accountability and action.
The Pacesetters are ready to tell it like it is in the state known as Queensland. Led by First Nations Elders (aka The Aunties), with special guests and artistic responses to the local, national and international discourse around equity, representation, safety and solidarity, The Pacesetters QLD are taking it back to the old school, connecting historical, political and personal context with how the Arts has always been a transformational tool for social change.
Speakers: Professor Henrietta Marrie AM, Aunty Colleen Wall, Aunty Heather Castledine, Karen Crone
In conversation: Aunty Kathryn D Fisher, Rita Pryce, Pauline Lampton, Fiona Wirrer-George, Yvette Walker.
Special messages: Roxanne McDonald, Nadine McDonald-Dowd, Jason Gann (Wilfred) Films: Ancestress, Polytoxic (TBC) Performances: Emily Wurramara, Vika Mana, Tibian Wyles, Kargun Fogarty, Grace Edwards, Lana Siliga, Hope One... plus very special surprise guests!
Hosted by Busty Beatz. We invite you to be part of the conversation. These speakers, artists and special guests celebrate and pay homage to First Nations and culturally diverse Pacesetters through keynotes, in conversations, film, music, performance and spoken word.
Presented by BlackBleep Productions and Queensland Independent Arts Alliance, in partnership with Diversity Arts Australia, Metro Arts and Arts Front.
BlackBleep is a Queensland based performing arts company that creates and produces vital and timely new works in collaboration with local artists, communities and companies. BlackBleep is a First Nations led company.
Queensland Independent Artists Alliance are representatives from the Independent sector in the state known as Queensland. QIAA is made up of exceptional creative professionals who belong to a thriving artistic ecosystem that is intergenerational, collaborative and innovative, built on relationships and connection. They are vested in equity, inclusion safety and active solidarity, mobilising their collective creative power to transform the world.
Childcare will be available at this event. Tea, coffee and refreshments will be provided.
Proceeds from the event will go towards artists and speakers fees, and organising costs.
This event is wheelchair accessible. Please email info@diversityarts.org.au if you have any access needs.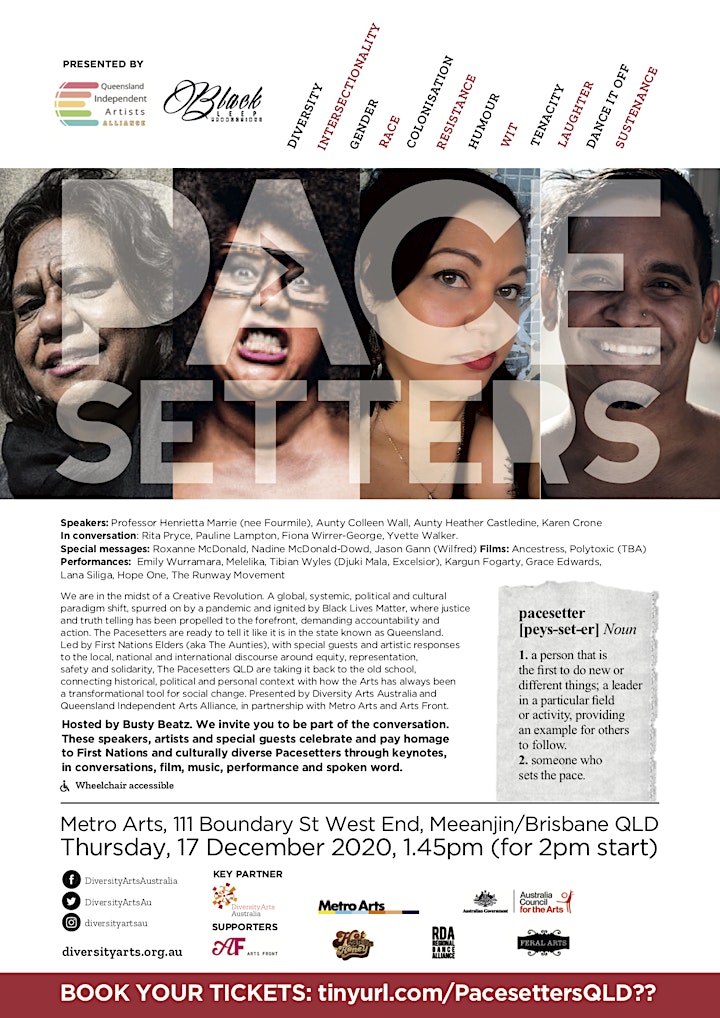 Kim 'Busty Beatz' Bowers is a musical director, composer, sound designer, remixer, DJ and performer. Of Xhosa heritage and living on Yuggera country, she has been making fearless art to activate, pollinate and liberate for over 25 years. This beat-making mama is the MD, composer and sound artist of the international smash-hit Hot Brown Honey, which saw her win the 2016 UK Total Theatre Award for Innovation, Experimentation & Playing with Form, two Green Room Awards and the 2017 Helpmann for Best Cabaret Performer. Kim is currently creating compositions with Birri Gubba/Kungalu poet/singer Ancestress and creating the soundtrack to the Hot Brown Honey Revolution
Organiser of The Pacesetters QLD
pacesetter [peys-set-er] Noun 1. a person that is the first to do new or different things; a leader in a particular field or activity, providing an example for others to follow. 2. someone that sets the pace.
The Pacesetters brings together independent artists who are at the forefront of a critical arts-cultural movement that engages with issues of diversity, intersectionality, sexuality, gender, race and colonisation.
Through the Pacesetters project, leading Australian artists creatively respond to provocations around the themes of race, diversity and inclusion/exclusion through art making practice, and create works that in turn act as provocations for the sector.