Description
Equilibrium Master Roasters & Collingwood Coffee College are joining forces to bring to Experienced Roasters the 'Masters Series': A Roasting & Extraction Professional Development Workshop.

Only 6 spots per workshop to ensure maximum time and attention can be given to all attendees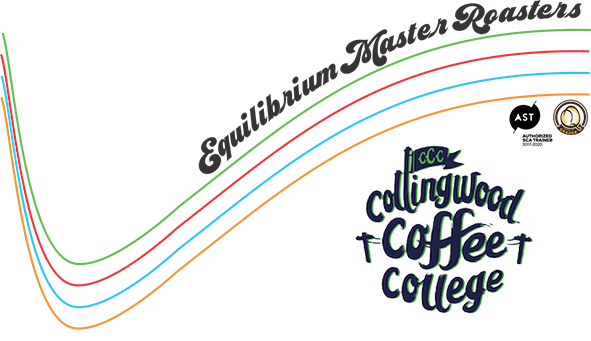 Collingwood Coffee College, the education hub of Proud Mary Coffee Roasters, is where Anne Cooper (Master Roastress) & Lisa Feeley (Master Extractress) will facilitate a full day of theory and practical activities such as Pimpin' Profiles exploring the range of coffee origins and relevant roast profile approaches, and Exploring Espresso Extraction where roasters will further enhance their skills on how to best extract multiple espresso offerings so that they can continue to contribute the value added measure of amazing coffee for their customers.
This day is an Educational and Professional Development day exploring your contribution, as Experienced Roasters, to practicing coffee as a value-add measure so that your customer's experience with your coffee contributes a positive impact to the coffee industry.
So stoke that fire in your belly and network and meet with industry professionals as well as continue to build on, further enhance and explore your skills and knowledge in the blazing world of Coffee Roasting & Espresso Extraction!

It will be the same workshop presented on all proposed dates, so just choose a date that suits!
This Workshop is only suitable for Experienced Coffee Roasters with a minimum of 1 years roasting experience.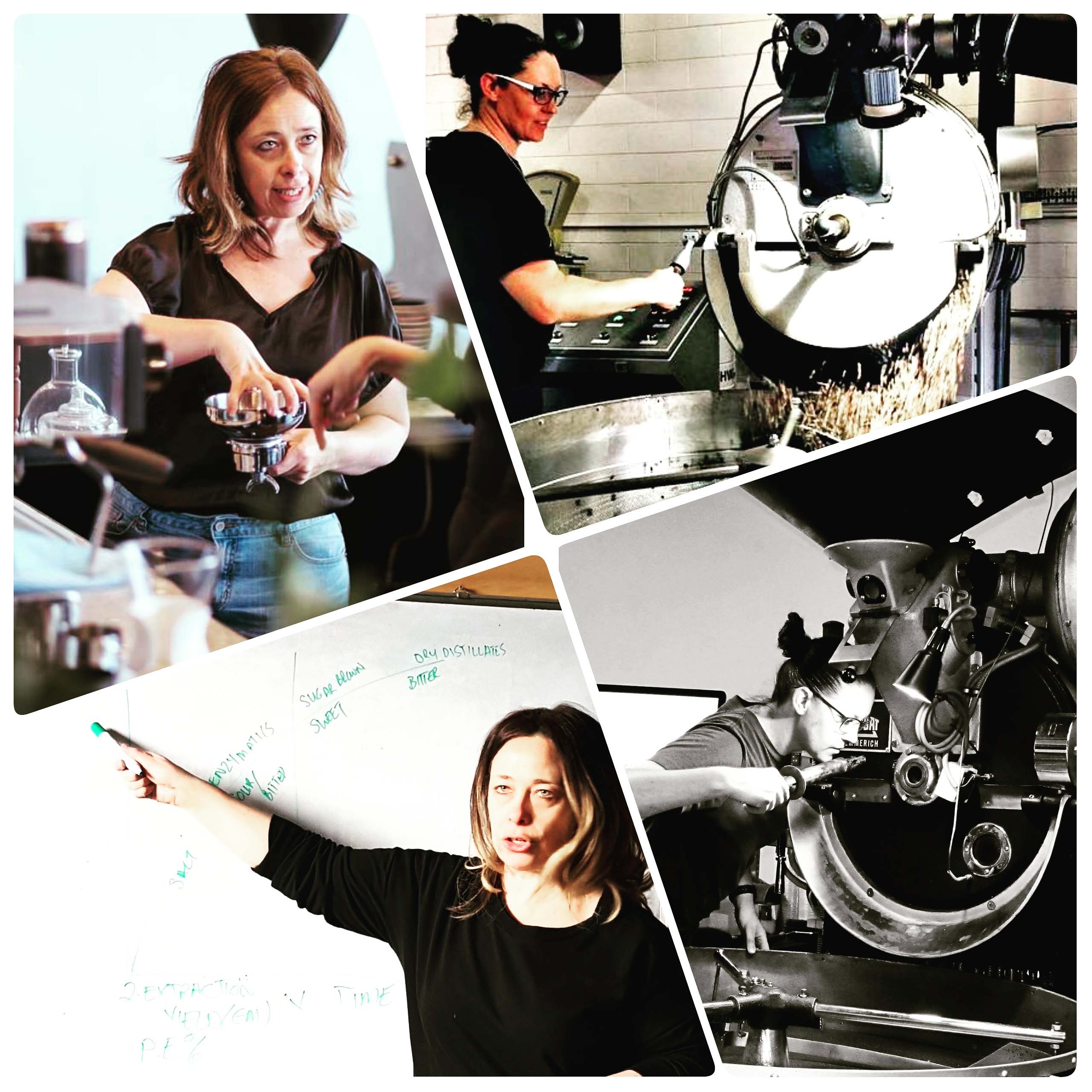 THE DAY
WORKSHOP #1: PIMPIN PROFILES
Anyone can show you how to turn beans brown but, at EQMR, Roastress Coops will show you how to successfully roast!
Brush up your roasting skills with an intensive session for Experienced Roasters, where we will focus on roast profiling and really nailing those roast profile parameters and roasting approaches for specific coffee origins with specific properties ie: espresso vs filter vs batch size vs screen size vs process vs moisture vs density.
This will also be followed by a cupping and analysis session in order to tie all the relevant data together and discover/confirm which part of the profile produces what flavour for a particular roast style on a specific origin/bean.
WORKSHOP OBJECTIVES
By the end of this workshop you will be able to:
Confirm your understanding on how to measure and collect green bean data (ie: screen size, moisture, density etc.)

Better understand the different 'Roast Styles' and their accompanying 'Roasting Parameters'

Develop a new Roast Profile and/or 'Dial' in a new green bean using all the relevant green bean data and a particular roast style

Understand where to apply & use the relevant green bean data at certain points in the roast profile

Better understand the use of and interpretation of manual profiling logging vs data profiling logging with Cropster

Identify, understand and use the relevant roast parameters for a particular roast style on a specific green bean

Cup, Analyze and Understand where certain flavours are coming from in the roast profile for a specific bean/origin and particular roast style
WORKSHOP #2:ESPRESSO EXTRACTION
During this workshop we open up espresso extraction and look at what you need to know to pull together a good, balanced recipe. To achieve good, we look at the relationship between strength and extraction yield what happens with key parameters of a recipe and how various roasts require various extraction recipes.
Lisa Feeley, Training Manager at CCC will identify how your roast impacts what and how you extract. We talk ratios and other variables you need to consider, such as grinder and water temperature to showcase your house-blend the best way.
You're welcome to bring a kilo of your house-blend along and we can try, test and clarify!
WORKSHOP OBJECTIVES
By the end of this workshop you will be able to:
Understand the relationship between strength and extraction and the impact and value of brew ratios.

Use EK 43 Mahlkonig to extract espresso using various brew ratios to show how much of strength there is compared to extraction yield % in the espresso.

Calibrate a refractometer with distilled water to read 0.

Use the refractometer to analytically measure an espresso TDS % and chemistry formula to identify the extraction yield % to determine if the ratio is producing an ideal espresso extraction with taste profile and numbers referring to extraction % chart.
SCHEDULE
This unique, professional development opportunity is facilitated with a blend of theory and practical activities for you to try, test and clarify.
8.15 am: Welcome & Arrival
8.30 am: Roasting
12.00 pm: Lunch
12.45 pm: Espresso Extraction
4.00 pm: Final cupping
5.00 pm: Conclusion & Beer!!


What You Get
Practical, hands-on Experience in Roasting & Extracting Specialty Coffee using Professional Roasting & Espresso Extraction Equipment and Techniques.

Foundation Knowledge, Valuable Resources and Expert Advice to take back to your Workplace from Specialty Coffee Industry Professionals

All green bean and Industry relevant resources/documents are provided

You may take home as much of the roasted coffee as you like from the roasting exercises
You will be added to a closed Facebook Networking Group where you can continue to stay in touch with fellow attendees post course
A Great Learning Environment where, through collaboration and teamwork, you can vastly improve your roasting skills as you work through the Roasting & Extraction tasks individually and together!
OH&S requirements
Due to the production and roasting environment ensure you are prepared for warm, dusty and noisy conditions.

There are hot, moving parts on the coffee roasters. Participants must be attentive and aware at all times – especially when operating the roasting equipment.

There will be some lifting and light physical activity involved.

Covered in shoes must be worn and long hair must be tied back

Dietary Requirements
Morning/Afternoon Tea and Lunch will be provided. If there are any dietary requirements, please advise the organiser.
FAQs
What are my transport/parking options getting to the event?
There is metered parking on Wellington St. Some of the back streets have free all day parking if you get in early enough.

There is also all day metered/paid parking on Wellington St for $12 across the road from Proud Mary Coffee Roasters.
Can I update my registration information?
Yes
Do I have to bring my printed ticket to the event?
Yes, or at least have access to your confirmation email on your phone.
What is the refund policy?
If, due to unforeseen circumstances, you are unable to make the event then a full refund will be issued.
The name on the registration/ticket doesn't match the attendee. Is that okay?
This will be acccepted only with a written/verbal confirmation from the person whose name is on the registration stating that the attendee is eligible to use that ticket.