Description
UQP & Arab Theatre Studio invite you to the launch of
The Lost Arabs - by Omar Sakr
Omar Sakr will be in conversation with Gomeroi poet Alison Whittaker and the event will feature a performance by Arab Theatre Studio's Music Ensemble, Dandana.
About The Lost Arabs
Visceral and energetic, Omar Sakr's poetry confronts notions of identity and belonging head-on. Braiding together sexuality and divinity, conflict and redemption, The Lost Arabs is a seething, urgent collection from a distinctive new voice.
Praise for The Lost Arabs
'The tyranny that we can inflict on each other, the harms of family and history, the need for solace and belonging find perfect pitch in line after line of this magnificent collection. There's an urgent need for this book, it should be on every shelf.' – Judith Beveridge
'The Lost Arabs is the poetic posture of a man in all his forms standing by the eternal river, who has placed both feet in the sand, and who refuses to sink.'– Ali Cobby Eckermann
'The new and powerful voice, public, performative, but also vulnerably intimate, of one of our "children of elsewhere".' – David Malouf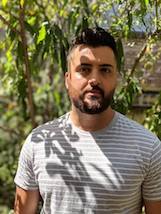 About Omar Sakr
Omar Sakr is a bisexual Arab-Australian poet. His debut collection, These Wild Houses (2017), was shortlisted for the Judith Wright Calanthe Award and the Kenneth Slessor Prize. His poetry has been published in English, Arabic, and Spanish, in numerous journals and anthologies. He placed runner-up in the Judith Wright Poetry Prize, and has also been shortlisted for the ACU Prize for Poetry, the Story Wine Prize, and the Fair Australia Poetry Prize. Omar has performed his work nationally and internationally. He lives in Sydney. https://omarsakr.com
About Alison Whittaker
Alison Whittaker is a Gomeroi multitasker. Between 2017–2018, she was a Fulbright scholar at Harvard Law School, where she was named the Dean's Scholar in Race, Gender and Criminal Law. Alison is a Senior Researcher at the Jumbunna Institute. Her debut poetry collection, Lemons in the Chicken Wire, was awarded the State Library of Queensland's black&write! Indigenous Writing Fellowship in 2015. Her latest book, BLAKWORK, was published in 2018. Alison was the co-winner of the 2017 Overland Judith Wright Poetry Prize for MANY GIRLS WHITE LINEN. Most recently, she was the Indigenous Poet-In-Residence for the 2018 Queensland Poetry Festival.
About Arab Theatre Studio
Arab Theatre Studio is an independent organisation that is unique in Australia. As Arab Australian artists and creative producers, our vision is to continue our collective history of developing Arab-centred critical conversations and creative spaces. ATS performers, writers, visual artists, musicians and producers have long experience of making Arab Australian contemporary cultural work.
Dandana is an Arabic music ensemble experimenting in classical and contemporary Arabic music performance.
https://www.facebook.com/arabtheatrestudio/
Arab Theatre Studio is supported by Cumberland Council and Create NSW.
Organiser of The Lost Arabs by Omar Sakr - Book Launch
Arab Theatre Studio is an independent organisation of contemporary artists and creative producers based in Granville. Our vision is to continue our collective history of developing Arab-centred critical conversations and creative spaces. Our activities include growing a creative hub in Western Sydney; connecting artists; facilitating critical conversations and participatory workshops; producing performances, live works and accessible multilingual theatre; sharing information online and through social media and becoming a hub for referrals.