Description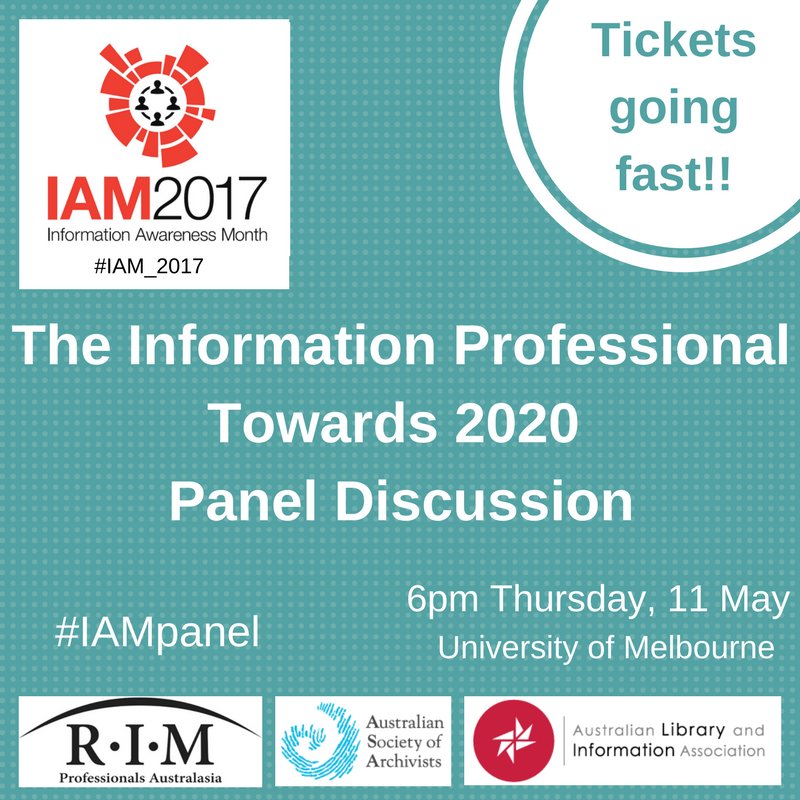 To celebrate Information Awareness Month, RIMPA, ASA and ALIA are joining forces for a cross-discipline panel discussion focusing on how new professionals feel that they fit into the sector and how they are viewed by experienced professionals.
As the theme of Information Awareness Month is The Information Professional – Towards 2020, we will discuss how the needs of new professionals have changed and how this must be supported in the uncertain world that is the GLAMR industry.
Please join us at the Dulcie Hollyock Room, Ground Floor, Baillieu Library at the University of Melbourne on the 11 May, 6pm (for a 6.30pm start) - 7.30pm.
We will have three panelists from different areas of the GLAMR industry (more info to come) and the event will be moderated by Kate Fuelling - information management specialist, author, optimist, and the founder of Kate Fuelling Consulting (full bio below).
___________________________________________________________________________________________
Kate Fuelling - Moderator
Kate Fuelling is an information management specialist, author, optimist, and the founder of Kate Fuelling Consulting. Her purpose in life is to lead with courage, fun and respect.
After many years in the information management industry, Kate founded her consulting business in 2014 in response to the frustration she felt when constrained within organisational 'that's how we do things around here' approach. Instead of accepting the status quo, she chose to build a business out of questioning it.
Kate Fuelling Consulting is now a consultancy for the Not-For-Profit industry, working towards a world where information, technology and processes integrate seamlessly to create extraordinary knowledge for the benefit of humankind.
Whilst holding several information, business, process and project management qualifications, her greatest strengths when presenting to an audience are her beliefs that we should all contribute more, not just create more, and that life and work should be fun and inspiring.
At a recent event chaired by Kate, one participant remarked 'Kate has a great presentation style that I really engaged with, and between that and the content I didn't want to drift off into other thoughts. I felt the content was relevant, the conversation flowed easily, and everyone felt that they could contribute… the experience was as enjoyable as it was helpful'
Her book, 'The Paperless Not-For-Profit' is due for release in late 2017.
___________________________________________________________________________________________
Susannah Tindall - Panellist (RIMPA)
Susannah is a new graduate who has recently commenced her professional career as a Records Officer at Monash University.
Originally hailing from a farming property in rural Victoria, Susannah made the move to Melbourne in 2011 to complete an Arts Degree at The Australian Catholic University, where she majored in history, alongside minoring in both politics and sociology.
At the conclusion of this degree, Susannah chose to take a 'gap-year', working for a women's fashion brand and volunteering at The Victorian Public Records Office. It was from this volunteer program that Susannah decided on a career in records and archives.
During 2016, Susannah completed a Graduate Diploma in Information and Knowledge Management at Monash University. This Diploma led to two short-term contracts at The University of Melbourne, working as a Records Officer for The Melbourne Dental School and the School of Psychological Sciences. These distinct projects have allowed a practical introduction for life as a professional in records management.
Susannah has been with Monash University since April, and is very excited to share her experiences as a new professional.
___________________________________________________________________________________________
Kathryn Dan - Panellist (ASA)
As Associate Director, Records and Compliance at the University of Melbourne, Kathryn Dan is responsible for programs that facilitate and improve corporate performance through good management of records, risk, compliance, policy, process and training. Privacy and Freedom of Information case management are also part of her current remit. She has extensive experience in records, archives and information management in universities, libraries and government. Kathryn participated in development of the National Archives of Australia's e-permanence set of tools and guidance to address management of 'born digital' records and worked on national and international standards committees for records and knowledge management. Kathryn has been an active member of professional associations through her career.
__________________________________________________________________________________________
Ellen O'Hehir - Panellist (ALIA)
Ellen O'Hehir is working at Monash University Library in the Research and Learning team as a librarian. Since completing her Master of Information Management at RMIT University in 2014, she continues to develop her skills in information and research competencies within the academic library context, issues surrounding freedom of access to information and future models for academic and public libraries. Ellen is the ALIA Students and New Graduates National Co-convener and in this role she is focused on encouraging all information management students and new graduates to be proactively increasing their professional skill sets and networks, with an emphasis on creating strong collaborative ties between students and new graduates with their more experienced peers.
Organiser of The Information Professional Towards 2020 Panel Discussion