Description
Our great forests need a great park now!
On Saturday, 13 May we need you to join 400 people on Mt Donna Buang to send a message so big it's one the Victorian government can't ignore. We did it at the Prom for our parks in 2013, let's do it for our unprotected forests!
Join us at Mt Donna Buang summit picnic ground on Saturday, 13 May 2017 between 11am and 2pm to show your love for parks and our unique forests of the central highlands.
The magnificent Mountain Ash forests of Victoria's Central Highlands are home to the world's tallest flowering plants and the critically endangered Leadbeater's Possum. Despite a great campaign at the last election and two years of talks through the Victorian Forest Industry Taskforce, these forests are still being logged and we are still waiting for a new Great Forest National Park.
Help us spell out this message 'WE *heart* PARKS' by forming a human sign in the heart of the forest and send a clear message to the Victorian Government that we want our forests and their wildlife protected in a Great Forest National Park now – before they are logged into oblivion.
Bring some warm clothes, your picnic rug and lunch and enjoy some live music and a cuppa after we've sent our message. Take in the beautiful views from the lookout tower or enjoy a walk.
Register to be part of this special event
There is limited space at Mt Donna Buang picnic ground, so please register here to make sure you are part of this event.
Transport to the event
As part of your registration, you can book a seat on a chartered bus that will take you from Melbourne to the picnic ground and back ($25 plus booking fee of $2) or you can car pool with friends and make your own way there. Parking is limited so please try to come in a full car. It's about two hour's drive from Melbourne to Mt Donna Buang.
(Please drive to the summit picnic ground via Warburton and Mt Donna Buang Rd - other roads may be closed at this time of year.)
You can choose from two pick up points if you are coming on the bus:
1. Arts Centre Melbourne - St Kilda Rd, Melbourne CBD (departure time 9.30am)
2. Kew - 53 Barkers Road, Kew (departure time 9.30am)
Once you are registered we'll send you more information and reminders closer to the day.
Organised by the Victorian National Parks Association.
www.vnpa.org.au | info@vnpa.org.au | (03) 9341 6500
Supported by:
Warburton Environment
Warburton Habitat Tree
Knitting Nannas of Toolangi
Friends of Leadbeater's Possum
The Wilderness Society Victoria
Environment East Gippsland
Goongerah Environment Centre
Save Mt St Leonard Community Campaign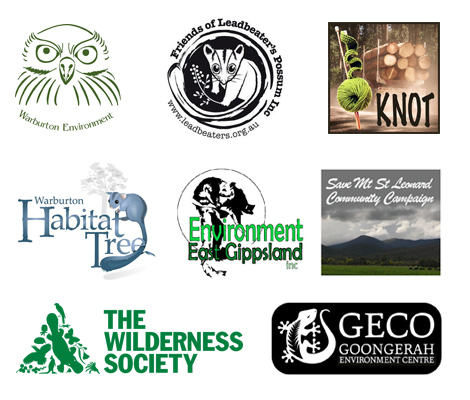 [By registering for this event you are agreeing to the following terms and conditions: Every person participating in The Great Forest Picnic does so at their own risk in all respects and as such accepts full responsibility for their suitability, fitness and preparadness for The Great Forest Picnic and for any injury to themselves. The Association, its office bearers, organisers, leaders and helpers are absolved from any liability in respect of any injury, loss or damage sufferred by the participant while engaged in The Great Forest Picnic to the extent permitted by law. While accidents are rare, the great outdoors can throw up challenges. If any accident occurs, you should inform VNPA staff.]