Eight weekly panels, each dedicated to exploring the metaphors we survive by. A series hosted by the Institute of Postcolonial Studies.
About this event
By registering for the upcoming session, you will have registered for the series. We'll keep you in the loop for the rest!
The Bubble: Metaphors we survive by
Metaphors are indispensable tools for making sense of reality, including the ongoing reality of systemic colonial relations—or to obfuscate it (to deflect the need to enact substantive decolonisation agendas, for example). In times of crisis they perform a crucial role in translating and interpreting a rapidly changing world.
Viral phenomena have multiplied recently, literally and metaphorically. But all crises generate metaphorical languages. Terrorism was not a virus, it was a bacterial formation; the GFC was a fierce and incontrollable storm… The 'Canberra bubble' – a bad thing – has become the 'family bubble' – a good thing. To understand what is at stake in the metaphors we use and the ways they are deployed, we need a critical engagement with their underlying assumptions, their rhetorical operation, their ideological effects, and their real-world implications.
Complete Series
Fridays, 12:30 - 2:00 pm (Australian Standard Time).
1) Metaphors we Survive by / Friday 4 September
Can we remake the world through metaphor?
Edwin Bikundo (Griffith University), 'Reading Faust into International Criminal Law'.
Dorota Gozdecka (Helsinki Law), 'All animals are equal, but some more than others – equality as an illusion in contemporary rights discourses'.
Dimitris Vardoulakis (Philosophy, Western Sydney University), 'What is agonistic democracy?'
2) Colonial Histories and Metaphor / Friday 11 September
But is colonialism a metaphor?
Lorenzo Veracini (Swinburne University of Technology, Social Sciences), 'Colonialist and Decolonial Metaphors'.
Christine Winter (Flinders, Anthropology), 'Seedtime and Harvest: Metaphors of Christian Colonial Missionizing'
Shane Chalmers (Melbourne Law School), 'Metaphoric Sovereignty: Colonial Victoria and the Independent Order of Black Fellows'.
3) The Colonial Present and its Metaphors / Friday 18 September
How does the language we use connect the colonial past and present?
Sara-Maria Sorentino (Gender & Race Studies, Alabama), "'Pathology without Pathos': A Transvaluation of Blackness and Metaphors of Disease".
Scott Newman (Northwestern; literature, UCLA), 'Decolonising the Mouth; or, Listening to Zimbabwean Literature'.
Rahul K Gairola (English & Post-Colonial Literature, Murdoch), 'From Metaphor to Meme: Memsahib Figures from Lean's A Passage to India to the Internet's "Karen" Trend'.
4) Capitalism, Crisis, Metaphor / Friday 25 September
Capitalism—the most dangerous metaphor of all?
Chris Reitz (Literature, Ludwig-Maximilians-Universität, Munich), 'Catastrophic Markets: Resilient Environments, Zombie Companies & the Long Depression'.
Penny Crofts (Law, University of Technology, Sydney), 'Corporate Monsters'.
Nofar Sheffi (Law, University of New South Wales), 'Contactless Trade: Contracting (in times of) COVID-19'.
5) Counting to 1. Digital Metaphors and Technology / Friday 16 October
Do metaphors serve to reveal technology or conceal it?
Robyn Ferrell (Philosophy & Gender Studies, University of Sydney), 'Three figures of the digital'.
Timothy Strom (Arena, Melbourne), 'Spider-bots on the Crawl Frontier: Cybernetic Surveillance and Colonial Metaphors'.
Cassandra Steer (Law, Australian National University) & Cait Storr (University of Technology Sydney), 'Is "Space Colonisation" a Metaphor? International Space Law and the Global Decolonisation Movements'.
6) Illness as Metaphor / Friday 23 October
With apologies to Susan Sontag.
Luis Gómez Romero (Law, University of Wollongong) '"If You're Not Human, Then It's all Different": On Martians, Replicants and the (Metaphorical) Legal Manufacture of Difference and Identity'
Wesam Hassan (Anthropology, University of Oxford), 'HIV/AIDS and its metaphors in Egypt post-2011'.
Brisa Paim Duarte (Faculty of Law, University of Coimbra), 'The new virology of life and the metaphors of (in)visibility and change in law, philosophy and politics'.
7) Pandemic Metaphors / Friday 30 October
Are we the victim of our metaphors?
Desmond Manderson (ANU Centre for Law Arts and Humanities), 'The Bubble: COVID and its metaphors'.
Fiona Jenkins (Philosophy, Australian National University), 'There's no place like home: Home-comings of the viral pandemic'.
Benjamin Hegarty (University of Melbourne), 'The mask and the face it covers'.
8) Out of the Bubble? / Friday 6 November
Remaking our World, one metaphor at a time…
Danish Sheikh and Andre Dao (Melbourne Law School), 'Metaphors for and beyond critique'.
Kevin Murray (Garland Magazine), 'Verticalism'.
Lee-Anne Sim (Law, Australian National University), 'Playing musical chairs – must we keep dancing through financial crises?'
Convened by Desmond Manderson (Australian National University) and Lorenzo Veracini (Swinburne University of Technology).
A series hosted by the Institute of Postcolonial Studies and the ANU Centre for Law Arts and Humanities.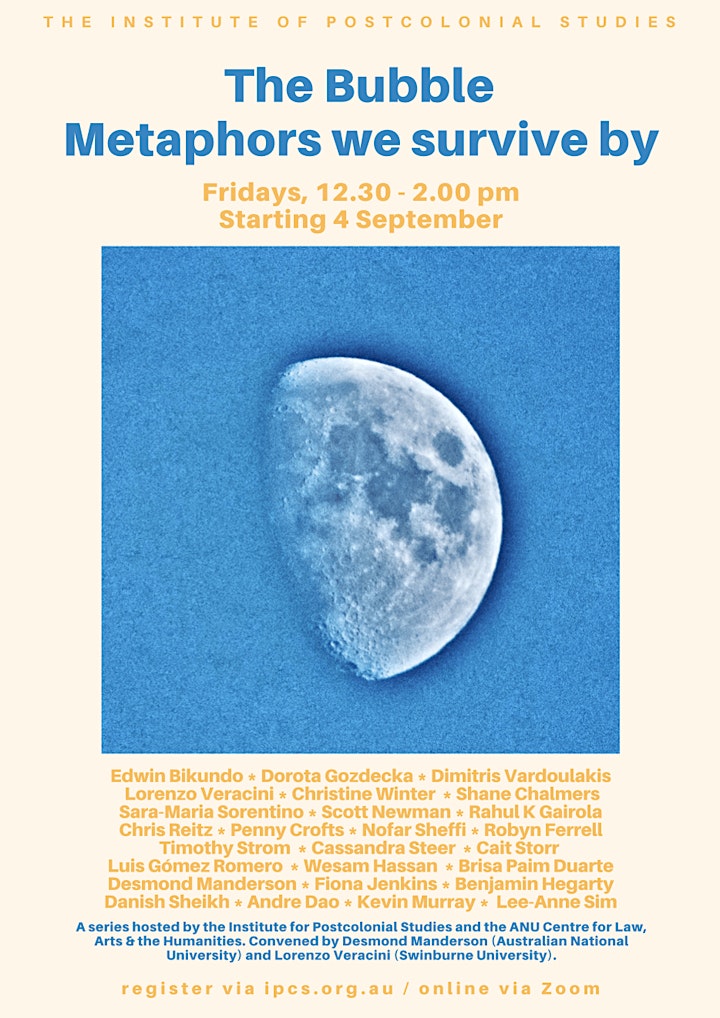 Organiser of The Bubble: Metaphors we survive by
 The Institute of 
 Postcolonial Studies 
Join us, become a member
The Institute of Postcolonial Studies  brings together scholars, artists, activists and larger publics to explore and respond to the colonial encounter and its aftermath in Australia and globally.