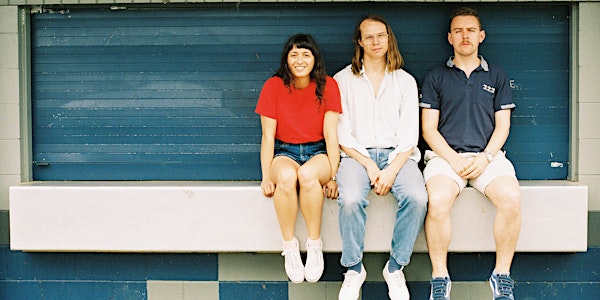 The Beths - Australian Tour 2019
Select Music, Dew Process & Monster
Location
The Brightside Brisbane
27 Warner Street
Fortitude Valley
Brisbane, QLD 4006
Australia
The Beths Announce Australian Tour!
About this event
The Beths have partnered with PLUS1 so that $1 from every ticket will go to support (Girls Rock! Sydney & Girls Rock! Melbourne) and their work empowering girls, trans and gender-diverse young people through music education and mentorship.
New Zealand purveyors of high-energy guitar pop and 2018 end of year list-toppers The Beths have announced that their March Australian tour will be postponed until October.
Following the cancellation of dates supporting The Smith Street Band, the band have opted to postpone their remaining Australian headline dates in favour of a fresh new tour in October.
The Beths' lead vocalist and guitarist, Elizabeth Stokes, says:
"Firstly, thank you for the support and understanding of our decision to pull out of TSSB tour.
Unfortunately, we have had a bit of trouble condensing our remaining Australian headline shows down. The routing and timing were both not really making sense. After a lot of consideration, we're have decided to move the tour to later in the year.
The good news is if you already have a ticket you don't have to do anything, it will be valid for the shows later this year. If you aren't able to make the new dates, you can get a refund from the point of purchase. Thanks for your patience and we're sorry if this messes your plans up majorly, let us know what we can do to help. Lots of love Liz and The Beths"
The Beths, who toured relentlessly throughout 2018 and kicked off 2019 supporting Death Cab For Cutie on their UK and European tour, are currently touring North America with Bad Bad Hats. This week they head to Austin, TX for a series of showcases at SXSW.
2018 was an incredible breakout year for The Beths. Since releasing their debut album Future Me Hates Me via Carpark Records/Dew Process in August, The Beths have been lauded from all corners of the globe. Known for their signature sunny guitar pop, technical prowess and frontwoman Elizabeth Stokes' witty, self-deprecating lyricism, Future Me Hates Me received international acclaim from music media including PopMatters and Pitchfork, who named it "one of the most impressive indie-rock debuts of the year".
Rolling Stone, Noisey, Stereogum and more shared enthusiasm for the band, with Bandcamp hailing title track 'Future Me Hates Me' as an "album of the summer" and Rolling Stone calling 'Happy Unhappy' "Song of the Summer" and naming The Beths their "Hot Band of 2018". To date, the album has amassed over 1.9M streams and been included on a number of "end of 2018" lists including Paste Magazine, NPR, Stereogum, UPROXX, ABC, PopMatters, The AV Club and the NZ Herald. The Beths also performed coveted sessions for KEXP, BBC 6 Music, WERA, Y-not Radio and Breakthru Radio and received airplay support at both US and UK radio (BBC 6 Music, Sirius XMU, KEXP and more).
The Beths have been similarly well received in Australia, with extensive support coming from triple j, Double j, 2SER, 4ZZZ and FBi, alongside positive reviews and kind words from Noisey, Sydney Morning Herald, The Age, Beat and Frankie.
Somehow, the band also managed to fit headline tours across Australia, New Zealand and the US and shows across the UK and Europe into their packed 2018. The Beths also made an appearance at Auckland City Limits, BigSound 2018 and secured coveted support slots for Bloc Party and The Breeders.
The Beths are lead vocalist/guitarist Elizabeth Stokes, guitarist/vocalist Jonathan Pearce and bassist/vocalist Benjamin Sinclair. The three long-time friends studied jazz at university together, resulting in a toolkit of deft instrumental chops and tricked-out arrangements that operate on a level rarely found in guitar-pop. With the addition of new drummer/vocalist Tristan Deck, the band's live shows are certain to live up to the hype. Tickets to The Beths' Australian tour are available now via thebeths.com.