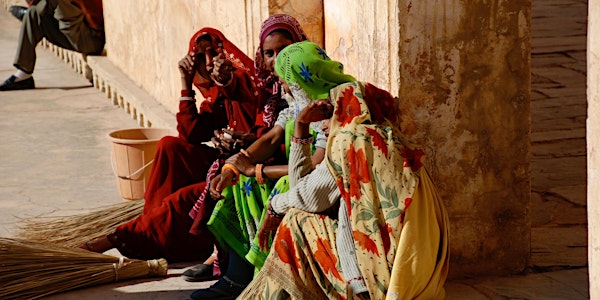 The Best & Worst Countries for Women: Measuring Equality with the WPS Index
Sales Have Ended
Registrations are closed
Unfortunately, ticket sales for this event have ended. If you are unable to attend, we will be recording the event for publication on our website at a later date.
Event Information
Location
The Galleries, Scientia Building (Map Ref: G19)
UNSW SYDNEY
Sydney, NSW 2052
Australia
Sales Have Ended
Registrations are closed
Unfortunately, ticket sales for this event have ended. If you are unable to attend, we will be recording the event for publication on our website at a later date.
In celebration of International Women's Day, join us for the launch of the Second Edition Global Women, Peace & Security Index.
About this event
Join the Institute for Global Development for a conversation on the findings of the Second Edition of the Global Women Peace & Security (WPS) Index, which ranks countries on women's comprehensive wellbeing and analyses trends in gender equality.
Jeni Klugman (Managing Director – Institute for Women Peace and Security), Leanne Smith (Director - Whitlam Institute) and Talia Hagerty (Senior Research Fellow - Institute for Economics and Peace) will join Sarah Cook (Director - UNSW Institute for Global Development) to discuss the current issues for women, peace and security and the importance of the index.
The inaugural WPS Index, launched in 2017, was the most comprehensive ranking to date of women's well-being around the globe, measuring three key dimensions of women's well-being—inclusion, justice, and security. The second edition includes several major innovations, including expanded coverage to 167 countries and assessment of data at the subnational level. Trends over time reveal important drivers of progress as well as major areas of concern.
This event will be followed by networking drinks.
About Jeni Klugman
Jeni Klugman is a fellow at the Kennedy School of Government's Women in Public Policy Program at Harvard University and Managing Director, Georgetown Institute for Women Peace and Security. She recently became VicHealth's second leading thinker, together with Professor Iris Bohnet, under an initiative that aims to make behavioral insights practical and accessible for Victorian government, industry and not-for-profit organizations. Previous positions include Director of Gender and Development at the World Bank, and director and lead author of three global Human Development Reports published by the UNDP. Jeni sits on several boards and panels, including for the World Economic Forum and the Journal of Human Development and Capabilities. She holds a Ph.D. in Economics from the Australian National University, and postgraduate degrees in both Law and Development Economics from the University of Oxford where she was a Rhodes Scholar.
About Leanne Smith
Leanne Smith is an international human rights lawyer by training, with a Masters in Public Policy from the Woodrow Wilson School of Public and International Affairs at Princeton. Leanne has worked in the Australian judicial system, for the Australian Human Rights Commission, in the international NGO sector, regional human rights organisations, as an Australian diplomat (DFAT) and in various roles for the United Nations in New York and in the field, most recently as Chief of Policy and Best Practices for UN Peacekeeping Operations. Leanne has published a number of articles on Australian national identity, Australian foreign policy and international human rights, rule of law and development as well as the United Nations and women, peace and security. She is a visiting fellow at the ANU Asia-Pacific College of Diplomacy and the UNSW Australian Human Rights Centre, a member of the Kaldor Centre for International Refugee Law Advisory Committee and a Goodwill Ambassador for the United Nations Association of Australia.
About Talia Hagerty
Talia Hagerty has nearly ten years' experience in peace, development and gender-equality related research. As a Senior Research Fellow at the Institute for Economics & Peace, she contributes to both IEP's core research and consulting portfolios and leads the institute's research on Latin America. Talia endeavours to incorporate attention to gender in all of her research. She is currently leading the research for the 2020 Mexico Peace Index, which is one of the only annual peace indices to incorporate quantitative data on sexual violence and violence within the family, and she has recently piloted a composite indicator of youth gender equality for the forthcoming 2020 Youth Development Index. Talia also advises partners and governments on developing high quality data for peace and security. Her passion lies in finding evidence-based answers to big, difficult questions. Talia holds a bachelor's degree in Economics from Eckerd College, a master's degree in Global Affairs from New York University and is currently pursuing a certificate in Data Science from Johns Hopkins University.
About Sarah Cook
Sarah Cook is currently the Director of the Institute for Global Development & Associate Professor in the Faculty of Arts and Social Sciences at the University of New South Wales in Sydney, Australia. Before commencing at UNSW, Sarah spent almost 10 years leading research institutes within the United Nations as Director of UNICEF's Office of Research in Florence, Italy and from 2009-2015 as Director, United Nations Research Institute for Social Development (UNRISD) in Geneva. In these roles, she has led research on transformative social and economic policy and engaging at the intersection of research, policy and programming. Her own research has focused primarily on China, following its social and economic transformations over more than 3 decades with key research interests in policy/protection, labour markets and migration, and gender.
Date and time
Location
The Galleries, Scientia Building (Map Ref: G19)
UNSW SYDNEY
Sydney, NSW 2052
Australia