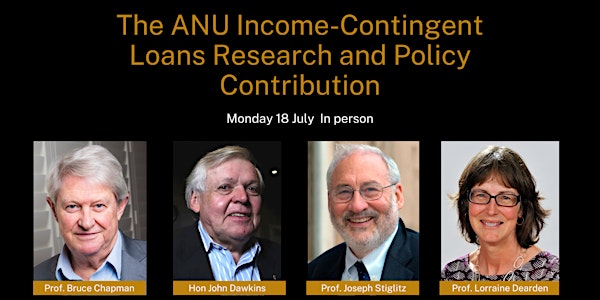 The ANU Income-Contingent Loans Research and Policy Contribution
Location
JG Crawford Building #132, Molonglo Theatre & Canberry Springbank Room
132 Lennox Crossing
Canberra, ACT 2600
Australia
The conference will be hosted by the Research School of Economics on July 18 2022.
About this event
In 1989, through the influence of ANU Professor Bruce Chapman, the Australian government introduced the world's first national income-contingent student loan (ICL), known as the Higher Education Contribution Scheme. HECS has worked as intended and has facilitated a major expansion of Australian university places with attendant large increases in the participation in higher education of disadvantaged students. The system's success has contributed to a significant and quiet reform of international student loan reforms towards ICL, with around 8 other countries having now adopted different versions of ICL. Moreover, there is increasing recognition that ICL has major potential to transform many other areas of social and economic policy.
This one-day event explains and recognises the ICL research and policy engagement of ANU Emeritus Professor of Economics, Bruce Chapman. The topics covered include: the origins of HECS (the Hon John Dawkins and Professor Nicholas Barr); international student loan reform (Professor Lorraine Dearden); the conceptual basis of income-contingent loans (Professor Joseph Stiglitz); the adoption of ICL in a host of social and economic policy areas (Associate Professor Tim Higgins); and the critical interaction between government statistical agencies and policy-oriented economics enquiry (Dr David Gruen).
Conference commences from 9.00 am and ends at 5.30 pm followed by dinner.
Registration inclusions:
Full day conference (includes morning and afternoon teas & lunch) - Crawford Molonglo Theatre
Conference dinner - Canberry Springbank Room
Registration closes at 5.00 pm, 29 June 2022 (AEST)