About this Event
This year, the food industry has witnessed many changes within China's regulatory system. CBEC new policies, revisions of infant formula and health food standards…Overseas businesses are expressing more concerns but also confusion about the impacts of these changes. Are you struggling with such issue as well?
The 2nd ChemLinked Food Regulatory Conference – Oceania 2019 (CLFRC 2019) is where you'll find the most useful information about China food regulations, along with effective ways to jump start your marketing solutions. We're pleased to invite you to attend the conference, which is organized by ChemLinked, in association with Complementary Medicines Australia, Australian Grape and Wine, and Infant Nutrition Council.
Date: Wednesday, 20th November, 2019
Time: 8:30am - 6:30pm (Registration starts at 8:30am)
Location: Sydney, Australia
What to Expect:
Former CIQ officer and experienced experts as speakers
10 powerful theme speeches on the most concerned issues
Roundtable discussion
Free 1-on-1 consultation opportunity
Agenda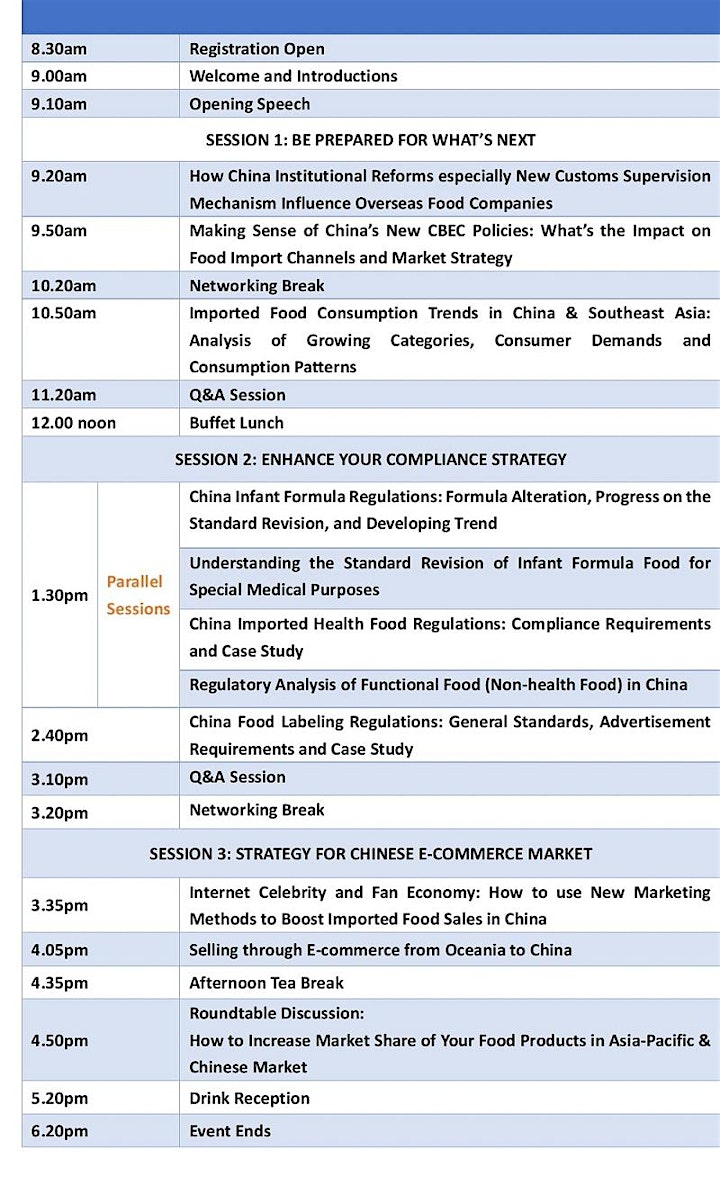 If you are paid membership with ChemLinked, please enter the promotional code we sent to you before making payment.
If you are a member with our event partners (CMA, Australia Grape & Wine, Infant Nutrition Council), please ask them for a promotional code to enjoy a special discount.
*Please note that seats are limited and will be allocated on a first come first served basis.
*Full payment is required in advance of conference. Bookings will only be fully confirmed on receipt of full payment.
*To request your invoice, please contact us at food@chemlinked.com.
Cancellation Policy
If you are unable to attend the CLFRC 2019, you must contact ChemLinked no later than 30 days prior to the day of the event. No refunds are available for cancellations made within 30 working days of the event.
For more details about the conference, please visit the official website.
General Inquiry
Email: food@chemlinked.com
Media Partner Opportunity
Glory Guo
Email: glory@chemlinked.com
Become a Sponsor
Kallen Chen
Email: kallen@chemlinked.com
Tel: +86 0571 8710 3822