Description
Join Vinh Van Lam and Stuart Horrex as we celebrate the launch of a solo exhibition by Olga Kolesnik.
Tell Me a Tale
Exhibition: 4 - 23 JUNE, 2018
WHEN: OPENING RECEPTION Saturday 16th June 2018 2pm till 4pm
WHERE: Yuga Café & Gallery 172 St Johns Road, Glebe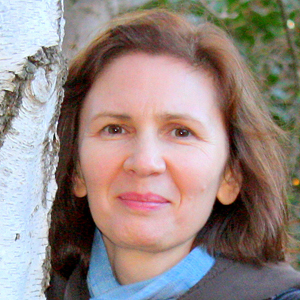 About The Artist
I would call myself a Contemporary Colourist, an artist who likes to paint with powerful strong colours. I don't see the world through dark tinted sunglasses. I would rather exaggerate a colour, than to imitate greyed muted colour and use the colour that works, than the colour that's 'really there. My paintings are neither too traditional nor too abstract. I fill nearly realistic shapes with emotions of bright pure colours and can utilise elements of different styles to add an interest and contemporary twist to a painting to create something original and exiting. My still lives from the Tea Time Series are telling stories about people. Although people stay out of the picture, their presence is felt. It was them who set up a table, baked a cake, put flowers in a vase and poured tea into a cup. They can be back any minute. It's about someone's tea party, a birthday celebration or a get-together with a close friend. In the Language of Nature Series I am trying to translate a mysterious language of flowers and birds into words describing our human feelings, emotions, desires and aspirations.
HOW IT ALL STARTED
I began to draw and paint when I was a child. I finished a high school with a formal qualification and certificate allowing me to work as an artist. But it didn't happen. Through the university, my career and a family life I have never stopped being interested in art. When I picked up my brushes for real, sometime after moving to Sydney from Russia, I felt like I never ceased to paint. But it took a few years, many workshops and classes with the best Australian artists to realize that it's time to step aside to find my own style. "We all learn from each other and the world around us. In the beginning we copy old masters or use a photo as a reference, not relying on our memory and imagination as we do not trust them yet. Then we progress further to advance copying but we look around for more… We are searching for a style we can call our own…It's a lifetime journey." Olga Kolesnik MY INSPIRATIONS An aspiration to paint flowers and birds came from my love of nature and its beauty. I am especially captivated by colourful Australian birds, flowering trees and plants. Australiana Series is a big part of my portfolio. Cockatoos, lorikeets and other birds who live on my backyard are basically my visiting pets and part of the family. As a self-taught artist I often return my inspirational roots, to the rich artistic and cultural heritage handed over to us by such great artists as Klimt, Van Gogh, Matisse, Gauguin, Peploe, Margaret Preston, Kandinsky, Picasso, etc.
MY COLOURFUL ECLECTIC WORLD
"Live on the bright side' is my motto." ~ Olga Kolesnik
I would call myself a Colourist, an artist who likes to paint with powerful strong colours and doesn't see the world through dark tinted sunglasses. I would rather exaggerate a colour, than to imitate greyed muted colour and use the colour that works, than the colour that's 'really there'. "'Life is about colour' said an artist. We are surrounded with neutral white, grey and cement colours of the interiors. A painting is a window into another world. If you hang a bright painting on the wall, I can guarantee you will start your day on a more cheerful and energetic note." Olga Kolesnik My paintings are neither too traditional nor too abstract. They mirror my feeling of a space, objects in that space and colour combination. I fill nearly realistic shapes with emotions of bright pure colours. I don't mind using elements of many styles and bending some rules to add an interest and a contemporary twist to a painting to create something new, original and exiting. Acrylics suit well to my painting style providing a fast and versatile way to apply multiple layers and different painting media. Often I start with watery paints letting them to flow freely and mix on canvas. They create wonderful areas of accidental "mistakes" and you never know what can come out of this playful part. Then I continue adding paints layer by layer to give more definition to objects. Sometimes it takes years to plan and compose and then only a few days to finish a painting. Though, there was a project that I have painted for almost three years. When I don't paint, I draw. My multiple art diaries are filled with my future projects. They are thumb nail sketches and drawings of anything that comes to my attention and inspires me. Recently, I started turning my black and white scribbles of cockatoos into greeting cards. This Series is called Funny Cute Australian. I work from my home studio based in Sydney and exhibit at the Sydney's art shows and galleries. My paintings live happily in homes of my friends and clients in many countries including Australia and New Zealand, Germany, Singapore, Japan, Russia, England and the USA.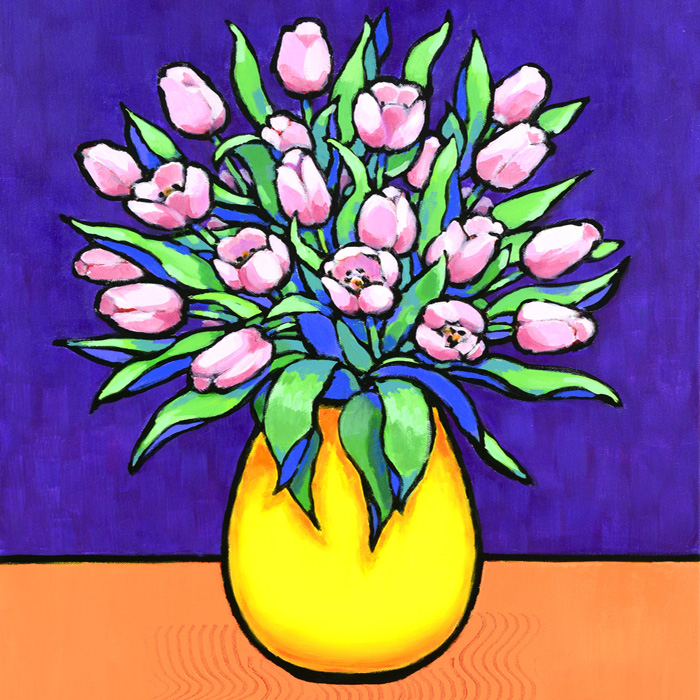 About The Exhibition
We are all storytellers. Our stories can be inspirational or philosophical, tragic, sad or joyful, mysterious or romantic, about love or adventure. But what they all have in common is they are very unique. See and listen to them before they become legends and fade into myths. Hey, Storytellers! Write down your stories! Tell us about your struggles and glories. Share them with the rest of the world As every great story has to be told… As every great story has to be heard.* A musician composes a melody, song and opera. Writers communicate their ideas through poems and novels. As a visual artist I tell stories about colours, flowers and people through my paintings. I see a white canvas as a blank untouched sheet of paper awaiting for a poet to start writing on it. Sometimes my story takes over the whole canvas. It's because I want to say so much, it spreads far and wide, right to the edges of the canvas. I stop to paint the painting when I feel that I have finished the story. I wanted my paintings, my stories, to be as they are now, before your eyes. Loud, bold, bright and exiting.
Welcome to my world!
About Yuga Café & Gallery
At Yuga Café & Gallery enjoy the atmosphere of exquisite flowers and beautiful artworks while you dine on the seasonal delicacies offered by the Yuga Café. With Italian influenced café meals, superb Italian coffee & teas, Yuga also offers event catering and much more.
About ArtSHINE:
ArtSHINE industries works with artists, designers, and all Creative Industries Professionals to showcase their creative practices and their work. Founded by Vinh Van Lam and Stuart Horrex and originally located in the Chippendale Creative Precinct of the City of Sydney, ArtSHINE galleries are now popping up across a number of venues and spaces. So much more than physical gallery or exhibition spaces, the ArtSHINE galleries platform is an opportunity for Creative Industries Professionals to create immersive retail and gallery experiences. Retail and gallery sales allow Creative Industries Professionals to connect with their communities in a direct and personal way, and ArtSHINE is building a viable commercial future for artists, designers, and all Creative Industries Professionals by securing under utilised pop up, short-term & long-term spaces, and alternative venues to facilitate these engaging events and exhibitions.
Organiser of Tell Me A Tale - Solo Exhibition by Olga Kolesnik 4 - 23 JUNE 2018
Connecting Creatives with clients and bringing Artists to audiences.
Unapologetically commercial, ArtSHINE™ works globally with commercially minded artists, designers, and creative industries professionals; Creatives. (And the Impact Investors and communities who support them.)
As a social enterprise / for purpose business, ArtSHINE inspires and empowers commercially minded Creatives to build sustainable enterprises and generate viable incomes through our flexible, practical, and real-world approach to creative practice, commercialisation, art licensing, and entrepreneurial education. 
Even though the world is moving faster and competition among Creatives has increased, ArtSHINE believes there has never been a time of greater opportunity. And this is evident in the successes of our clients! Through ArtSHINE Creatives are better able to build sustainable business enterprises to support their artistic endeavours while generating income from their works.
An ArtSHINE program provides all the skills, experience, and support Creatives need to take their art & design practices to the next level.
ArtSHINE delivers coaching, education, and ongoing support using 'action learning' principles (learn by doing) and providing business templates, tools, and resources, along with our proprietary OPIC™ action planning systems.
ArtSHINE's programs are generally twelve months in duration. And for successful graduates these programs culminate in representation at an international art licensing trade show; Surtex New York, or Licensing Expo China, or Brand Licensing Europe.
Here's what we do: