About this Event
In just 54 hours, start something new and experience the exhilaration of building a startup with your fellow community members!
Hosted by Startup Victoria, Techstars Online Startup Weekend is your chance to get your hands dirty and work alongside others from the ecosystem to create, innovate and elevate the community with a brand new idea.
Ideas from any industry and discipline are welcome to enter the hackathon, but we'd be particularly excited to receive entries that solve a problem in:
SportsTech
Enterprise Tech
Health & Med Tech
Data Analytics & AI
Impact (profit-with-purpose)
We're calling out to makers, creatives, techies and builders from the Victorian startup ecosystem to get involved and join the hackathon. Whether you're an experienced professional, student, researcher or aspiring entrepreneur, we want to hear from you!
How It Works
The #MelbourneOSW will take place over a 2-day weekend. You can enter with a team or as a single and join an existing group with an idea. You don't need a technical background to enter as long as you have the skills and/or drive to roll up your sleeves for the weekend to go from idea to MVP over the weekend! Non-technical skills can include marketing, branding, business development, strategy, UX - don't be afraid to be creative in what you bring to the table!
Timeline
6 October - Applications open
27 October - Applications close
2 November - Successful applicants notified
6-8 November - Techstars Online Startup Weekend!
To apply:
Applications are now open! Register via Eventbrite to apply. If you would like to submit an idea you would like to work on at #OSWMelbourne you will be sent a link on the order confirmation.
Schedule
Friday - Pitch, Vote and Get to Know Your Team
5:00 pm - Kick-Off
5:30 pm - Ideas time! We'll announce which of the submitted ideas will be used in the competition.
6:00 pm - Pitchfire: 60 second idea pitches from all submitted - no slides, just stage!
6:30 pm - Networking: Meet the other participants! We'll be using Discord for this.
7:00 pm - Team Formation: Choose your squad!
8:00 pm - Create, Innovate and Elevate as we begin work!
Saturday - Hustle and Learn
9:00 am - The day's planned events and acitvities begin!
9:30 am - Business Model Canvas 101 Workshop with Peter Laurie
10:00 am - Hustle hustle hustle! Our team of mentors are available to help out and advise on difficult problems later in the day - plan who you'd like to see!
12:00 pm - Time to focus on customers! We'll host a 30 minute Customer Validation Workshop.
12:30 pm - Brunch break! (Who doesn't love a bit of brunch?)
1:30 pm - First mentor slot begins - book time in with an expert of your choice.
2:30 pm - Second mentor slot begins - book time in with an expert of your choice.
3:00 pm - Time to focus on your product: MVP and Prototyping workshop with Peter Laurie.
3:30 pm - First mentor slot ends (we hope you took notes!)
4:00 pm - Second mentor slot ends (get back to work!)
5:30 pm - Team check-ins: we'll check in with each team and see how you're all doing.
7:00 pm - Dinner break (make sure you fuel up!)
8:00 pm - Saturday Round Up: we'll host a meeting with all the teams to go through the day and see how everyone is progressing.
8:45 pm - More hustling!
Sunday - Present and Celebrate
9:00 am - The day's planned activities and events begin!
9:30 am - Pitch mentoring slot begins (get advice ahead of your pitch later!)
10:00 am - Keep on moving, we're nearly at the finish line!
11:00 am - Pitch mentoring slot ends
11:30 am - Livestream: Pitch Training
12:30 pm - Brunch! We have prizes for the best-looking brunches (because we love Insta-worthy food).
2:00 pm - Team check-ins: we'll check-in with each team ahead of the looming deadline.
4:00 pm - Deadline! Make sure you've submitted your final pitch in video format.
5:00 pm - Virtual Demo Day: We want to showcase all the entries, so we're hosting this Demo Day! Invite your friends, family and connections to see what you've created with your team over the weekend. We'll also have live judge's Q&A's.
6:30 pm - We'll welcome a guest speaker TBA whilst the judge's decide on the weekend's winning team.
7:00 pm - Award Ceremony
7:30 pm - Afterparty (c'mon, you deserve it)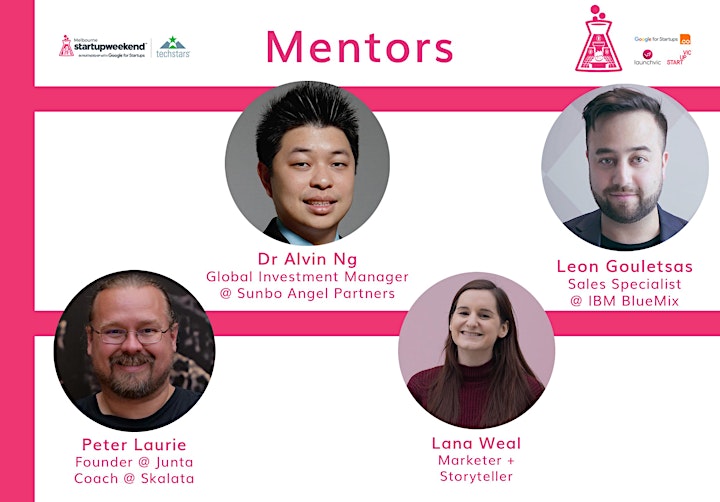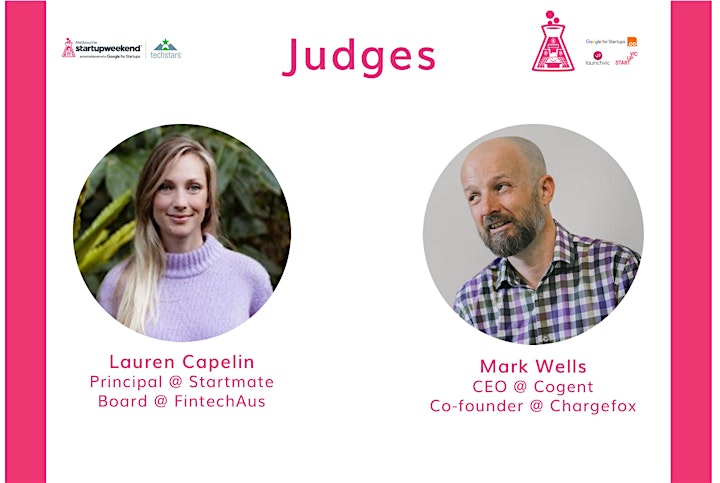 About Techstars Startup Weekend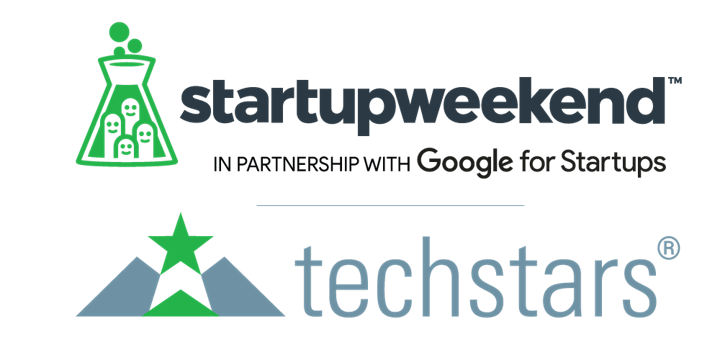 Techstars Startup Weekends are 54-hour events designed to provide superior experiential education for technical and non-technical entrepreneurs. Beginning with Friday night pitches and continuing through brainstorming, business plan development, and basic prototype creation, Techstars Startup Weekends culminate in Sunday night demos and presentations.
Participants create working startups during the event and are able to collaborate with like-minded individuals outside of their daily networks. All teams hear talks by industry leaders and receive valuable feedback from local entrepreneurs. The weekend is centered around action, innovation, and education.
Whether you are looking for feedback on an idea, a co-founder, specific skill sets, or a team to help you execute, Techstars Startup Weekends are the perfect environment in which to test your idea and take the first steps towards launching your own startup.