| | |
| --- | --- |
| Talks with Project Camelot's Kerry Cassidy | |
Event Details
Talks with Project Camelot's Kerry Cassidy
Part of we, the muse multi-media art exhibition & talks

Have you ever wondered whether there's more to the way our world works than we think there is? Is it satisfactory to believe what we're told and act accordingly, or do we owe it to ourselves as intelligent creatures to probe a little further than that? 

Join aMBUSH Gallery and Kerry Cassidy – founder of Project Camelot – for two days of explorative, enlightening talks around the subject of whistleblowing, conspiracy theory and secret societies. Presented as part of multi-media art exhibition, we, the muse, the talk will run from 2-6pm on Saturday 22nd and again on Sunday 23rd November. Cassidy's talk traverses subjects including the Secret Space Program, ETs, UFOs, Conspiracy Facts, Above Top Secret Whisteblowers, Underground Bases, Interstellar, Super Soldiers, Mars, Psi-Tech, Surveillance Society, Artificial Intelligence, Teleportation and Time Travel to name a few. 
We, the Muse will include a two-day talk series with Kerry Cassidy at aMBUSH Gallery providing visitors with the choice to attend on Saturday 22 November or Sunday 23 November from 2-6pm. A limited number of tickets are available.
We, the Muse multi-media art exhibition opens at aMBUSH Gallery on Friday 21 November 6-9pm with special guest Kerry Cassidy and complimentary ice cold Little Creatures beers will be served on the night.
About the talks

The Shadow or Secret Government has grown in leaps and bounds since WWII whose primary raison d'être became the Secret Space Program. This program involves Black Projects that use newly invented and acquired technologies with the help of treaties and relationships over time with various ET races, both on and off planet. 

Kerry Cassidy's talk will cover the ET visitation to Planet Earth, Earth's allies and adversaries and how conscious awareness of the multi-verse and truth behind the Matrix can empower people to deal with this brave new world.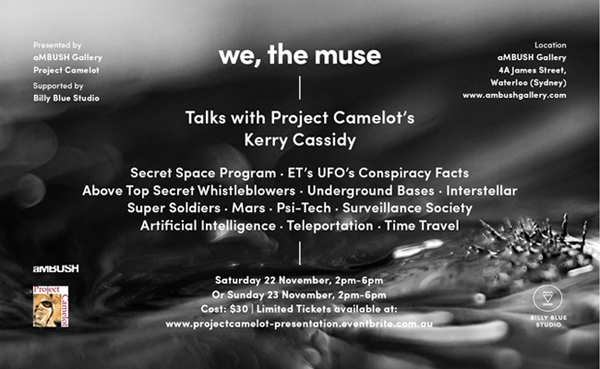 About Project Camelot
Project Camelot is based on an idea generated when Kerry Cassidy and Bill Ryan  met and spent the weekend in Tintagel, England, overlooking the sea in the home  of King Arthur.  Inspired by the legend of King Arthur and the Round Table a Utopian vision for the future, we decided to combine our talents and named our project in tribute to this vision.

Since its inception, Project Camelot has become a leader in the area of whistleblower testimony by providing filmed interviews, shot guerrilla style, on location, with key witnesses and researchers from all around the world. We have traveled to remote corners of the globe and revealed secrets in areas previously only known to a select few from secret societies and those with high level security clearances in the secret governments.

In 2012, TruTV released the long awaited Project Camelot TV pilot shot in 2010: SHADOW OPERATIONS: THE MARS PROJECT starring Kerry Cassidy and Bill Ryan and several of their whistleblowers and researchers. For those who missed the Live Broadcaston TruTV the show has been uploaded to YouTube by a fan and can be viewed there.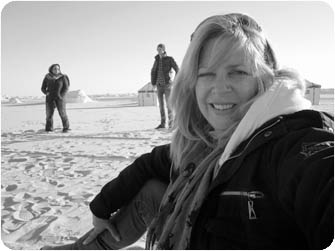 About Kerry Cassidy 
Project Camelot co-founder & CEO 
Kerry Cassidy is a documentary filmmaker/investigative journalist and well known radio talk show host of Project Camelot Whistleblower Radio.  Her website Project Camelot www.projectcamelotportal.com is a leader in the alternative media sector, with a Youtube channel that has millions of viewers worldwide. She speaks at conferences around the world and has produced several highly regarded Camelot conferences with the trademark name "Awake and Aware" featuring key witnesses and researchers that are part of the Camelot history of interviews.  KERRY'S BLOG has gone viral and has become a must see news commentary space picked up by alternative news organizations around the world. Kerry travels the world conducting interviews and documenting the testimony of whistleblowers with above top secret clearances as well as authors, researchers and experiencers covering conspiracies, the secret space program, black projects, ETs, kundalini and ascension and free energy.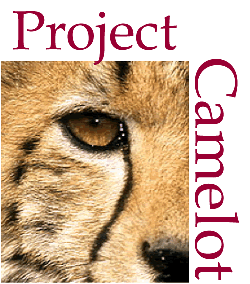 About we, the muse 

aMBUSH Gallery presents we, the muse – a free, public multi-media art exhibition that seeks to explore the subjects of control, conspiracy and the secrets of the cosmos. The eighteen artists whose work comprises we, the muse have been granted flexibility with their interpretation of the theme, as the exhibition is intended to initiate dialogue and provide an open platform for the generation and discussion of ideas.

Featured artists include Adnate, Askew One, Awol Monk, Ben Frost, Birdhat, Bret Chan, Bryan Itch, Ha-Ha, Joseph Crossley, Loveariel, Martin E. Wills, Phibs, Ray Ray, R-J Williams, Sean Morris, Shida, Sprinkles, Will Coles and Zap.

we, the muse opens at aMBUSH Gallery on Friday 21 November 6-9pm with special guest Kerry Cassidy, and will continue from 10-2pm on Saturday 22 and Sunday 23 November.

Join us on Facebook by clicking here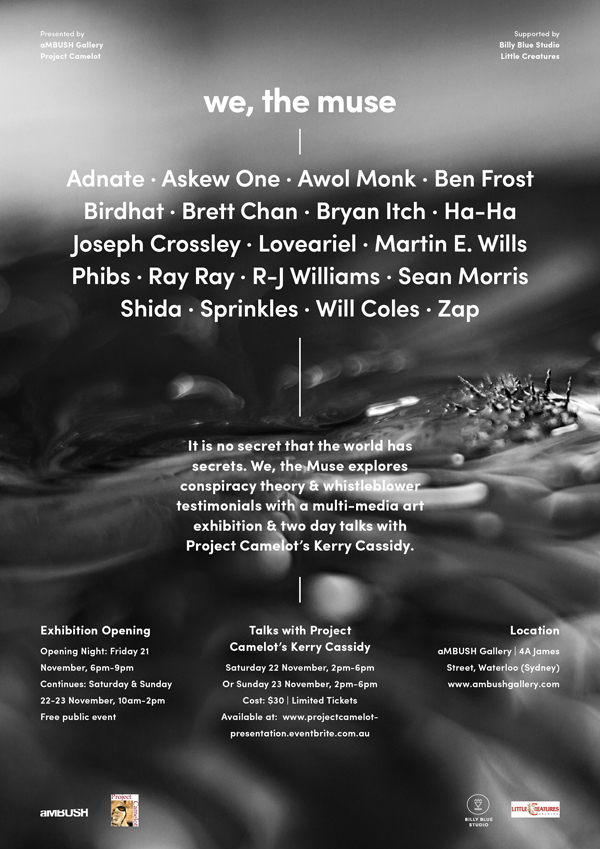 What: we, the muse - Exhibition  
Where: aMBUSH Gallery, 4a James Street, Waterloo (Sydney)
When: Friday 21 November (6-9pm) then continues Saturday 22 & Sunday 23 November (10am-2pm)
Cost: FREE
More Info: www.ambushgallery.com
What: Talks with Project Camelot's Kerrie Cassidy 
Where: aMBUSH Gallery, 4a James Street, Waterloo (Sydney)
When: Choice of Sat 22 or Sun 23 Nov (2pm-6pm)
Cost: Tickets $30 (single) or purchase 2 tickets for $50 (save $10)
When & Where

aMBUSH Gallery
4a James Street
Waterloo (Sydney), NSW 2017
Australia

Organiser
aMBUSH Gallery is much more than a physical exhibition space. It's an innovative program of site-specific, project-based art activations stemming from a unique fusion of philanthropic and commercial impulses.
This multi-award winning gallery has a demonstrated history of staging highly successful activations, which not only engage and entertain audiences, but also provides sustainable futures for emerging and established artists.
aMBUSH Gallery, which is an initiative of Wiltshire + Dimas Management, has made a significant contribution to the social and cultural development of metropolitan and regional Australia. Major projects have included the Central Park Pop Up Gallery, the groundbreaking Outpost Project at Cockatoo Island, which was the biggest street art festival in the world and the first such event to be held in Australia, and Project Five, an initiative which provides opportunities for artistic youth.
aMBUSH Gallery has evolved from its early life as a propagator of young and emerging artists and is now cementing its role as a facilitator and nurturer of cultural development. At the forefront of its field not only as a platform for art but a hub of innovation and creative progress, aMBUSH Gallery has a revolving calendar of free public events at its outdoor exhibition space OPEN – a public art site and OPEN UP – a market for art, design and ideas.