Description
Tales After Dark is all about storytelling for grownups - be entertained, be engaged, be enthralled! Eat, drink and be merry. Join us for this unique entertainment that will have you discussing it long after the event is over.

Back by popular demand...FRED SMITH
You loved this guy - some of you said it was the BEST Tales After Dark ever! And he has a new album out, so we'll be hearing new stories from this musically talented raconteur.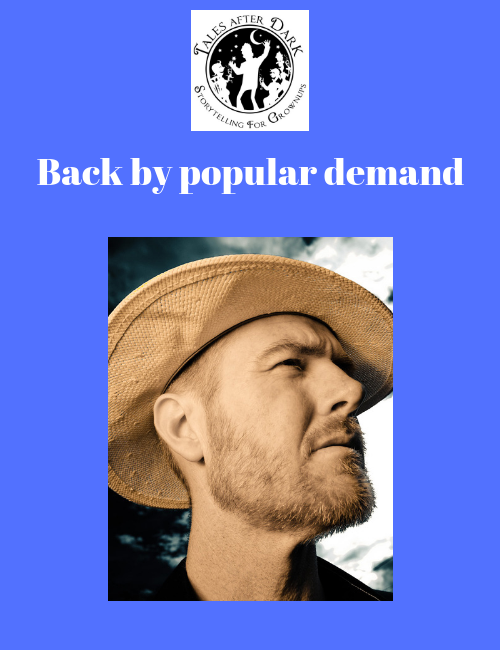 Who is Fred Smith?
We found Fred Smith at a TEDX show - he got a standing ovation and it was well-deserved! Check out his performance here:
https://www.youtube.com/watch?v=bCmcaRApHV0
After his 2016 performance, we've had him perform for us every year since. He wrapped up our 2017 season of Tales After Dark and now he's performing for the final show for 2018.
About Fred (from his website)
In 2008, Sydney Morning Herald critic Bruce Elder wrote "It is about time Australia caught up with Fred Smith. This remarkable singer-songwriter – who at various times reveals influences that range from Paul Kelly via Lou Reed to Loudon Wainwright III to Leonard Cohen – keeps releasing amazingly accomplished albums."
Fred Smith has been a favourite on the Australian festival circuit for years, much loved for his gentle wit, gift for story and melody, and sublime collaborations with Liz Frencham and The Spooky Men's Chorale. Now the rest of Australia is catching up with Fred Smith. He was the subject of a recent Australian Story feature about his work in Afghanistan and on peacekeeping operations in the war-torn islands of the South Pacific. The title track from his acclaimed album, Dust of Uruzgan, has been covered by country music star Lee Kernaghan.
Fred recently wrote a book, The Dust of Uruzgan, published by Allen and Unwin and available in all good bookstores. Now he has popped out a new double album called Great, available through this site and MGM distribution from October 2017.
then go to see a preview of the documentary about his work in Bougainville here:
https://www.youtube.com/watch?v=ynjytT5D_ic
Of course, we have our very own talented actors reading out stories to delight you - stories that will make you smile, laugh and think - stories that will stay with you for a long time, after the show.
You can get yourself some dinner at the Pub beforehand too! But drinks and snacks will be available during the show too.
BOOK EARLY - numbers are limited! This one may well sell out early!!