Sales Have Ended
Ticket sales have ended
Thank you so much for your interest in our webinar. Unfortunately tickets are no longer available.
Sales Have Ended
Ticket sales have ended
Thank you so much for your interest in our webinar. Unfortunately tickets are no longer available.
An ONLINE fan event open to GLOBAL participants.
About this event
Australian actors Bridie Carter and Myles Pollard invite you to join them ONLINE and look forward to sharing, for the first time with a global audience, the intimate and never before heard details of how their film project, A Walk In The Park by Robert Lewis Vaughan eventuated, and the launch of their new production company Homeland Entertainment. They will also reveal candid details of their journeys so far both personally and professionally, including their work on celebrated television shows such as Home and Away, 800 Words and of course their memorable roles of Nick and Tess on Mc`Leod's Daughters.
2020 is a time like no other, and amidst the continuing chaos of this unchartered pandemic, earlier this year, Bridie and Myles began a global search for a story they could take to the world in new and innovative ways that would be a gift, a reprieve and some entertainment during the dramatic change the world was/is experiencing.
In quite extraordinary circumstances, a unique situation occurred and they were offered a play written especially for them by an American writer they had never even met.
This online event will help Bridie and Myles bring their film A Walk In The Park to global audiences so they can celebrate love, life and family through the the eyes of married couple, Jessica and Gavin - who reminisce about that first fleeting glance, that first tender kiss and that first walk in the park…The love story, that is their life.
BRIDIE CARTER: "I am so excited to be gathering together with our fans and friends, who I think of as family, from all over the world, at one moment in time to share what has been a most extraordinary year. I can't wait to tell you all about A Walk In The Park, an incredibly beautiful, hopeful and entertaining story that I am just so honoured to be a part of. So, grab a hot chocolate, a glass of champagne or an orange juice (depending on what time it is in your part of the world!) and celebrate Christmas with us! I really can't wait."
MYLES POLLARD: "What a crazy, tumultuous and at times frightening ride 2020 has been. The world was turned on its head for everybody including Bridie and myself. As fate would have it a beautiful piece of writing came to us that was a gentle reminder about what it means to be human, what's really important in this life and how everything we need may just be right in front of us. We can't wait to chat with you all about our new project, the amazing moments Bridie and I shared onscreen and everything in between."
BRIDIE CARTER
Bridie Carter is a highly regarded and critically acclaimed actor, having worked extensively in television, film and theatre. She graduated from the National Institute of Dramatic Art (NIDA) in 1994.
Bridie has just wrapped filming her role of the intriguing Suzie McAllister on Channel Seven's highly successful Home and Away which will debut on air at the season launch in 2021. She was also much loved on our screens in the breakout Australian/NZ TV drama 800 Words (Seven Network/South Pacific Pictures) playing the feisty and beloved 'Jan Andrews'. Bridie's television credits are numerous, but perhaps her best known role was for her depiction 'Tess McLeod' on the Nine Network drama series McLeod's Daughters. This role saw her nominated twice for a TV WEEK Gold Logie and five times for a Silver Logie.
Other television credits include It's A Date, Wild Boys, Rescue Special Ops, My Husband My Killer, Going Home, Above The Law, All Saints, Murder Call, Water Rats and GP. She was also the winner of the 2007 Dancing with the Stars.
Bridie featured in the Australian comedy feature film EMO the Musical. Bridie's other film credits include I Love You Too, alongside Brendan Cowell and Peter Hellier and Envy and Fresh Air. Some of Bridie's short film credits include Nostalgia, Skin, The Things My Father Never Taught Me and Ragtime.
On stage Bridie was most recently seen in Hedda for Queensland Theatre in 2018 playing Thea Elvsted and playing leading lady Blanche Dubois in A Street Car Named Desire for La Boite Theatre. Other theatre credits include Love Letters (Ripe Productions and NIDA Theatre Company), No Names….No Pack Drill (NIDA Company), Lockie Leonard Human Torpedo (Ensemble Theatre) and Communicating Doors (Marion St Theatre).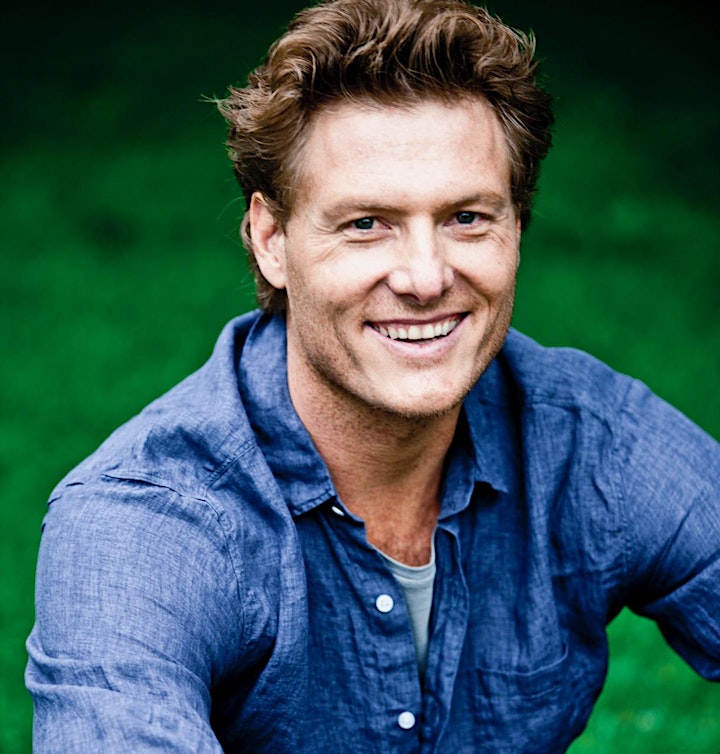 MYLES POLLARD
Myles has a Bachelor of Arts in Education (Secondary) from Edith Cowan University and a Bachelor of Dramatic Art in Acting from NIDA (National Institute of Dramatic Art).
He has appeared as an actor in many Australian television series including Australia's most successful TV series McLeod's Daughters for which he received two Most Popular Actor Logie nominations. He has appeared on Home and Away, Packed to the Rafters, Underbelly, Double Trouble, East West 101, All Saints, Rescue Special Ops, Mystery Road and Itch 2.
His feature film credits include Wolverine and Drift for which he won the Best Actor award in the Western Australia Screen Awards. He acted in The Turning, The War That Changed Us, Looking For Grace, Jasper Jones, and The Gateway for which Myles was nominated for the Best Actor at FilmQuest Cthulhu Utah and was awarded The Best Actor award at the Austin Revolution Film festival Texas. Myles also featured in the Vietnam war movie Danger Close and has been cast in Before Dawn scheduled to begin shooting July 2021.
Myles produced the feature film Drift which won the Extreme Cinema Award at the Maui Film Festival, won Best of Fest and the Audience Choice Best Feature Film award at the Rincon International Film Festival in Puerto Rico.
Myles made his directorial debut with his short film Payne's Find which gained official acceptance to festivals including CinefestOz Western Australia 2018, CITYFLIX International Film Festival Toronto and the Crossover Film Festival in Virginia USA, winning international awards including Best Director, Best Film, Best Cinematography, Best Sound Design and Best Actor.
Myles directed a short film called Christine which has won multiple awards online at the Oniros Film Awards, including Best Director, Best Drama, Best Under Five Minute Film, Best Actress and Best Cinematographer. The film also won the Best Indie Fim at the New York Film Awards.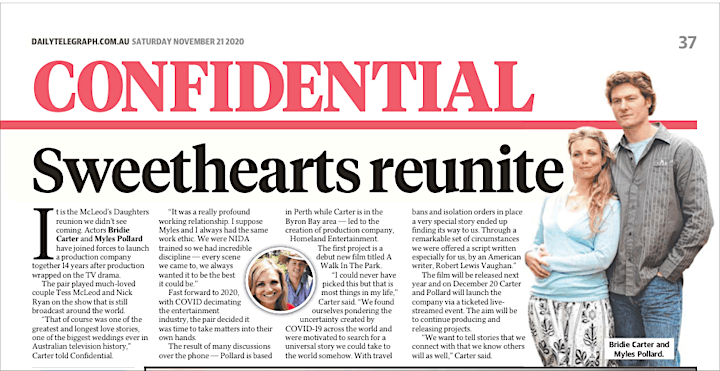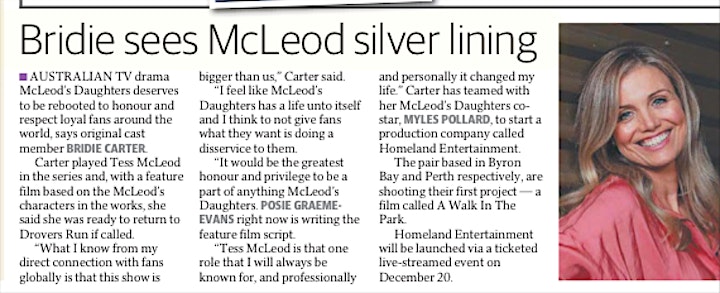 Australian TV Week magazine announces Bridie and Myles' new venture. Click link below: