Description
Join Vinh Van Lam and Stuart Horrex as we celebrate the launch of a group exhibition by The Sydney Comic Guild
FOOD
Exhibition: 1 - 30 November, 2018
WHEN: OPENING RECEPTION Saturday 3rd November 2018, 3pm till 5pm
WHERE: Yuga Café & Gallery 172 St Johns Road, Glebe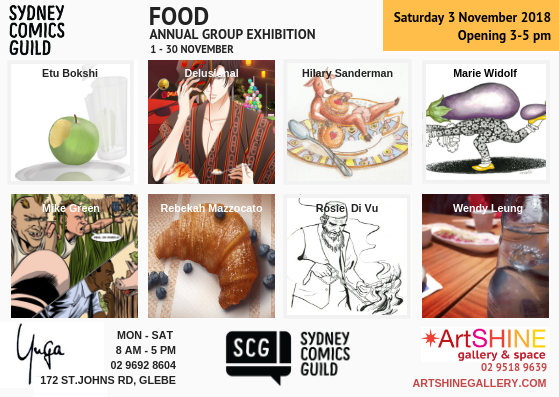 About The Exhibition
Food is an integral part of everyday life yet most of us don't give it a second thought. We eat to celebrate and to comfort ourselves. To share a home cooked meal is a honour and a sure sign of love. Some of us eat for nutrition, some of us live to eat. New seasons are marked by fruits and the year is punctuated by different flavours. Food defines our cultures and eating together shape our friendships. We snack, we chow down, we dine and we share. So whatever your relationship to cuisine is I hope you enjoy this exploration of our food.
Featuring Artists:
Delusional

Etu Boshi

Hilary Sandeman

Marie Widolf

Mike Green

Rebekah Mazzocato

Rosie Di Wu

Wendy Leung
About Yuga Café & Gallery
At Yuga Café & Gallery enjoy the atmosphere of exquisite flowers and beautiful artworks while you dine on the seasonal delicacies offered by the Yuga Café. With Italian influenced café meals, superb Italian coffee & teas, Yuga also offers event catering and much more.
About ArtSHINE:
ArtSHINE industries works with artists, designers, and all Creative Industries Professionals to showcase their creative practices and their work. Founded by Vinh Van Lam and Stuart Horrex and originally located in the Chippendale Creative Precinct of the City of Sydney, ArtSHINE galleries are now popping up across a number of venues and spaces. So much more than physical gallery or exhibition spaces, the ArtSHINE galleries platform is an opportunity for Creative Industries Professionals to create immersive retail and gallery experiences. Retail and gallery sales allow Creative Industries Professionals to connect with their communities in a direct and personal way, and ArtSHINE is building a viable commercial future for artists, designers, and all Creative Industries Professionals by securing under utilised pop up, short-term & long-term spaces, and alternative venues to facilitate these engaging events and exhibitions.
Organiser of Sydney Comics Guild - "FOOD" Annual Group Exhibition 1-30 November
ArtSHINE Gallery is a platform dedicated to emerging and established artists. We work with artists, showcase their talent and help them connect with established and emerging collectors.
The ArtSHINE Space & Gallery is a retail / gallery located in The Chippendale Creative Precinct and we are opened Tuesday to Sunday for you to view the works of our artists. (please check our website for the opening hours).
We believe it is important to meet the artist and to see artwork with your own eyes, so we are organising solo and group shows through out the year to give you the opportunity to discover or rediscover artists and their arts.
If you find something on our website and would like to arrange a viewing give us a call or email us.