SWID Conference - Human Rights, Social Justice & Equity in Disability: Back...
Description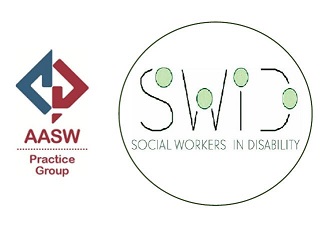 The implementation of the National Disability Insurance Scheme (NDIS) created a market-based focus to disability service provision. What place does a values-based profession like social work hold in our society? Are Human Rights, Social Justice and Equity the principles that guide our practice today? Or is a new paradigm required for a new time? What of our social work activist roots? Moreover, does the prevalence of psychological models in social work, in conjunction with market forces, mean that social work's focus is now fixed on individuals over systems in our theorisation and practice standards or clinical practice?
The implementation of the NDIS has had significant implications and wide ranging positive and negative impacts on the lives of people living with disability. The marketisation of disability service provision and the individualisation of funding for people with disability has come with great promises of transfer of power, choice and control to individual citizens living with disability. Does reality match the promise?
Do you have an interest in hearing from social workers, researchers and other professionals how we can work at the interface of disability, health, research and policy? Then please join us as this conference will allow opportunities for reflection and projection and we hope it will provoke vigorous discussion about what our roots are as a profession and whether they remain relevant to social work practice in Disability in 2018 and beyond.
This conference will bring together social work practitioners, researchers, students and allied health professionals to share ideas, experiences and new perspectives, so that we are all better equipped and ready to articulate who we are as a profession and what binds us in our diversity moving forward.
Learning Objectives
:
Showcase Australian social work within the disability field and associated sectors. Both individual and systemic approaches will be explored.

Present examples of social work practice and education that partners with and empowers people living with disabilities. This includes examples that facilitate the participation of all people within their local environments and diverse communities.

Uphold current social work networks within the field, and provide opportunities for furthering connections for students, educators and professionals who are interested in supporting the advancement of people living with disabilities within our society.

Present the latest insights, innovations, research and practice thinking within the disability and mainstream sector and more generally; focussing on maximising Human Rights, Social Justice and Equity for people living with disability across the lifespan.

Encourage, in accordance with the AASW Code of Ethics principles, the development of social work knowledge about the lived experience of disability within a market-driven environment.
FINAL PROGRAM WILL BE AVAILABLE CLOSER TO THE DATE... HOWEVER HERE IS A DRAFT ALREADY!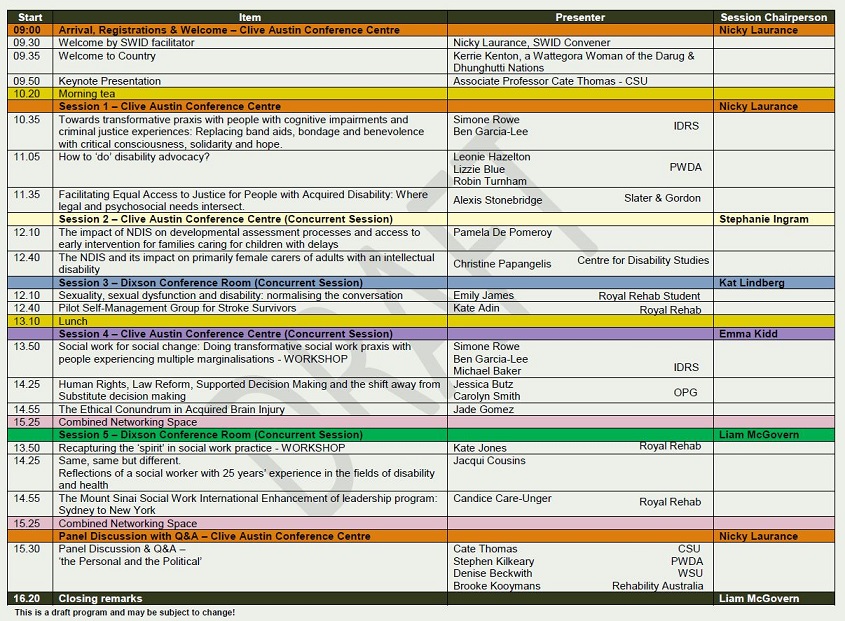 The final version will be emailed to all registrants!
---

Conference Sponsors