Description
After a sold out event in 2018 Surfing Chefs for SurfAid will return to Three Blue Ducks on The Farm in Byron Bay!
Join SurfAid for a seated multi course meal prepared by some of Australia's most acclaimed chefs, Balter beer, Brookies cocktails, McHenry Hohnen wines, entertainment and bespoke auction as we recognise Tom Carroll as Humanitarian of the Year.
Felicity Palmateer, Ben Devlin, Ben O'Donoghue, Darren Robertson, David Lovett, Dennis Barker, Emma McCaskill, Gianluca Donzelli, Matt Stone, Palissa Anderson, Russel Blaikie, Steve Snow and Stuart Toon.
Emceed by Toby Martin, former WCT professional surfer
---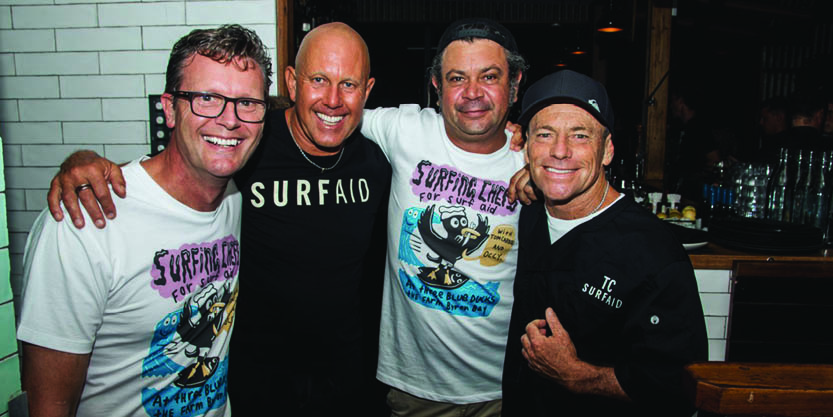 Surfing Chefs for SurfAid originated when Russell Blaikie (Must Winebar Perth) asked some of Australia's finest chefs to donate their time. These chefs reached out to farmers, distillers, brewers, and vintners for support. If the most talented chefs, finest ingredients, and artisan beverages were not enough, SurfAid's pro surfing Ambassadors took to the frypans to deliver Surfing Chefs for SurfAid, raising over $500,000 since 2011.
Tom Carroll SurfAid Ambassador, 2x World Champion and 3x Surfing Chef for SurfAid, describes the event. "What an extraordinary model SurfAid delivers! We all have an amazing time, eat extraordinary food (doesn't even come close to describing it), and are offered the opportunity to give back, with people's lives thousands of kilometres away being improved exponentially".
All proceeds support SurfAid's clean water & sanitation, basic healthcare, and improved nutrition programs in remote island communities.