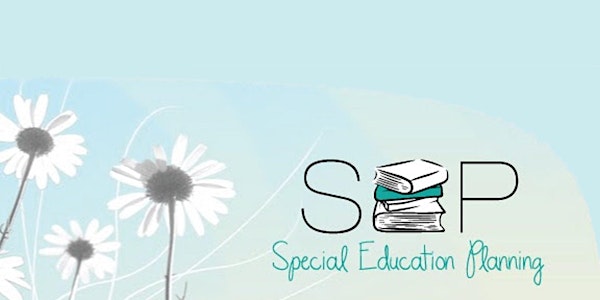 Supporting Children/ Students with Delays through Evidence Based, Planned I...
Event Information
Location
Sophia Conference Centre
225 Cross Rd
Cumberland Park, S.A 5041
Australia
Refund policy
Refunds up to 30 days before event
Description
This workshop focuses on how to provide a supportive learning environment through evidence based educational practices. Topics addressed in this workshop are:
Evidence based learning- we will discuss the definition of evidence based practices, how to determine which practices meet this criteria and the practices that meet this criteria.
Relationships with parents- positive relationships with parents are essential for improved outcomes for students with delays or disabilities. Leanne Longfellow will share her doctoral research findings into relationships between schools and parents in Adelaide and will provide practical and helpful strategies to make your learning context inclusive of parents from diverse backgrounds.
Creating a meaningful personalised learning plan- in this section of the workshop we will discuss the legal obligations within the IEP/ NEP/ One Child OnePlan process along with practical considerations to ensure that the process is collaborative and the final document is one that guides our teaching and informs our assessment.
Writing SMARTAR goals-SMARTAR goals stem from the NEP process and are a way of breaking down functional goals into achievable parts through the use of precise language. We will examine SMARTAR goals and look at writing goals in a hands on activity.
Assessment through practical data collection-we will review the basics of data collection including frequency and duration, as well as time sampling methods and scatter plots that are especially useful when time and resources are limited. We will discuss how these basic strategies can be adapted and individualised for the needs of a student or group of students, and give an introduction to the basics of analysing data once you have collected it. By the end of the workshops participants will have the information to design simple data collection sheets, collect accurate data, and make sense of what that data is telling them about their student's behaviour - is it getting worse, staying the same, or improving?

Reinforcement: Proactive strategies to support children and students- we will talk about reinforcement, more commonly known as rewards; what is it, how does it work, how can you plan for it, and how can you problem solve when you have tried 'everything' and it 'just doesn't work'. We continue by talking about Antecedent Interventions, which are proactive strategies that support the student and reduce the likelihood of the student engaging in the problem behaviour BEFORE the behaviour has occurred. It can include strategies such as teaching the student to independently communicate when they need help, or introducing more frequent breaks as starting points to help the student become more successful in their classroom.
INTENDED AUDIENCE
This workshop is suitable for special education, early childhood, junior primary, primary, secondary educators, including assistants, and parents. Other professionals are welcome.
PRESENTERS
Leanne Longfellow is a special education teacher, academic researcher and a parent of a young adult with disabilities. She has taught in a variety of special education settings over a thirty year period, provided numerous professional learning sessions for educators, presented at Australian and international educational conferences, taught education in a university context and is in the final stages of completing doctoral research in special education at UniSA.

Alexandra Ahlgren Berg began her career in ABA in 2013 when she commenced employment as an in-home therapist with children with autism. She has designed and overseen ABA programs that address skill deficits across all developmental domains, conducted functional behavioural assessments, designed behaviour support plans and provided support to staff at schools, kindergartens and day/child care settings. She is a Board Certified Behaviour Analyst since 2015, one of only three in South Australia, and is founder of ABA for Change.

Kate Whitehead completed her Masters in Applied Behavioural Analysis through Arizona State University in August 2017 and is currently working toward attaining her BCBA credential. She has worked in the area of Applied Behavioural Analysis since 2013. She has exyensive experience in functional communication training to reduce challenging behaviour and in providing parent, educator and therapist training.
INCLUSIONS
Participants will receive a certificate of attendance referenced to the Australian Professional Standards for Teachers.
Participants will receive handouts and suggested reading to build on this professional learning.
Morning and afternoon tea and a light lunch are included.
TESTIMONIALS
'I am a kindy relief teacher and I have been to one workshop previously and it was informative and at a good level of understanding so thank you for running these at an affordable price' Marian Harper (Early Childhood Teacher)
'I enjoyed the workshop. It was informative and we were able to share views and opinions. I was able to update my knowledge on students with disabilities'. Gaylene Green (JP Teacher)
'I found the session really informative and enjoyed that you covered all types of strategies for different behavioural needs. I found it really beneficial for you to mention/list the different resources available. This session will definitely improve my one on one sessions with students and I look forward to attending some more of your seminars'' Chandra Payne (School Services Officer)

'Leanne's workshops convey practical information and insights in a relevant and concise manner. I have learnt so much about many aspects of special education, incorporating positive strategies and resources, which I can readily use to support my professional practice. I thoroughly recommend Leanne's workshops as a great source of professional learning for us as educators, to feel inspired and well-supported' C.B.

'This workshop exceeded all my expectations' Abbie Kemp (Junior Primary Teacher)
FAQs
What can I bring into the event?
You require a pen and something to lean on when writing.
How can I contact the organiser with any questions?
You can contact Special Education Planning at info@specialeducationplanning.com.au
What's the refund policy?
You are entitled to a refund up to 30 days prior to the event.
Date and time
Location
Sophia Conference Centre
225 Cross Rd
Cumberland Park, S.A 5041
Australia
Refund policy
Refunds up to 30 days before event