Description
ANDREW SWIFT - Tuesday 23th July
FANNY LUMSDEN - Wednesday 24th July
BRAD BUTCHER - Thursday 25th July
SUPPER CLUB SESSIONS
For three fabulous evenings in July - Mackay music lovers are in for a special treat.
Internationally acclaimed singer songwriter and Mackay resident Graeme Connors, will share the stage and the spotlight with three exceptionally talented fellow Australian singer songwriters in conversation and performance.
Andrew Swift, Fanny Lumsden and Brad Butcher are at the very top of the list of contemporary Australian singer songwriters and Graeme will explore what drives and inspires these highly awarded artists, trading songs and stories from their individual careers.
Timed to coincide with the Mackay Festival of Arts July 23rd (Andrew Swift), 24th (Fanny Lumsden) and 25th (Brad Butcher) are evenings not to be missed by any lover of great music and creative conversation.
Please ensure you are selecting the correct date for the correct guest on the evening. We will be unable to swap dates after purchase.
Tickets on sale upto 1 day prior unless sold out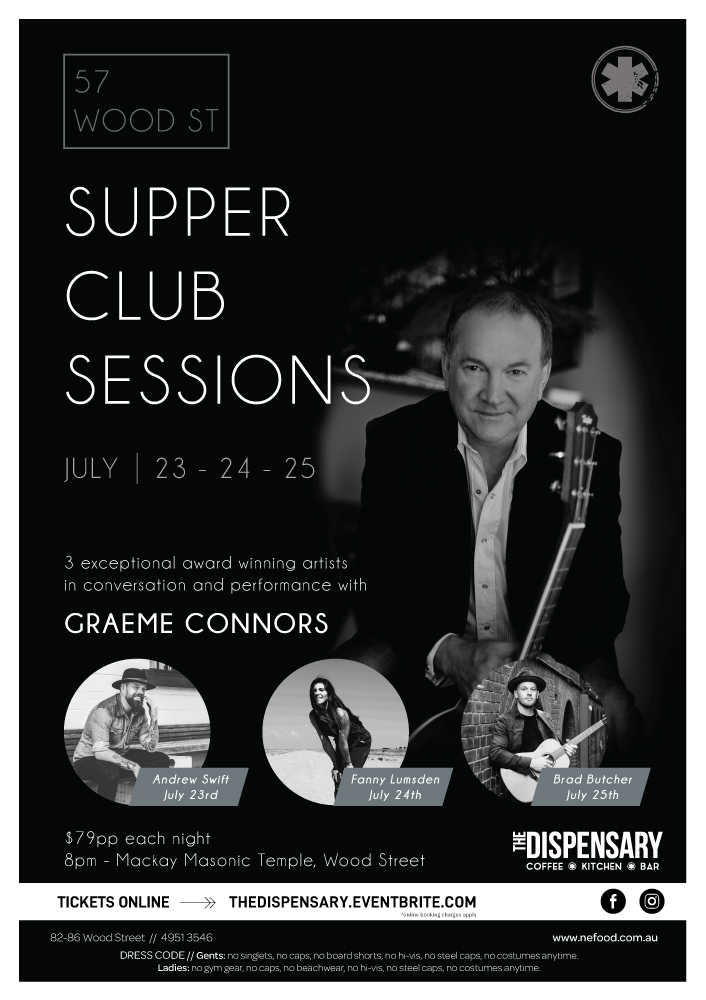 Is there are dress code?
Gents: no singlets, no caps, no board shorts, no hi-vis, no steel caps, no costumes anytime.
Ladies: no gym gear, no caps, no beachwear, no hi-vis, no steel caps, no costumes anytime.
Is it ok if the name on my ticket or registration doesn't match the person who attends?
It is preferred all details are correct to ensure ease of entry into the venue.