Description
Looking for some summer magic? Join our' Summerama Day Out'!

You can participate in exciting and family-friendly activities, including exploring Bondi's amazing rock pools and creepy crawly gullies, litter sandcastle building, a trash for treasure clothing exchange, a theatre play and a family picnic with face painting, storytelling, art exhibitions, tips on sustainable living and much more. There's something to suit all ages and interests at Summerama 2017.

Famous local artist and Trashion designer Marina DeBris and her amazing models will be there showing off Marina's 'Trashion' collection Beach Couture: A Haute Mess. Born out of creativity, humour and irony, Marina's collection will certainly leave you in awe! Marina and her team will also be trashin' up the beach making sand-castles out of litter, hanging out the dirty laundry and enjoying a 'trash-picnic'. Don't miss the opportunity to join in and check this unique collection that shows how the waste we create always come back to haunt us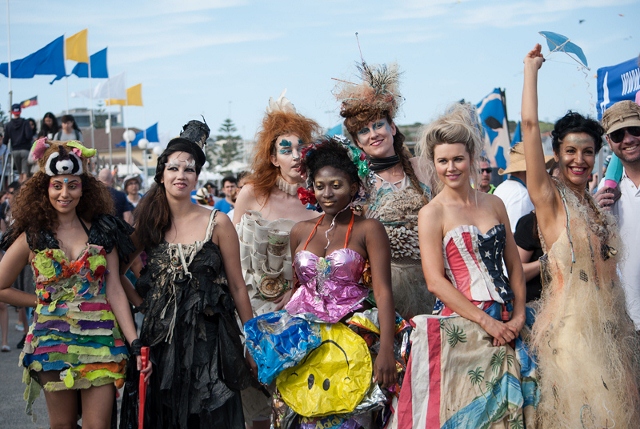 SOME ACTIVITIES HAVE LIMITED PLACES. PLEASE MAKE SURE TO BOOK YOUR ACTIVITIES SEPARATELY BY CLICKING ON EACH LINK BELOW

When: Saturday 14 January
Time: 9am to 5.45pm
Where: Bondi Park and Bondi Beach.
Activities are FREE but bookings are essential.

Please note children must be supervised at all times.
Questions? Contact Ale Torres on 9083 8045 or e-mail secondnature@waverley.nsw.gov.au

Under the Sea Adventure (BOOK HERE)

Join us in this amazing interactive adventure. Learn about the incredible animals who call the ocean their home. Hold live sea animals, examine specimen samples, and discover a large variety of marine artefacts and shells.
Seaside Scavenge - Trash for Treasure (BOOK HERE)
Join Seaside Scavenge beach clean-up and clothes swap event! Help us clean Bondi and then trade the litter you collect for funky second-hand clothes that have been donated by locals around Sydney. You can also join in on our upcycling workshops, learn some tips on how to live plastic-free or pick up some wicked local prizes.
Get up close to the amazing mini-beasts that live in our gullies and parks. Learn about where they live, how they grow and why they are so important. Don't miss the opportunity to hold and touch many many different bugs in a safe and exciting way!
Sand Castle Litter Fun (BOOK HERE)
Join in the fun and help our amazing models build a sandcastle out of litter!
Family & Friends Picnic (BOOK HERE)
Join our 'Family and friends' picnic! Bring your blanket and food and enjoy a 'Trashion-Fashion parade', chilled tunes, a pop-up library, face painting and more. Summerama is a great day for everyone to enjoy our beautiful coast.
Rockpool Discovery Tour (BOOK HERE)
Discover the amazing world of Bondi's rockpools and get up close to the fascinating marine creatures that inhabit them. Join two marine biologist guides in this exciting tour for young and old - a fabulous activity not to be missed!
Sammy and Shelley Theatre Play (BOOK HERE)
Join Sammy and Shelly in this wonderful theatre play about their crusade to save our oceans and waterways from litter!
Taking care of the environment and having fun?!....It's Second Nature