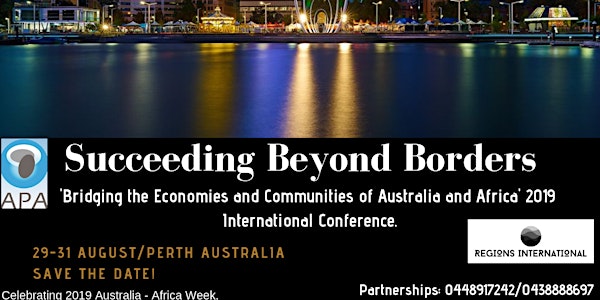 Succeeding Beyond Borders International Conference
Location
City of Perth Library
573 Hay Street
Perth, WA 6000
Australia
Description
This Conference is a partnership between African Professionals of Australia and Regions International.

The Conference aims to promote knowledge with an aim of contributing positively to the Australian and African economy. It will also Encourage and enhance research on economic, governance and policy issues relating to the development of African economies.

For more about conference speakers, schedule and topics, please visit the conference website http://sbbiconference.com/

The Conference will be a three day series including 2 days of Evening Conference sessions and a Business Meets Social Migrant Professionals Affair - A Black Tie Event to finish off on Saturday 31 August 2019.

Being an International Conference, speakers and delegates will come from Africa, Australia's interstate and from the host city Perth. The conference will feature speakers and delegation from various industries and sectors including heads of mission.

Our goal is to encourage new business development opportunities between Australia and Africa and Integrate the African diaspora alongside Australian technical and financial expertise to provide end to end solution project delivery into Africa.